Who Will Get Nominated For An Oscar?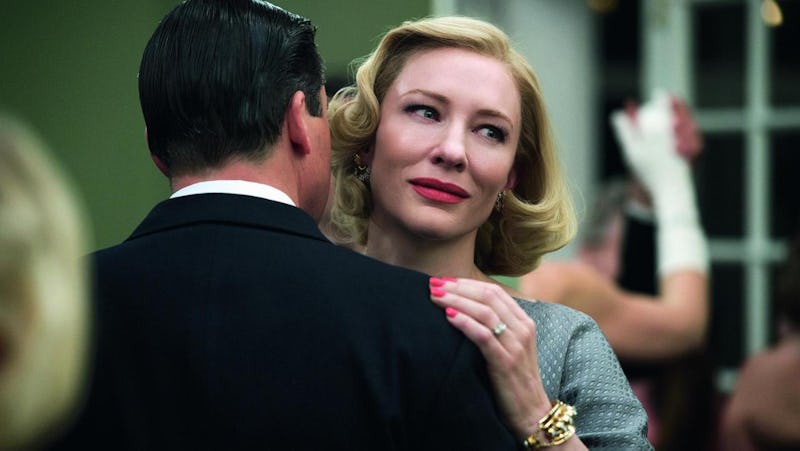 Now that the Golden Globes are over, it's time to start thinking about the next big event in awards season: the Oscars. Well, to be fair, the SAGs, Critics' Choice Awards, and a bunch of other shows that come before the Academy Awards, but let's be real: the Oscars is the next ceremony to really get excited for. After all, it's the biggest Hollywood honor a movie can get, and countless films, actors, directors and more vie for that iconic golden statue each year. The 2016 race is one of the most exciting yet, thanks to what seems like an endless amount of high-quality films, from Carol to Spotlight to Mad Max: Fury Road, in contention. Of course, this makes figuring out 2016 Oscar nomination predictions pretty hard, but the struggle is worth it when it means that the film industry is in better shape than ever before.
But just what films and individuals should you be expecting to get nods when they're announced this Thursday? I've come up with my list of predictions for this year's crop below, based on what projects and people have garnered the most momentum so far. It's not a wish list — if it were, Diary of a Teenage Girl 's Bel Powley would be at the top — but it's my expectations for what the Academy Awards will realistically honor later this week.
Best Picture
Spotlight, Carol, Room, The Revenant, The Big Short, Mad Max: Fury Road, The Martian, Bridge of Spies
The Best Picture category can take up to 10 nominees, but that hasn't happened since 2011. Most likely, it'll be eight or nine films that get honored, and these eight are, in my opinion, the ones to be it. Spotlight, Carol, and the Golden-Globe winning The Revenant are shoo-ins; Room, The Martian, and The Big Short are very likely; Mad Max: Fury Road has gained serious momentum; and Bridge of Spies is the type of not-amazing-but-good-enough Spielberg movie that the Oscars love.
What Could Sneak In There:
Brooklyn— Brooklyn's star will undoubtedly get a nomination (more on that below), but I'd love if the movie itself did, too. It's unlikely, though, as it hasn't gotten too much attention in recent weeks.
Creed — It deserves a nod, but realistically, it's just not going to happen. A huge shame.
Straight Outta Compton — This could theoretically make it in, but chances are, the Oscars will only honor it for music categories, if at all.
The Hateful Eight — Probably too controversial to get a Best Picture nod, although the Academy does love Tarantino.
Sicario — Quite unlikely, but the Oscars do (rarely) surprise, and Sicario is a critically adored film that could just be it.
Best Actress
Brie Larson (Room), Cate Blanchett (Carol), Charlotte Rampling (45 Years), Rooney Mara (Carol), Saoirse Ronan (Brooklyn)
The Best Actress category is a two-way race between Larson and Blanchett, although the critically loved Rampling or the impressive Ronan could be a surprise. As for the others, it's tough to predict because there's debate over whether Mara and her awards season counterpart Alicia Vikander belong in Best Actress or Best Supporting Actress. I'm predicting that the Academy will choose to keep Mara as a lead, while moving Vikander to Supporting (more on that later).
Who Could Sneak In There:
Alicia Vikander — Or maybe I'm wrong, and The Danish Girl star will get placed in Lead.
Jennifer Lawrence — In any other year year, it'd be hard to imagine Lawrence not getting a nomination for Joy, but this year's race is so crowded that disdain for the movie might cause her to be left out, despite her Globe win.
Charlize Theron — The Mad Max: Fury Road star just might make the cut.
Lily Tomlin —Grandma is an under-appreciated gem, and so is Lily Tomlin. It's doubtful, but perhaps the actor will get nominated for her great work in the summer film.
Best Actor
Leonardo DiCaprio (The Revenant), Eddie Redmayne (The Danish Girl), Bryan Cranston (Trumbo), Michael Fassbender (Steve Jobs), Will Smith (Concussion)
DiCaprio, Redmayne, and Fassbender are definite. Cranston wasn't originally, but his performance has earned serious attention since awards season got underway. As for Smith, his nod is less sure, but I think it'll happen.
Who Could Sneak In There:
Johnny Depp — His Black Mass performance was critically adored, but he didn't get a Golden Globe nom for it, so Oscar is not a sure bet.
Matt Damon — The Martian is a solid, if imperfect, film, and so is Matt Damon's work in it. A nomination isn't definite, but it's far from impossible.
Michael Caine — Youth is a fascinating but little-seen movie, and despite Caine's fantastic work in it, Oscar voters might have simply not taken the time to see it.
Steve Carell — He's one of the best parts of The Big Short. But don't expect him to earn a nod.
Best Supporting Actress
Alicia Vikander (The Danish Girl), Kate Winslet (Steve Jobs), Jennifer Jason Leigh (The Hateful Eight), Jane Fonda (Room), Rachel McAdams (Spotlight)
I already gave my reasons for Vikander. As for the others, Winslet is a definite, and Leigh is nearly as likely. Fonda and McAdams, though, are less sure (personally, I don't know why McAdams is being honored so highly for her work in Spotlight — she's perfectly fine in it, but not a stand-out).
Who Could Sneak In There:
Rooney Mara — If she ends up being considered Supporting, not Lead.
Kristen Stewart — This is a nod I'd love to see, but I'm doubtful it'll happen. Her work in Clouds of Sils Maria was phenomenal, but little-seen.
Joan Allen— The Room actor gave a subtle but great performance that deserves recognition, but I'm skeptical she'll get it from the Academy.
Cynthia Nixon — Nixon is remarkable in James White, but the movie itself isn't as memorable. Still, the Oscars have done stranger things.
Best Supporting Actor
Mark Rylance (Bridge of Spies), Tom Hardy (The Revenant), Michael Keaton (Spotlight), Christian Bale (The Big Short), Sylvester Stallone (Creed)
All of these are shoo-ins, and while Stallone was once a wildcard, his Globe win solidifies his shot.
Who Could Sneak In There:
Idris Elba — If Stallone doesn't make the cut, I predict Idris Elba will, for his work in Beasts of No Nation.
Jacob Tremblay — The Room star deserves more acclaim than he's gotten, and maybe the Oscars will right that wrong.
Paul Dano — For his great work in Love & Mercy, Dano might just make the cut.
Mark Ruffalo —The Spotlight actor gave a showy, but powerful, performance, and while it's unlikely he'll nab a nod, I could be wrong.
Best Director
Alejandro Gonzalez Inarritu (The Revenant), Tom McCarthy (Spotlight), George Miller (Mad Max: Fury Road), Todd Haynes (Carol), Ridley Scott (The Martian)
There's no question that Inarritu and McCarthy will get nominated, but the others are a bit less sure. I think Miller's striking work with Mad Max will earn him a nod, as will Haynes' and Scott's skillful directing of their respective films.
Who Could Sneak In There:
Steven Spielberg — Bridge of Spies is far from Spielberg's best work, but he's Steven Spielberg. Don't count him out.
Adam McKay — Could the guy who made Anchorman get an Oscar nomination for The Big Short? It's looking very possible.
F. Gary Gray — If the Oscars do honor Straight Outta Compton, it could be by giving its director a major nod.
Quentin Tarantino — The Hateful Eight is a (very) imperfect movie, but Tarantino is, well, Tarantino. A nomination could still happen.
Best Original Screenplay
Spotlight (Tom McCarthy and Josh Singer), Inside Out (Pete Docter and Bob Peterson), Bridge of Spies (Joel Coen, Ethan Coen, and Matt Charman), Trainwreck (Amy Schumer), and Sicario (Taylor Sheridan)
I can definitely see the Academy honoring Amy Schumer's deftly written Trainwreck with a nod in this category, if nowhere else.
What Could Sneak In There:
Straight Outta Compton — A great screenplay, but I'm not expecting a nod.
Ex Machina— The type of odd, critically-loved indie that the screenplay categories sometimes honor.
Youth — A supremely strange but beautiful film that likely won't get acknowledged, but could.
Sicario — An amazing script, but it depends how dark the Oscars are willing to go.
Best Adapted Screenplay
Carol (Phyllis Nagy), Room (Emma Donoghue), Brooklyn (Nick Hornby), The Big Short (Adam McKay and Charles Randolph), and Steve Jobs (Aaron Sorkin)
Before the Globes, I would've left Sorkin's script out, but since he won, it's hard to imagine him not ending up as an Oscar nominee.
What Could Sneak In There:
Trumbo — Despite the movie not getting great reviews upon its release, awards so far have embraced it as a nominee.
The Revenant — Clearly, this movie isn't going anywhere.
Anomalisa — An odd, interesting Charlie Kaufman script could be what the Academy wants.
The Martian — The Martian's script is far from the best thing about it, but hey, you never know.
And here are some other categories to keep an eye on:
Best Original Song
"Writing's On The Wall" (Spectre), "See You Again" (Furious 7), "Simple Song #3 (Youth), "Earned It" (50 Shades of Grey), and "Til It Happens To You" (The Hunting Ground)
Won't it be weird when the Oscars Best Song category is basically just a compilation of pop's biggest singers? Sam Smith, Charlie Puth, The Weeknd, Lady Gaga....
Best Animated Feature
Inside Out, Anomalisa, The Good Dinosaur, Shaun The Sheep, When Marnie Was There
Inside Out is the frontrunner by far, but definitely don't count out the acclaimed Anomalisa.
Best Documentary Feature
Amy, Going Clear: Scientology and the Prison of Belief, The Look of Silence, Best of Enemies, Listen To Me Marlon
The haunting look at Amy Winehouse's short and tragic life is the doc to beat this year.
Best Foreign Language Film
Son of Saul, Mustang, A War, Labyrinth of Lies, The Brand New Testament
Hungary's Son of Saul won the Globe for this category, and an Oscar is likely next.
Now, if only I could predict which jokes by host Chris Rock will land, how many times J.Law will trip up the stars, who Ben Affleck will bring as his date.... oh, well.
Images: The Weinstein Company; Open Road Films; Fox Searchlight; Focus Features; Universal Pictures; Warner Bros.; Disney/Pixar; Mozinet