The Secret To The Kardashians' Perfect Selfie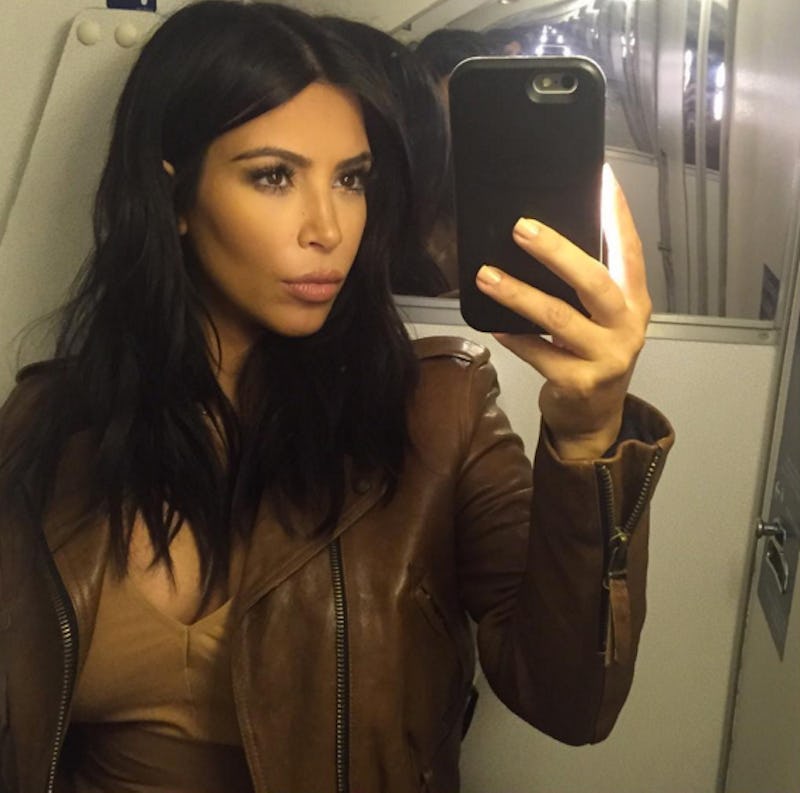 When it comes to selfies, this family definitely knows what's up. This is the secret to the Kardashians' perfect selfies — yep, that's right, we may have finally cracked the code. Kim K reposted to Twitter announcing light-up phone cases are available to shop online at the DASH store, and if you scroll through her Instagram feed, as well as her sisters', you'll find that they've all taken a selfie with excellent lighting a time or two (dozen). And it's all thanks to this nifty little iPhone case.
Beyoncé's stylist is set to come out with her own line of these cases, too, so clearly all of the fabulous selfie-takers are in the know. I mean, if it's good enough for the Kardashians and the Queen B, then, I'd say it'll work for the rest of us, wouldn't you? If you can't wait for the Bey-approved ones to launch, shop the ones the Kardashian sisters use in the meantime.
The Lumee brand cases available at DASH are said to be sturdy and feature track lighting along the sides of the phone so that you get a well-lit picture of yourself every time. This way certainly seems way better than praying that you don't blink when the flash comes on, you know?
The cases come in black, white and a pink shade. They're made for the iPhone 6 and iPhone 6s. Shop them below and take a look at the wonders they've worked for the Kardashian clan.
Just look at that glowing face. This case really does brighten up a space.
Lumee Case for iPhone 6 In Black, $54.95, DASH
Keep it sleek with a black backing for your phone.
Lumee Case for iPhone 6 In White, $54.95, DASH
Opt for a bright finish on both sides by going for a white case.
Lumee Case for iPhone 6 In Rose Gold, $54.95, DASH
Have some fun by choosing this pink-y color. Why not, you know?
1. Selfies On A Plane
Kim K sure knows how to brighten a room.
2. Backside Selfie
This sure does look like a Lumee case to me. You won't need the light if you snap a pic from behind, but these cases are great for that, too.
3. Nighttime Glow
These phone covers will even give you a glow in the night hours, without washing you out. Just what you've always wanted, right?
4. Closet Selfie
It's perfect for posing in the closet, too.
5. Perfecting The Plane Selfie
It's important to figure out how to get a plane selfie just right. You know, for science.
6. Car Selfie
There's no way this was taken just relying on a flash. That's some Lumee lighting at work, if you ask me.
Get ready to get your Kardashian-status selfie on!
Images: kimkardashian/Instagram (1); DASH (3); Giphy (1)