Stream 'PLL' If You Can't Wait An Extra Minute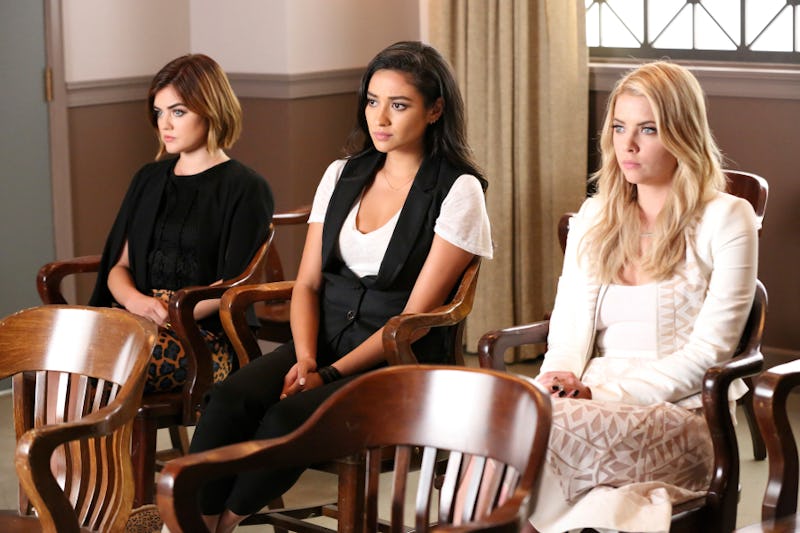 It's amazing that Pretty Little Liars fans have been able to keep their cool for this long. The wait for new episodes has been completely and utterly agonizing. It seems like forever since we've seen Emily, Aria, Hanna and Spencer sleuthing, and that's kind of because it has been. Fans have waited nearly five months for the Pretty Little Liars Season 6B premiere, and it has not been easy. Fortunately, the series' return is almost here, and with it lots of changes. Gone are the days of the Liars skipping class to chase down A. Now, they're are all grown up and have gathered five years of life experience, some of which will hopefully help them face the new villain. Suffice it to say, the first episode after the five-year time jump, airing on Tuesday, Jan. 12 at 8 p.m., is not one to miss, so how can you stream the Pretty Little Liars Season 6B premiere? Fortunately, there are a few different options.
If you currently live in a place without a proper cable setup, you're not alone: plenty of people are foregoing a traditional cable package in favor of streaming services like Netflix, Hulu, and Amazon. Fortunately, a laptop with a WiFi connection is all you really need to get your Pretty Little Liars fix — though having a generous friend who does have a TV with ABC Family (or Freeform as of Jan. 12) — certainly doesn't hurt.
If you absolutely need to watch Pretty Little Liars when it airs (and hey, I do not blame you for that) then you do have options... provided you have access to a cable provider. ABC Family has a live stream available for anyone who logs in with their cable subscription information, which is good news for anyone who can't watch the show on their home TV. (Or, you know, people who know their parents' cable information...)
Unfortunately, not everyone has the option of watching the live stream via cable provider, which is where some other streaming services come in. Pretty Little Liars streams new episodes on Hulu Plus one day after the episode airs, so if you can keep yourself off Twitter on Tuesday night, you can watch the new episode in a relatively timely fashion. It will cost you, of course — Hulu Plus is a $7.99 monthly subscription — but you will also be able to see new(er) episodes of the show that aren't yet available on Netflix, which usually posts full seasons at a time a few months after the finale. And to keep the PLL feels going even after you've streamed the episode, check out Bustle's podcast Taking This One To The Grave.
There are other options for those of you who want to take PLL with you on the go. iTunes and Amazon both have the series available for purchase, and you can download episodes one day after they air for $1.99 each. This is perfect for fans who want to watch at the gym, on the train, or really anywhere you can squeeze in a few episodes.
Missing Pretty Little Liars live is tough, but if you could wait five months for new episodes, waiting another 24 hours after you miss the live broadcast or ABC Family stream shouldn't be too hard.
Forgot what happened in Season 6A? Check out our (drunk) PLL recap video below.
Images: Adam Taylor/ABC Family; Giphy (2)