15 Ways To Refresh Your Makeup In The Morning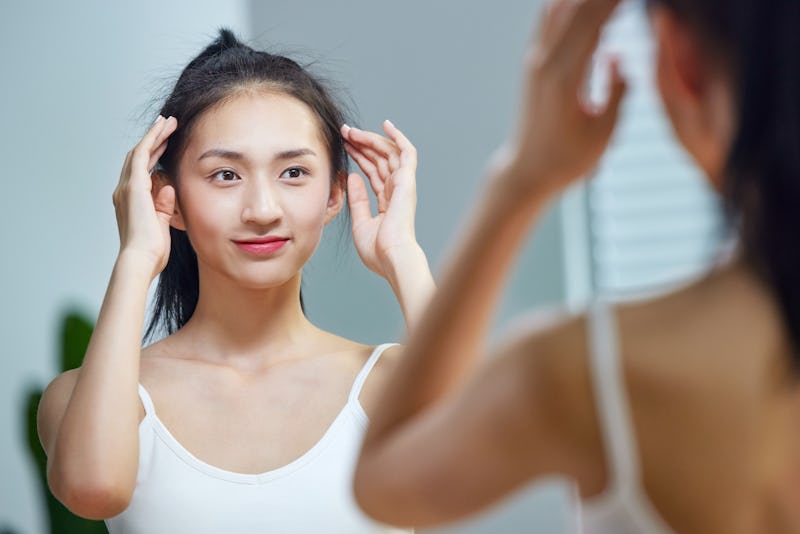 ViewStock/View Stock/Getty Images
After a night out that involved one too many drinks, sometimes taking all your makeup off before crawling into bed is just way, way too ambitious. I know how real that struggle is, which is why I've pulled together all my favorite ways to refresh your makeup in the morning if you slept in your makeup. While it's not the best idea to make a habit of regularly sleeping in makeup, it's good to be prepared for how to deal the next morning!
I occasionally fall prey to the party animal nights (that turn into my eyelashes getting stuck together with mascara the next morning), but there's one that definitely stands out. The night before I was leaving to teach English abroad in Japan for a year, my best friends drove up to San Francisco for one last hardcore night on the town. While going out the night before a 14 hour flight maybe wasn't my very best idea, how could I say no to soaking in time with my friends? Not surprisingly, I got all glammed, had way too many whiskey sours, and then woke up the next morning with eye shadow practically smudged to my chin.
Thankfully, my former acting and pageant days taught me how to get camera (or flight!) ready no matter what my face looked like. Whether you need to hop a plane or just look pulled together for work in minutes with old makeup on your face, the tips below will leave you glowing in no time.
Cetaphil Gentle Skin Cleanser, $11, Amazon
OK, so this isn't touching up your makeup, but if you have time, nothing is going to get you looking like your bright self like a good face washing sesh. Finish by splashing your face with cold water for extra brightening benefits.
Kirkland Signature Coconut Oil 84 Oz, $2, Amazon
Smeared mascara and eyeliner is the worst. I'm obsessed with swiping my eyes with coconut oil to remove any lingering dark circles from it.
LORAC 'TANtalizer' Baked Bronzer, $33, Ulta
Not only will adding a glow make your face look more awake, it'll give you that sort of "I just got back from a day at the beach" look. Sun-kissed, and a little messy (which you probably already are).
Neutrogena Ultra Sheer Liquid Sunscreen SPF 70, $12, Amazon
Seriously people, if you only take away one thing from all my beauty articles, please let it be to wear sunscreen every single day!
Evian Facial Spray, $14, Amazon
The Kardashians' makeup artist, Mario Dedivanovic, told Marie Claire that face mist will "soothe, hydrate, and give your complexion a luminous boost." Sounds like a wise idea to me! Even if you don't have time to do any of the previous steps when you wake up, spritzing on some face mist will make you look and feel alive again.
6. Utilize Concealer
If ever there was a time for concealer, this is it. Follow my tips for putting it on in a way that will tackle undereye circles like a boss.
Double Blender Sponge & Cleanser Kit, $40, Amazon
Another Dedivanovic tip: Refresh any old foundation on your face by using a slightly damp beauty blender sponge to "bounce on the skin to freshen up and even it out."
Visine Tears, $5, Amazon
If your makeup got into your eyes and irritated them, a few quick drops of Visine tears should do the trick to clear any redness fast.
NYX Translucent Powder, $10, Ulta
One of my personal favorite tricks is to take a soft shimmer powder and use it above my eyebrows, on my inner lids, and at the tip of my upper lip to give a mild contour and add brightness.
Brick Eyeshadow Collection, $11, L.A. Girl Beauty
Use a light shadow right under your brow and in your inner and outer corners to really pop open your sleepy little eyes!
Brow Highlighting Pencil, $14, Sigma
Daily Makeover advises, "A swipe of the highlighter just below the brow (directly on the brow bone) will bring the focus up and add a pretty shimmer."
Revlon Luxurious Color Kohl Liner, $11, Amazon
Since chances are high you're already dealing with some smudged eyeliner, turn it into a day glam smoky eye using a smudge tip pencil and shaping it just a bit.
Revlon Colorburst Lipstick, $7, Amazon
If remnants of an old lip stain are showing, try to find a similarly shaded lipstick and just enahnce the hue!
Aquaphor Lip Repair, $4, Amazon
If your face is feeling especially dry after a night of drinking, don't forget to boost your pout with a quick swipe of hydrating lip balm.
TweezermanEyelash Comb, $11, Amazon
To remove any stubborn remaining mascara clumps, just do a few brush throughs with a lash comb before reapplying mascara and you're all set!
Want more beauty tips? Check out the video below, and be sure to subscribe to Bustle's YouTube page for more hacks and tricks!
Images: ViewStock/View Stock/Getty Images; Courtesy of Brands