'Idiotsitter's Stars Talk 'Broad City' Comparisons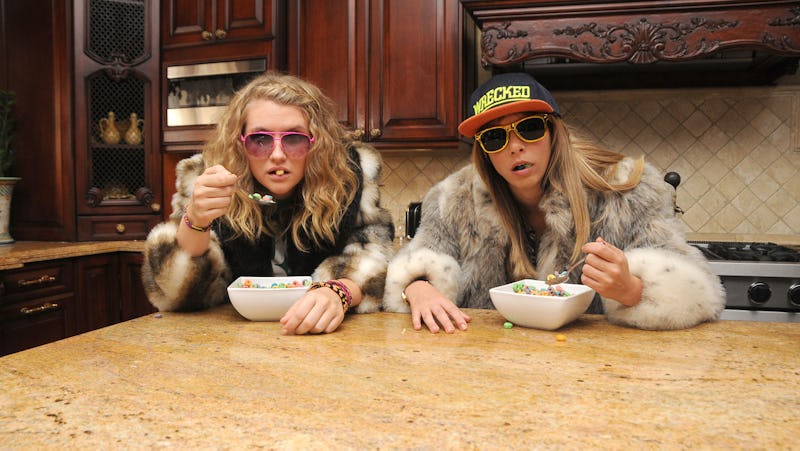 A Comedy Central TV show, starring two women, one of whom plays the straight man to the other's screwball character, but both of whom engage in no shortage of drinking, sex talk, and decidedly R-rated humor. Sound familiar? Idiotsitter , about an adult delinquent and a woman who reluctantly watches over her, has already gotten its fair share of Broad City comparisons, and once it premieres on Jan. 14, they're likely only going to get louder — despite its stars' protestations that the two shows are totally different entities.
"Of course, we love Broad City, so it's not a bad comparison, not at all," says Jillian Bell, who plays Gene, the hard-partying, trouble-finding woman whose parents hire Billie (Charlotte Newhouse) to act as her babysitter. "But I think Comedy Central is really good at picking very tonally different shows, especially for their female-driven comedies."
Adds Newhouse, "I think once you dig a little deeper, you see how different they are."
Actually, it only takes watching Idiotsitte r's first episode, available now on Comedy Central's website, to see how stark those differences truly are. Most strikingly, there's the basic story — Broad City's Abbi and Ilana are best friends, while Bell and Newhouse's characters initially want nothing to do with one another — but beyond that, the shows' dynamics, themes, and type of comedy are totally unique. Still, one big similarity between the two series is hard to ignore: the off-camera friendship between the pairs of stars, each of whom created their respective shows.
"This is the first thing I've ever done where the females are the leads, and it's so exciting because I get to do that with someone who's truly my best friend," says Bell, known for scene-stealing roles in male-dominated films and shows like Workaholics and 22 Jump Street. "I've worked with a lot of friends before... but there's something fun about having the female camaraderie and us getting to do the whole thing ourselves."
The duo, who met while in L.A.'s renowned comedy troupe The Groundlings, began work on what would become Idiotsitter while performing in the famed ensemble. In an attempt to work professionally together, they wrote sketches, eventually landing on the concept of a woman stuck in house arrest and her relationship with her frustrated sitter. It began as a six-episode Comedy Central web show back in February 2014 before, in June of that year, getting picked up as a full series; although its stars were thrilled at the news, they admit it was a bit overwhelming.
"We got the phone call and we screamed," recalls Newhouse, laughing. "We ran around the lawn, and then we jumped in the pool. And then we were immediately freaked out. We had one minute of joy and then we were like —"
"We have to do this now?!" finishes Bell.
But the nerves quickly gave way to excitement, and the show soon started to take form. The duo wrote scripts, hired guest stars (this season alone, fans can expect to see, among others, Jake Johnson, Randall Park, and, says Bell, "one really big one that we can't talk about"), and plotted out their characters' storylines. One episode will feature Billie and Gene "covered in blood," says Bell; another, the fourth, features a cameo so good that Newhouse jokes "you have to last at least that long," with Bell adding that after seeing it, you can then "bow out hard." But it's apparent that for both stars, the biggest perk of the show is getting to work with one another on a show they built from the ground up.
"We wrote this, we created it, we produced it," says Bell. "When one of us didn't have a scene, the other one was still there. I just enjoyed the whole thing, and we really hope we get to do it again."
There's no word on a second season just yet, but if the hilarity that ensues between Bell and Newhouse in real life keeps getting reflected in the show, it's hard to imagine Idiotsitter not lasting as long as its leading stars want it to. Support from Comedy Central veterans will certainly help; the duo recalls how stars like Amy Schumer and Ilana Glazer have already stated their enthusiasm for the show, something that neither Bell nor Newhouse takes for granted.
"I met Ilana recently and she was just so great about everything, saying, 'we're looking forward to your show coming out,' just being very supportive, and I just really appreciate that," says Bell. "Because that doesn't always happen for women in comedy, with each other. Sometimes it can be a little tough."
Adds Newhouse, "I think all those [Comedy Central] women are awesome. They know how hard it is, you know? They've done it. So when they see other people doing it, they're excited."
If Idiotsitter takes off as planned, expect Bell and Newhouse to soon be the ones showering praise on a new comedic talent on the rise.
Images: Comedy Central