Is Not Having Two 'Bachelors' Anti-Feminist?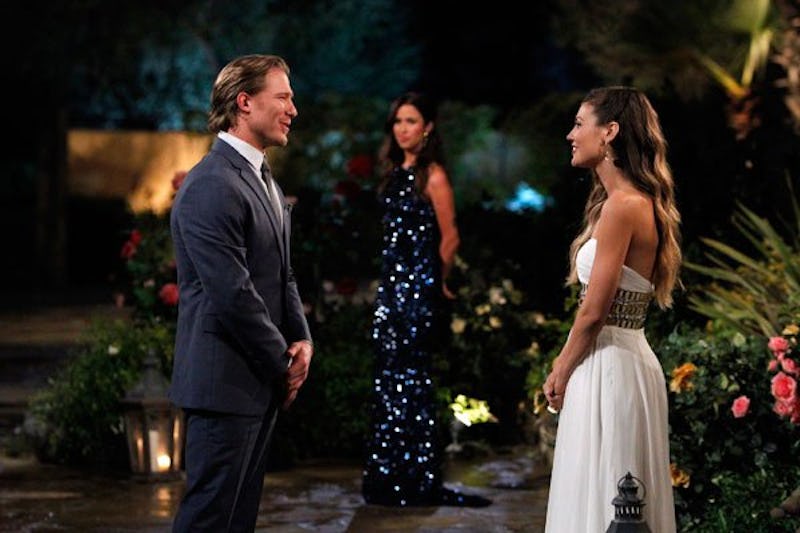 When you tuned in to the premiere of Season 20 of The Bachelor on Jan. 4, you might have been wondering why there weren't two Bachelors. There was Chris Harrison, and there was Ben Higgins, awaiting the arrival of bevies of spangle-clad women, but that was it; next to them, just empty air, where you might have expected another nervous, be-suited gentleman to be fiddling with his tie. Which was a little surprising, given that Season 11 of The Bachelorette began on May 18, 2015 with not one, but two women — Kaitlyn Bristowe and Britt Nilsson — vying for the chance to be the Bachelorette. Whereas previous Bachelors and Bachelorettes had just been given the title prior to the beginning of the season, these two had to duke it out, winning a popular vote by the contestants before only one — Kaitlyn — moved forward to continue the season as the actual Bachelorette.
It was a that upset a lot of people, even those within the Bachelor family, like Sean Lowe and his wife Catherine Giudici, and the After The Final Rose audience, so I was curious to see if they'd try it again. But nope! From where I stood, there was never even a whisper about Ben H. having to go head-to-head with any other contestant from Kaitlyn's season for a second chance at love. So what's the deal with that? Is it anti-feminist to have a single-person Bachelor season after a multi-person Bachelorette season?
I was expecting to give you a resounding yes, because pitting two women against each other for the attention of the men they themselves are supposed to be wooed by naturally pushes my buttons. But then I started digging through the history of The Bachelor. And turns out, they did a male-centric version of that same dual-Bachelorette twist all the way back in 2004. For The Bachelor's Season 6, Byron Velvick and Jay Overbye were presented as two "candidate Bachelors," with the women voting on which of the two they'd prefer to date, and Velvick edging Overbye out by just one vote to move forward. So there is a precedent for this sort of thing; it's just that by the time it reoccurred 11 years later, we'd forgotten all about it.
So the good news is, this isn't an anti-feminism thing. The bad news is that it's still unfair. I mean, it's just equally unfair to both genders. Here's Jay Overbye talking to Huffington Posts'sBachelor-recapping podcast Here To Make Friends about his own experience with the twist:
I got a call from [ABC], and they said 'Hey, we have great news for you! You are chosen as the Bachelor!' They were congratulating me, and they said, 'Just so you know, there's going to be another Bachelor.' I was like, 'Wait a second, that's not fair! I just went through this whole process as the one guy!'
Now that it's been tried once with The Bachelor and once with The Bachelorette, I think we can say that it's official that nobody likes this twist! Not those of us watching from the outside, and not the people it's happening to on the inside. Which is probably the reason why Ben H. got to carry on to his Bachelor season as the sole Bachelor, despite the shake up in Kaitlyn's Bachelorette season. While I'm relieved it's not an anti-feminism thing, and that they didn't subject poor Ben H. to the same process by pitting him against Ben Z. as was rumored, I won't be really satisfied until this twist is off the table for good. The Bachelor has so many better ones to shake up a season with than that.
Images: ABC; Giphy