9 Tips For Grocery Shopping The Right Way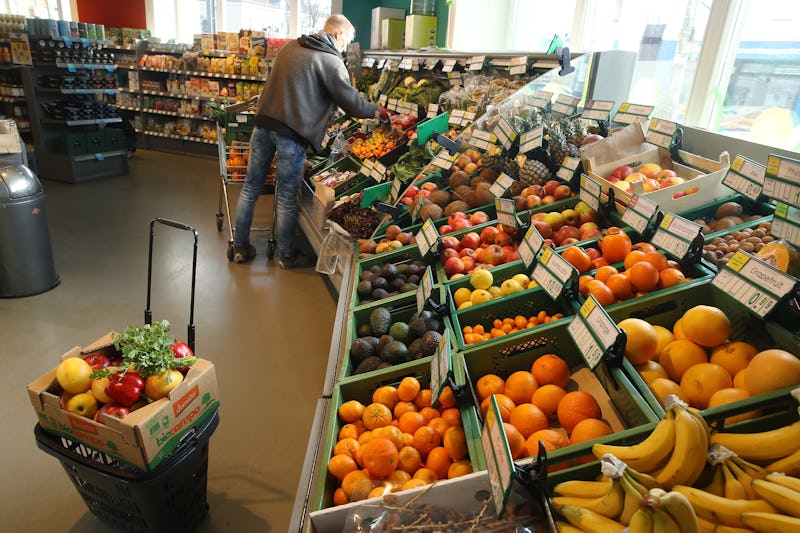 Sean Gallup/Getty Images News/Getty Images
Are you notorious for buying lots of fresh vegetables, only to toss them a week later? Or do you drop cash on expensive ingredients, but have no idea what to do with them? If either of these are the case, then grocery shopping tips are what you need.
I know we all have the best intentions when it comes to grocery shopping. We fill our carts with ingredients and imagine an evening spent preparing them with expert skill. But does that ever happen? For many of us, the answer is no. Mostly because we don't have the time or the energy to whip up a homemade meal.
We've all made this mistake, and it's OK, but remember to think twice next time you shop. Because as it turns out, throwing away rotten food has more repercussions than you might think. According to WorldFoodDayUSA.com, an astounding 30 to 40 percent of the food supply is wasted in the U.S. This equals more than 20 pounds of food per person per month. And in the U.S., organic waste is the second highest component of landfills, which are the largest source of methane emissions. Yikes!
If you're serious about grocery shopping without creating much waste, it can be done. Here are some tips for smarter grocery shopping, so you save more money, help the environment, and actually eat what you buy.
1. Don't Do Massive Shopping Trips
Unless you're running a household with 12 people in it, try not to do one giant grocery shopping trip. For single people or couples, it just doesn't make sense to stock pile that much food. After all, you'll probably end up grabbing dinner with friends, or ordering takeout while all of your groceries rot in the fridge. To avoid this, split your shopping trips up to a few times a week (like when you need something specific), and save any larger shopping sprees for when you know you'll definitely be home to cook.
2. Buy Veggies The Day You Need Them
It'll be impossible to use all your produce if you've bought enough to last for weeks. Veggies simply doesn't keep that long. In fact, according to OhMyVeggies.com, many foods spoil within only a day or two. These include asparagus, avocados, raspberries, strawberries, mushrooms, and broccoli, among others. So instead of buying broccoli on Sunday with the intention of cooking it on Wednesday, go after work on Wednesday and pick it up instead. That way you'll be guaranteed freshness, and you won't waste money on repurchasing.
3. Invest In Fruits & Veggies That Last
If you want to stock up fruits and vegetables to snack on all week, then look for ones that will last longer. As noted on OhMyVeggies.com, vegetables that last more than a week include acorn squash, beets, cabbage, carrots, celery, and onions. And fruits that can last all week include apricots, oranges, pears, grapefruit, and watermelon. No more brown, mushy fruits for you.
4. Get A Grocery Service
If the grocery store totally overwhelms you, or if you simply don't have time to go, then opt for a handy grocery delivery service instead. Try one like Instacart, which allows you to choose groceries from a store and have them delivered in an hour (or whenever). That way you can get exactly the food you want on the day you need it.
5. Stock Up On Frozen Foods
There's no shame in living off frozen foods, especially if those foods are things like peas or strawberries. According to the food blog thekitchn.com, "New technologies like flash freezing mean that vegetables stay crisp and colorful once thawed while retaining much of their original taste and nutritional value. Fruits have always frozen well, and they're a great choice for baking — not to mention breakfast smoothies." So if frozen works best for you, and means you'll waste less, then have at it.
6. Know What You Want Before You Get To The Store
If you go grocery shopping list, you'll probably end up purchasing the entire store, because "Oh, that weird fruit looks kinda cool." It's not a good plan. As Leo Babauta notes on his lifestyle website, ZenHabits.net, "If you go without a list, you may as well just throw your money away ... you need to prepare a list of everything you need ... and checking to make sure you don't have it in your pantry, fridge or freezer. Make sure you're not forgetting anything. Now stick to that list."
7. Have A Specific Recipe In Mind
How many times have you picked up something like chives, only to take said chives home and not know how to use them? Don't buy things just to buy them, but instead stick to a recipe. Figure out a few meals you intend to make, and then create that shopping list of yours accordingly. Ta da! No more chives buried in the back of your fridge.
8. Don't Shop When You're Hungry
Grocery shopping while hungry isn't the most effective thing ever. According to Genevra Pittman on Reuters.com, "Researchers found that people who hadn't eaten all afternoon chose more high-calorie foods in a simulated supermarket than those who were given a snack just before online food shopping." So have a bite to eat before you leave, lest you come home with nothing but ten bags of chips.
9. Store Everything Properly
OK, so you went to the store, got exactly what you needed, and now you're home wondering how to store it all. This is the moment of truth. If you do it right, you can make some foods last a bit longer, and help avoid extra waste. Check out this list for tips.
Grocery shopping may be boring, but nothing sucks more than tossing out tons of rotten food. Plan ahead to get exactly what you need, and you'll save money — and food — in the process.
Images: Sean Gallup/Getty Images; Giphy (9)