This 'Gilmore Girls' Revival News Is Big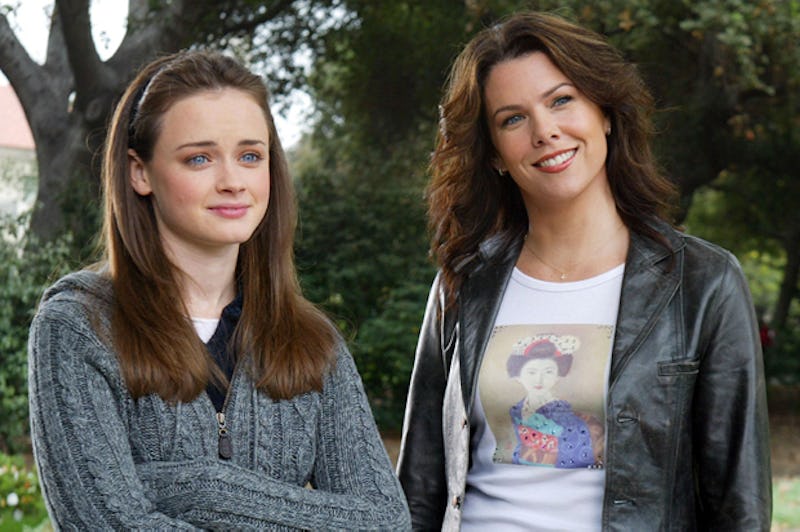 So far, fans have mainly heard rumors, but Netflix seems to have confirmed its Gilmore Girls reunion at last. Netflix Chief Content Officer Ted Sarandos revealed at the Television Critics Association winter press tour on Sunday that he... couldn't reveal all that much, but he did have something to say about the highly-anticipated show. "I can't tell you much about Gilmore Girls," he said, according to TVLine. "We're still working on buttoning down everything before our announcements."
This sounds like Netflix has a plan that they're working on, maybe with some big news coming up, but the service doesn't want to announce anything until it's finalized. Still, Sarandos' lack of answers is exciting, because it's the first time Netflix has spoken on the Gilmore Girls revival. Previously, information had primarily come from anonymous sources and cryptic tweets from the actors. Those sources hinted that the Netflix revival would jump forward eight years, rather than start where the last season left off. The upcoming season, which will be written and directed by Gilmore Girls creator Amy Sherman-Palladino and her husband, will reportedly be broken into four 90 minute episodes, each of which will represent a different season.
Other than that, fans don't know very much about the upcoming season, and the TCA discussion didn't exactly help. At least it's official now, though. Hopefully, future press conferences and releases will be a bit more revealing, and answer these burning questions I have about the Gilmore Girls revival.
Which Actors Will Return?
No actors have really confirmed whether they will be on the upcoming season. According to TVLine, the show's major stars — Lauren Graham, Alexis Bledel, Kelly Bishop, and Scott Patterson — are reportedly in negotiations. Additionally, I don't think Stars Hollow would be the same without characters like Lane, Kirk, and Sookie. In particular, I'm wondering whether Melissa McCarthy, who played Sookie before she became a big movie star, will have the time to return.
Will There Be New Characters?
Many recent revivals, like Twin Peaks and Wet Hot American Summer, have brought in new actors to fill out the cast. It makes sense that in eight years, new people would have moved to Stars Hollow and into the Gilmore girls' lives. New boyfriends, perhaps? I'm sure the Gilmore Girls revival will be able to score some big names to add to their cast, if that's their plan.
How Will Richard Gilmore/Edward Herrmann Be Honored?
Edward Herrmann, who played Rory's stately grandfather Richard on the show, passed away in 2014. I'm sure that the revival will find a way to explain his absence and honor Richard, especially considering the cast's incredibly kind words about Herrmann.
Will Lorelai And Rory Be Single?
At the end of the seventh season, Rory had just broken up with her boyfriend Logan, and Lorelai had kissed Luke in the final episode. I truly have no idea whether either will be single or whom they might be dating in the upcoming reunion. Like Alexis Bledel herself, I kind of hope Rory will be single or dating someone entirely new; it would make sense for her adventurous spirit and life.
Will The Theme Remain The Same?
Many Gilmore Girls fans adore the theme song, sung by Carole King and her daughter. It would make sense to include it in the upcoming reunion, but I wonder if the theme would fit in the more miniseries-like environment. Other revivals, like Fuller House, have changed or altered the original theme songs. I hope they manage to update the theme while still making sure Gilmore Girls fans can sing along. Or just leave it exactly as it was.
Will The Gilmore Girls Be Together In Stars Hollow?
While I imagine that Lorelai will still be running the Dragonfly Inn, I can't imagine that Rory's career will have kept her in Stars Hollow. However, what is Gilmore Girls without Rory and Lorelai together in Stars Hollow? Thank goodness, it appears that they are already readying the old Stars Hollow set. I imagine (hope) that some catalyzing event — Richard's death, perhaps — will bring Rory back to live with her mother briefly.
Will The Gilmore Girls Keep Up With Pop Culture?
The original Gilmore Girls was known for its wide array of pop culture references made primarily by Lorelai and Rory. Some of these references, while cool at the time, are hilariously dated now. Will the Gilmore Girls have swapped their Macy Gray and boy bands for Adele and Justin Bieber, or will Lorelai still be adamantly refusing the internet? We'll have to wait and see.
I for one can not wait until these questions are answered, either in some more fruitful Netflix announcements or in the series itself. Luckily, I'm not worried. With Sherman-Palladino at the helm, the Gilmore girls are in good hands.
Image: Warner Bros, Giphy (6)