7 Books to Read if You Love 'Jane the Virgin'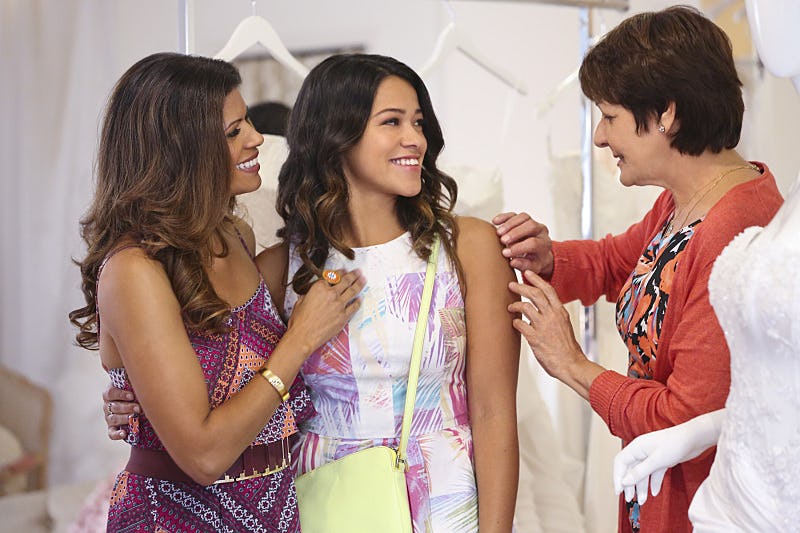 Ah, yes. I just got hooked on Jane the Virgin, and I can't get enough. This show has everything. Fairytale romance, devastating heartbreak, grandmother/mother/daughter love, long-lost fathers, telenovelas, murder, disguises, puns, bad guys, good guys, guys that you desperately want Jane to kiss again. Not to mention, the snarky goofball that narrates the whole thing.
I'm one of Rogelio's 6.3 million Twitter followers, in my heart at least. I'm #TeamMichael all the way, and don't get me started on all the issues I take with Rafael. I spent most of Tuesday night arguing with my roommate about what Jane should do. I desperately need to know what the deal is with everybody, and I've seriously considered skipping out on responsibilities to watch the next episode.
If your as hooked as I am, Jane the Virgin has awoken an intense craving in you for more romance and more intrigue all-around. Here's some books to help you wait it out until the next mind-boggling episode. They're filled with love and adventure, and a few of these Jane has probably even read herself. Plus they're sure to pair well with a nice grilled cheese.
As the narrator would say: What are you waiting for? Let's get started!
Isabel Allende is a queen. In this book, headstrong journalist Irene Beltrán is engaged to an army captain when she teams up with photographer Francisco Leal, who soon falls in love with her. As the two investigate a young girl whom locals believe to possess miraculous powers, they uncover an unspeakable crime, and embark on a mission to reveal the truth. Filled with passion, intrigue, and beautiful writing, this book will sweep you into its arms.
2. Adverbs by Daniel Handler
If the narrator is your favorite, you'll love this read from Daniel Handler (who also goes by Lemony Snicket when he's writing for young readers). Funny, quirky, and snark-tastic, Adverbs dives into some delightfully tangled love. As Handler says, "It is not the nouns. The miracle is the adverbs, the way things are done." This book is crazy, dramatic, and delightful — you'll eat it right up.
Especially if you love how the Villanueva women support each other, this read will captivate you beyond belief. Cornelia is a coffee shop manager who unexpectedly falls in love. Clare is an eleven-year-old girl who, upon being abandoned by her mother, goes in search of her father. When the Cornelia and Clare meet, a friendship blooms, one that will last them through all of life's ups and downs.
4. Miami Noir edited by Les Standiford
If you wish you could follow Michael Cordero around all day, you'll love this collection of fantastic noir mysteries, also set in Miami. Plus, Akashic has also been releasing these collections for many cities, from Brooklyn to Istanbul, so if you finish this one and want more, you can pick up the volume for your hometown.
I looked it up, and romance novelist Angelique Harper doesn't actually exist. But, this is the kind of book Angelique writes, and that Jane loves. Featuring a steamy romance between an heir to an earldom and a woman who comes from a seedy family. A quest for treasure and a rescue mission bring the two into very close contact.
There's a new twist on every page in this delightful read. You can't ever trust that anyone is who they say they are. Beginning with a meeting of two poets, a deal quickly shoots the story into intrigue and chaos. Spies, underground societies, and disguises reign.
Romance, crime, and humor collide in ridiculous ways in the much-loved Stephanie Plum series. Set in the '90s, Stephanie Plum is a bounty hunter, diving into crazy adventures as she tries to catch her ex-boyfriend. A light, guilty pleasure read that you'll devour, with plenty of sequels to keep you going.
Image: The CW