Thrify Ways To Promote Yourself Or Your Business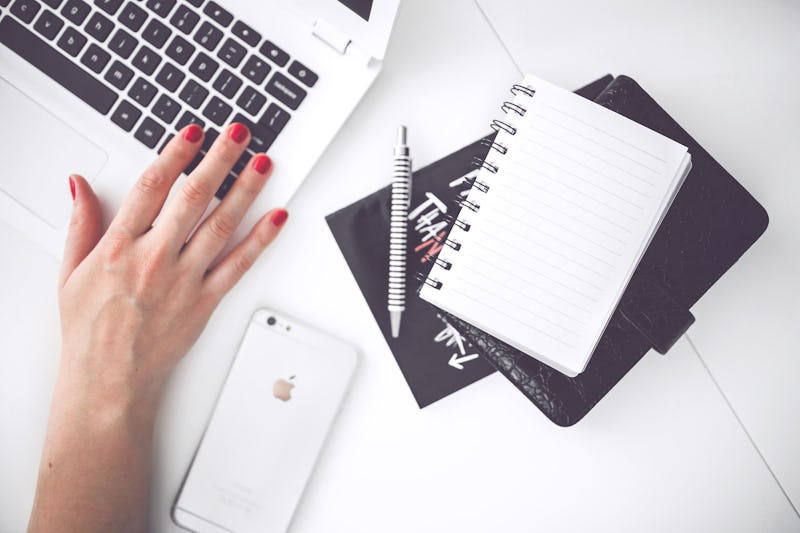 You may have recently taken the plunge into the world of freelance, set up your own business, or currently be a seasoned professional looking for some cheap ways to promote yourself. If you fall under any of the aforementioned (or you're wondering about the cost implications of a freelance lifestyle or starting your own business), you may be pleasantly surprised at the cost of promotional items and marketing methods.
Starting a new freelance career can be scary (believe me, I've done it) and there are a lot of things you need to think about before diving in. First, you have to weigh up what is most important to you in a career. Is it the money, a healthy work/life balance, the travel, the hours, the people, or the industry? You may just want to be your own boss or create a career in an area you feel passionate about. On the other hand, you could already be living the dream, but you're finding yourself going through a rough patch or wishing to expand.
Whatever situation or industry you're in, you're sure to benefit from some thrifty promotion. If you can save yourself money on promoting yourself, your brand, or your company, you'll have more money to put into other areas or invest into growing your business. So here are some cheap ways to promote yourself or your business.
1. Set Up Professional Social Media Accounts
You may have personal social media accounts that include photos and posts about your family and friends, but have you set up social media accounts for your business too? They're a great way to promote what you do or what you sell and they're totally free! There are lots of sites to take advantage of too including Facebook, Twitter, Instagram, and more. It's a great way to get your work out there and it's freely promoted by you and your family and friends. The more effort you put in with keeping your accounts up to date, the more traffic and potential clients and customers you may receive.
2. Put Up Some Fliers
This may seem like an old school way of doing things, but word of mouth is still an important factor in getting yourself or your company noticed. In a Bloomberg Businessweek article about the pros and cons of word of mouth marketing, Shawn P. O'Connor the founder of Stratus Prep said, "Even with the explosion of review applications and sites (eg, Yelp, Google, Urbanspoon), research clearly demonstrates that word of mouth — product or service recommendations made by friends, co-workers, or neighbors you know and trust — is still the most effective way to win new customers."
If you have a small business that targets local people, go out into the real world, introduce yourself to folks, tell them about yourself or your company, and give them a flier. If you leave a good impression, people could start talking about you and the services you provide, thus bringing you new business. You can make fliers if you're artistic or utilize flier printing websites such as Pixartprinting to create them for you.
3. Start A Blog
You may already have a website for yourself or your company, but have you thought about setting up a blog? A blog is a great way to build customer relations with your clients and keep them updated on the goings on of your business. It's a particularly good place to showcase your achievements in a modest manner; you can write posts about specific "big" clients you've worked with, events you've been to, or seminars and lectures you attended to increase your expertise. Most blogs are free and you can spend as little or as much money as you want to on fancy templates and added extras.
4. Network
Networking is a wonderful way in which to meet like-minded individuals who work in the same industry. You might meet someone who you can collaborate with, or someone who has a contact or client they can put you in touch with, as their business may be different to yours. Eventbrite helps you discover local events which may be of interest to you, plus they have a special networking section so that you can find networking events close by. If big scale events aren't really your cup of tea, you could always reach out to friends to find out if they have any contacts with whom you could meet for a coffee. Sometimes it's not what you know, but who you know.
5. Give Out Business Cards
Create some business cards and always carry them on your person. You never know who you're going to meet or where you're going to meet your next customer, client, or contact so make sure you always have a holder full of business cards in your handbag. You can create these yourself or alternatively, use websites such as Vistaprint or MOO to design business cards online and let the professionals take care of it for you.
6. Collaborate
Working with others can gain you more exposure as you can pool your resources and contacts together. You might wish to collaborate together on a project, an event, or a product which raises money for charity. It's also great to bat ideas around and have a fresh pair of eyes look over your work every now and again. Constructive criticism is always useful, and it may help your brand to evolve – even if you just have a weekly meet up with a creative friend or someone who also runs their own business, it could be useful for both parties and you might learn something new or be able to share your skills.
7. Start A YouTube Channel
Vlogging can give people an insight into your everyday life and what you do for a living. Creating a YouTube account is free and you can use it to showcase yourself or your brand in a variety of ways, some of which include: showing the world your skills and talents, demonstrating your products, shooting a day in the life of your business, quickly updating customers on news, and documenting events you attend or organize.
8. Create Stickers
Whenever you sell a product, send snail mail, or attend a networking event, include or give out a sticker with your company information on it. I've yet to meet anyone that doesn't love a sticker and if it's an attractive one, chances are the person receiving it will want to attach it to one of their possessions. The more of your stickers are out there, the more people will see your logo and be intrigued as to what services you offer. You can make your own stickers with a sticker-making machine and computer software (which could save you money in the long run,) or create your own stickers with MOO or similar websites.
9. Host An Event
Create a buzz around your brand with a special event. Your event could be the launch of a new clothing line you created, the opening of your new venue or store, or even a cinema showing a short film of what your business does. You don't need to spend a lot of money either; just make sure there is enough food and drink to go around and some form of entertainment and you've got yourself an event! Invite the local press and any bloggers or vloggers you think would be interested, so that there will be write-ups and videos of your event in print and online. The more exposure, the better.
Create a plan for 2016 of how you are going to expand your business this year with thrifty self-promotion and you're sure to have a great year!