The Best Wedding Plans Might Be From The Movies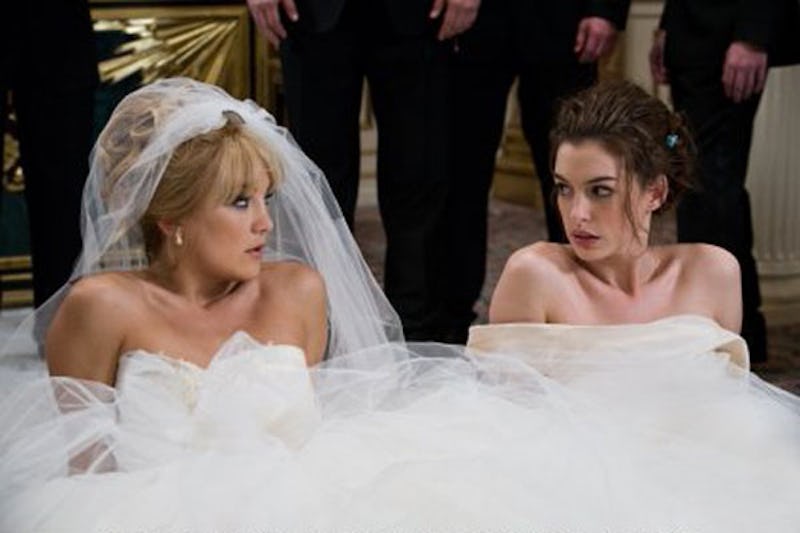 Whether you're aiming for a blow-out extravaganza or something small and intimate, chances are that if you're planning a wedding, you want it to be pretty much perfect. Stress is a part of that equation, and while money is certainly a factor, there are also plenty of other, harder-to-pin down anxieties surrounding this rite of passage. You know, those insidious insecurities that whisper that no matter what you do right, your wedding might turn out to be a catastrophe, if not the worst mistake of your life. Beyond your worries that those special-ordered origami placecard holders won't be nice enough, you may fear that your family will act too crazy and ruin your best-laid plans — heck, you may even be having last-minute doubts. If that sounds like you, it's time to stop comparing your wedding plans to those on Pinterest, and turn to these 11 wedding movies for some unconventional advice and inspiration.
After all, with all the pressures upon you as the bride, it's good to just take a breather and remember that while you want your wedding to be unique and memorable, above all, it should be enjoyable. And not just for your guests, but for you. After all, it's your wedding. So good thing there's a surplus of wedding-centric movies out there – although not all are created equal. Here are 11 movies I've picked out to psychologically prepare and assuage you while you're busy stressing out over all those big wedding plans.
1. If You Need A Reality Check: Rachel Getting Married
Although the film's premise is Rachel's boho wedding in a fancy Connecticut suburb, it's actually what's happening to other people on the sidelines like Rachel's sister Kym, who has been recently released from rehab, that provides this wedding flick its startling, powerful insight and bittersweet honesty.
2. If You're Paranoid That Your Wedding Will Fail: [rec] 3: Genesis
Are you worried that yours will be the "wedding from hell?" Try a full-out zombie apocalypse that breaks out at the reception. After some fantastically cheesy footage of what a real 21st century wedding often looks like (expect lots of bad dancing and music), this Spanish comic-horror flick laughs at all the pomp and circumstance — as well as the undue importance — of weddings. By the time the blood-specked bride cuts off the bottom of her wedding dress with a chainsaw, you'll definitely be laughing too.
3. If It's Not Your First Time At The Rodeo: Four Weddings And A Funeral
Who's not to say that the second time isn't the charm? Even a woman as amazing as Carrie (Andie MacDowall) makes the mistake of marrying and then divorcing an at-first charming Scottish nobleman (complete with kilt and castle) before clumsily ending up (spoiler!) happily ever after in Hugh Grant's arms. You live, you learn.
4. If You're Using Your Wedding to Outshine Your Best Friend's: Bride Wars
Unfortunately, competition and rivalry amongst girlfriends (or frenemies) commonly turns the bridal arena into a battleground — it's like vying for the prom queen crown, only as adults. Best friends and brides-to-be Emma and Liv's manic attempts to sabotage each other's wedding plans range from a bad hair dye job to wrestling each other on the floor. Nothing turns out the way it should for either of the women, but in the best possible way, sparking the newly-confident Emma to (spoiler!) call off her wedding after she realizes that she is not the same person her fiance fell in love with 10 years ago. While their weddings are technically "ruined," both Emma and Liv emerge winners as their tested friendship only becomes stronger and truer through conflict.
5. If You Need to Be Reminded That Weddings Are Also For Friends: Bridesmaids
Bridesmaids is all about celebrating the complexity of female relationships during the lead-up to the wedding, hilariously exposing all the unpleasant emotions that bubble up during what is supposed to be such a joyful time: jealousy, insecurity, self-doubt. In fact, the secret genius of this wedding movie is how little attention is actually paid to the wedding itself — which, when it finally happens, is more of an afterthought. Maybe that's a healthy way to think about the occasion, after which, life does goes on.
6. If You Have Crazy Parents Who Might Ruin Your Wedding: My Big Fat Greek Wedding
We all have embarrassing family members. Maybe, like Toula, you have an over-patriotic (and overpossessive) father who has a tendency to blurt out non-PC comments, or numerous meddlesome relatives who just want to "help" you plan your wedding. Maybe they drink too much at family gatherings, or maybe they culturally clash with your groom-to-be and his in-laws. But either way, family is family, and whatever differences you might have, it's important to remember that they love you and at the end of the day, just want to see you happy.
7. If You're Having Second Thoughts: Melancholia
It may not exactly be the end of the world, but it might start to feel that way if you're constantly having to push those little niggling feelings of doubt in the back of your brain aside. So what if your parents and your future in-laws spent a fortune? So what if everyone says they're looking forward to attending, and you're pressured to successfully meet expectations as a picture-perfect bride? It's not just your wedding — it's your life, woman. Remember, you're always entitled to change your mind.
8. If Things Don't Go As Planned: The Wedding Banquet
This film, about the wedding of a gay Taiwanese man in Manhattan, will appeal to your empathy and make you realize that sometimes, you can't predict how things will go. Just to avoid his mother's disappointment, Wai-Tung goes out of his way to give her the opulent wedding banquet she really wants, sham bride and all, and the results are, well, unexpected. Preconceived notions break down into a greater freedom.
9. If You Have Disapproving Relatives: Jenny's Wedding
In Jenny's Wedding, Jenny's parents are shocked to find out about their daughter's lesbian wedding, and react with fear and anger. True to life, the film focuses more on how Jenny's sexual preference has the power to create no less than emotional mayhem amongst her family members, and whether that's your exact situation or not, chances are that if you have disapproving relatives, you'll relate.
10. If You're Taking Your Wedding Plans Way Too Seriously: Wedding Crashers
After witnessing the comic antics of professional wedding crashers John and Jeremy, as they take on different personas at each wedding they attend, from Indian to Irish, you'll be refreshingly reminded that there are guests who will probably attend your wedding and not take it all that seriously. And that's OK!
11. If You Are Seeing Your Dream Come True: Muriel's Wedding
Ok, so maybe you didn't have it quite as bad as Muriel: stuck in a nowhere town, feeling awkward and insecure, rejected by friends and family alike, and just deeply unsatisfied with life. But you've fantasized your whole life about gorgeous weddings — and now, finally, you have one of your own. So take a lesson from Muriel, whose "marriage" is less about being an institutional ceremony and more about a road to self-discovery and self-empowerment. Yes, apparently you can have your cake, and eat it, too.
Drama, insecurity, hilarity — whatever happens at your wedding, just enjoy the ride.
Images: 20th Century Fox; Samuel Goldwyn Films; IFC Films; Giphy (9)