Ben Higgins & Becca Tilley Agree On One Big Thing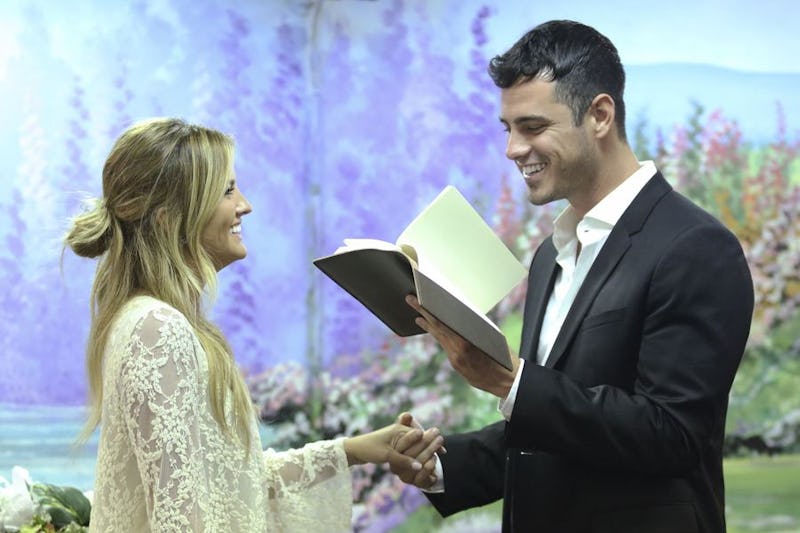 I can't believe I didn't realize it until now, but it's true — Becca Tilley and Ben Higgins are essentially the same person, and this week's episode of The Bachelor proved it. After an adorable one-on-one date in Las Vegas marrying couples in a wedding chapel, Ben and Becca headed to a museum of neon lights and then spent some time talking about something they have in common: Their faith. And after a little conversation, Ben and Becca talked about sex before marriage, and it turns out Becca's opinion on her virginity is something Ben was really impressed by.
I've always thought it was kind of weird that such an emphasis has been placed on Becca's V-card, both last season and this one, but it's reality TV, and that's what they do. And, since the topic came up, Becca explained to Ben that even if sex is something he's chosen to do in his previous relationships, she's not bothered by it, but that having sex is something she only wants to do with the person she decides to marry. Fortunately, Ben seemed to really respect that. If it's possible, their discussion may have possibly made him like her even more.
And, Ben's reaction to this particular conversation only made me like him more, too. Last season, Chris Soules was kind of taken aback by the fact that Becca doesn't get into relationships often or open herself up, but to Ben, it seems to make her even more endearing to him. It's obvious that he and Becca are a way better match than she and Chris ever were, and he handled their conversation in such a gentlemanly way. Props on this one, Ben!
Now, if it's possible, I'd love to put the virginity talk to rest. There's so much more to Becca than that.
Image: Ronda Churchill/ABC