How Colin Farrell is Making a Comeback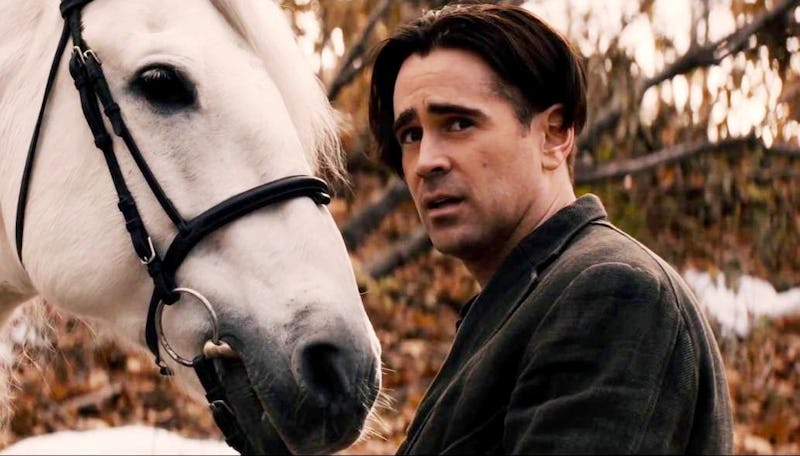 Generally, when you hear that some celebrity is making a comeback, your first response is to groan. Most of the people itching to get back in the Hollywood spotlight had left it for a reason, whether that be drugs, breakdowns, or just the public's waning interest in what they had to offer. Yet one celebrity comeback we're thrilled to see? The return of Colin Farrell, one of the most talented, interesting, and best-looking actors of the mid '00s, and whose upcoming film Winter's Tale might just be a major success.
While Farrell didn't outright disappear from Hollywood, appearing in a handful of movies over the last few years, he hasn't been a box office draw in quite awhile. The last time seeing his name on a poster truly meant something was way back in 2008, when Farrell starred in the critically acclaimed In Bruges. Since then, he's taken on a number of tiny indies, supplemented by small, barely-noticed roles in films like Crazy Heart and Horrible Bosses. Even his biggest movie of the last few years, 2012's Seven Psychopaths, only faired decently with critics and audiences, failing to be the awards contender many originally predicted it would be.
For awhile, it looked that Farrell's status as A-list actor was quickly becoming a distant memory — until we took a look at his plans for 2014. This year, it seems, Farrell is coming back into the spotlight, starring in a number of films with serious potential. If they succeed, it could mean big things for Farrell, jump-starting the second stage of the 37-year-old's career. A look at Farrell's slate this year:
1. Saving Mr. Banks
The Disney-produced biopic, co-starring Farrell as Mary Poppins' writer P.L. Travers' alcoholic father, may have come out in 2013, but it's still bringing in major money across the country and around the globe. The critically acclaimed film was a surprise snub at the Oscars, receiving just one nomination for Best Score, but it's up for five BAFTAs, Britain's equivalent of the Oscars.
2. Winter's Tale
Farrell's first new film of the year is Winter's Tale, a supernatural romance thriller set for a Valentine's Day release. The time-twisting movie, starring Farrell as a thief who falls in love with a dying woman (Jessica Brown Findlay) and is saved from a gangster named Parly Soames (Russell Crowe) by a magical horse, might be just ridiculous enough to work.
3. Miss Julie
Miss Julie, a Liv Ullmann-directed drama based off the famous play, stars Farrell as a valet whose affair with an aristocrat's daughter (Jessica Chastain) leads to dire consequences. Little else is known about the film, but with a cast that also includes Les Miserables' breakout Samantha Morton, Miss Julie should be movie to watch come its late-2014 release.
4. Solace
Reasons to look forward to Solace: 1) its plot: a psychic doctor works with an FBI agent to find a serial killer; 2) its stars: Farrell, Anthony Hopkins, and Jeffrey Dean Morgan; and 3) its script: a re-written version of a script intended to be a sequel to Se7en. In other words, Solace sounds awesome.
5. At Swim-Two Birds
Brendan Gleeson is making his directorial debut with the film adaptation of At Swim-Two Birds, Irish writer Brian O'Nolan's classic, crazy tale of an immature college student's attempt to write a novel. While several stage adaptations of the book have been commissioned, only one film has been made, by an Austrian director in in 1997. Gleeson's version will feature an all-star cast of Farrell, Michael Fassbender, Gabriel Byrne, Jonathan Rhys Meyers and Cillian Murphy. Get excited.
Image: Warner Bros; Disney