One Step Styles For Short Hair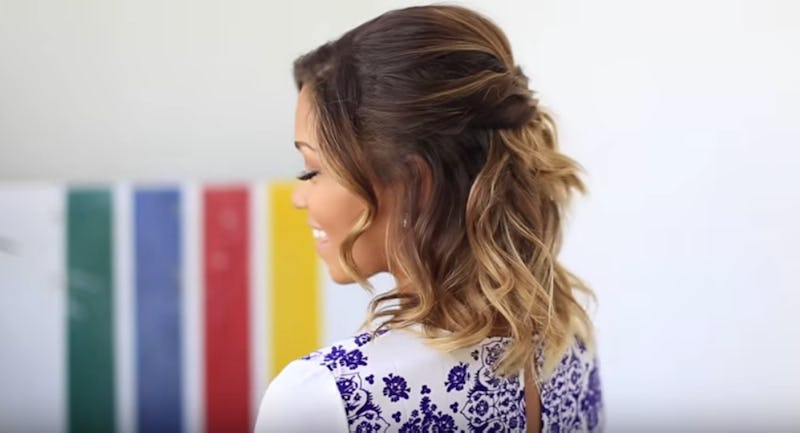 Having shorter hair can seem like the best thing ever when you're in a rush. There's no hour-long blow drying process involved, no elaborate styling. Instead, running out the door is usually a breeze. However, the same old routine can get pretty boring, and some intricate hairstyles just don't work with chin-length hair. So, I'm here to save you with some easy one step hairstyles for short hair. They might not all be exactly one step, but they come pretty close.
If you're a member of the short hair club, you're going to go crazy for the hair options on this list. Whether you have a fancy event coming up or you just want to spice up your everyday routine, there's something in this bunch for you — especially if you've ever wondered how to rock some braided pigtail buns. Yes, you really can do that with your short hair! There's even some hairstyles for those of you trying to grow out a pixie cut, because awkward hair lengths are the worst and anything that can make you look good in between touch-ups is basically a miracle.
So, here's your guide to (almost) one-step hair styles for your short hair. These prove that you can have the no-fuss hair of your dreams and be able to dress it up when you want to. Take a look at the list below and try to figure out which hair look you want to try first.
1. The Front Braid
Awesome for getting your hair out of your face or camouflaging some grown-out bangs.
2. Half Up-Do
This hairstyle is definitely the easiest — and possibly the cutest — out of the whole bunch
3. Messy Low Bun
For when you want to try something new without working too hard.
4. Halo Braid
This looks looks super difficult, but is actually pretty easy to master if you can french braid.
5. Twisted Half Up-Do
The perfect look to go from day to night.
6. Carefree Curls
If you're sick of your super straight locks, try something with a lot of volume.
7. Headband With Volume
A go-to look if you're trying to grow out your pixie cut.
8. Beachy Waves
This look is all over Instagram right now, so obviously you should try it out.
9. Twisted Side Braid
A stylish way to pull your hair off your face.
10. Triple Ponytail
This looks totally intimidating, but is actually so easy to pull off.
11. Braided Buns
A fun look for a night out with the girls.