16 Edible Valentine's Day Gifts You Can Make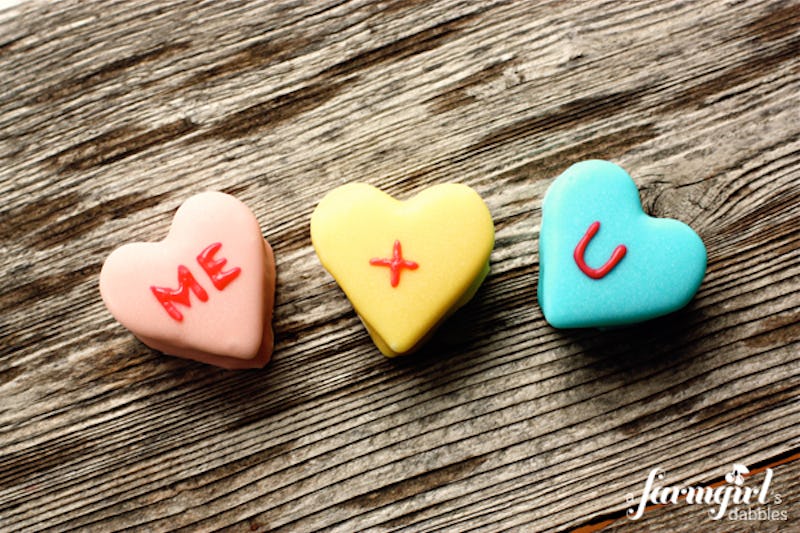 As much as we say that it's the thought that counts, when it comes to Valentine's Day gifts, there are certain presents that, simply put, would not elicit an overly positive response. DIYing can often go wrong, but with the right recipe, you can make the perfect edible Valentine's Day gifts in your own kitchen. But don't just bake a batch of cookies and call it a day — pick some recipes that will actually be presentable, as well as delicious.
While you can serve up plenty of Valentine's Day desserts later in the day, gift-able recipes are ones that not only look pretty, but can also be packaged well. Consider buying a pretty tin to place some chocolate bark in, or get a vase to pour some homemade candies into. Plenty of Valentine's Day chocolate recipes make great gifts for your special someone, your BFF, or your secret Valentine.
This year, think beyond a box of chocolates and make something edible that's also sure to please. Whether you pair your foodie gift with a bouquet of roses or something a little more personal, the extra sweet touch will make V-Day all the more delicious. Try out these 16 recipes for gifts that won't fall flat.
1. Rose-Flavored Rock Candy
Place some of A Beautiful Mess' rose rock candy in a clear jar or pretty bag for a stunning and sweet gift.
2. White Chocolate Pretzels
When covered in rainbow sprinkles, Averie Cooks' white chocolate pretzels make an especially gorgeous V-Day present.
3. Homemade Sugar Cubes
If your Valentine can't get enough sugar in their tea or coffee, A Cozy Kitchen's heart-shaped sugar cubes make a lovely gift, especially when paired with a cute mug.
4. Strawberry Truffles
The Kitchn's baby pink truffles look like something out of a Wes Anderson film — and they are pretty much the perfect V-Day treat.
5. Homemade Marshmallow Conversation Hearts
Skip the boxed candies. A Farmgirl's Dabbles makes a classic Valentine candy even better in squish form. Pair them with a hot mug of cocoa.
6. Valentine Chocolate Bark
Chocolate bark isn't just for Christmastime. A Spicy Perspective's cherry-flavored chocolate bark is gorgeous and gift-able.
7. Homemade Gumdrops
Fill a mason jar with Bakerella's gumdrops in assorted colors, and you'll be left with a sugary gift for your Galentine.
8. Snowball Truffles
Topped with pink coconut flakes, House of Yumm's simple coconut truffles are a simple dessert that's totally presentable.
9. Valentine's Day Treat Boxes
Instead of picking up a box of chocolates at the drugstore, make your own surprise. A Beautiful Mess cuts brownies into cute shapes for a chocolatey treat.
10. Homemade Turtles
Lovers of chocolate, caramel, and pecans will find it hard to resist Averie Cooks' homemade turtles. Wrap them in festive tissue paper to give to your love.
11. Homemade Tootsie Rolls
Tootsie Rolls may not be the prettiest candy, but you have to admit that they're pretty charming when they're homemade. A Cozy Kitchen wraps 'em up in parchment paper.
12. Homemade Marshmallow Fluff
Pair The Kitchn's marshmallow fluff with some Nutella, and you'll be set with a gift that's begging to be eaten immediately.
13. Chocolate Cherry Candy Cups
Cherry cordials are a candy aisle staple during February, but A Farmgirl's Dabbles proves that homemade cherry treats may be even better.
14. Chocolate-Dipped Strawberry Pops
Chocolate-covered strawberries are undoubtably one of the most romantic sweets — but they can be a bit messy to eat. Luckily, A Spicy Perspective's strawberry pops are as cute as they are easy-to-eat.
15. Homemade Oreos
OK, so you don't want to give your date a pack of store-bought cookies for V-Day. But Bakerella's homemade Oreos are seriously impressive.
16. Chocolate-Covered Cherries
House of Yumm knows how to totally transform a jar of maraschino cherries. Make a batch of these chocolate-covered treats and pack them in a tin for your Valentine to enjoy.
For more ideas, check out Bustle on YouTube.
Images: A Farmgirl's Dabbles (3); A Beautiful Mess (2); Averie Cooks (2); A Cozy Kitchen (2); The Kitchn (2); A Spicy Perspective (2); Bakerella (2); House of Yumm (2)