'Arrow' Said Goodbye To Another Character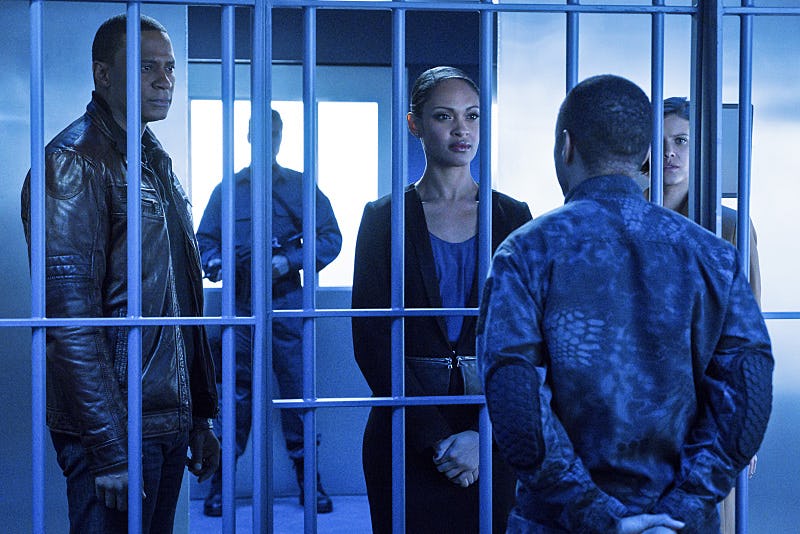 As far as Arrow episodes go, Wednesday night's "A.W.O.L." proved to be particularly action packed and, unfortunately, led to the death of A.R.G.U.S. leader Amanda Waller. After refusing to give the members of Shadowspire the access codes to Rubicon — even if it meant watching every single innocent person die in the room — their leader decided to permanently remove her from the equation and put Lyla in charge. And while we may not have known her on a personal level, I was shocked to see how little Waller's death seemed to matter to both the Arrow characters and viewers alike. In fact, there were many people on Twitter who were glad to see her go, but I, for one, felt as though she deserved a better sendoff.
Sure, she may not have been the most likable person in the world, but that's because her job was her No. 1 priority. She was willing to set her personal feelings aside and make the hard sacrifices for the good of humanity. She was tough and cold and a true force to be reckoned with. Not many can pull off that kind of level of badassery, but she did it on a daily basis with ease. I'm not going to begin to pretend that she was my favorite character on the show, but given all that she represents for the hard-working, career-driven women out there, it seemed wrong to have her death feel so cavalier.
Suffice to say, I think we can safely assume that it isn't her grave that Oliver is standing over during that flash forward into the future, which means we still have another looming loss on our hands. (Is it too early to start petitioning to #SaveDiggle just in case?) But before we revert back to worrying about all that, let's just take a moment and recognize Waller for the strong, admirable woman that she was. A.R.G.U.S. truly won't be the same without her and could even end up being to Team Arrow's detriment.
Image: Liane Hentscher/ The CW