6 Ways You May Be Slut-Shaming Yourself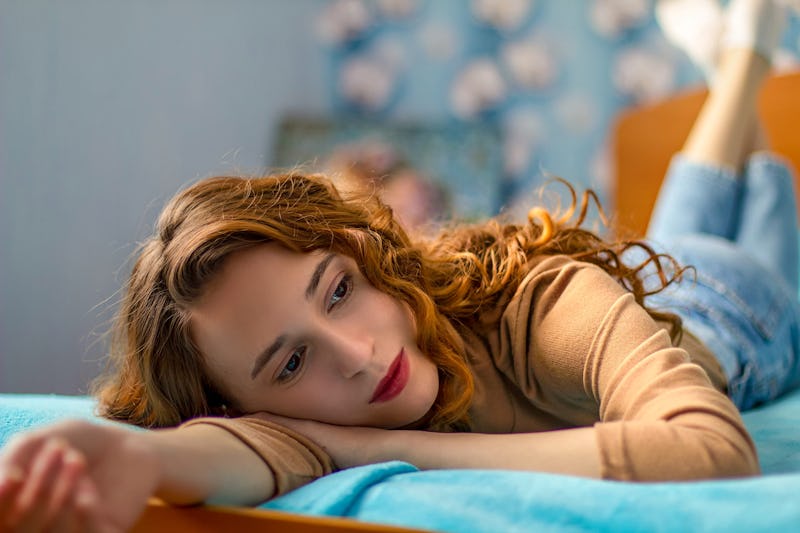 Aleksandr Pavluk / EyeEm/EyeEm/Getty Images
The first time I remember someone being slut-shamed was probably in elementary school, when kids would whisper about Tiffany* getting "finger banged" by an older guy at the movies. It's notable that I have no recollection at all of who the guy was, but can still picture Tiffany's face like I saw her yesterday. That's because slut-shaming is something we tend to heap on the shoulders of women and girls (yes, girls — Tiffany was 11 when that rumor started) and not so much onto men and boys. Unfortunately, that whole slut/stud double standard is still alive and well in 2016. UGH, amirite?
Incidences of slut-shaming other people are easy to spot — look no further than Kanye's many disparaging marks about his ex girlfriend, Amber Rose — but it's a lot harder to realize when we're slut-shaming ourselves. Even the most dedicated sex-positive activists among us have internalized society's effed up ideas about female sexuality and end up slut-shaming ourselves sometimes. In fact, I caught myself doing it just yesterday! I was working from home and wearing leggings when I realized I needed to run to the corner store. I seriously debated whether or not I should put on jean shorts instead of leggings with a long top because my booty was "too much" (read: curvy and therefore sexualized by others whether or not I was trying to be sexual) for the area I live in. In the end I decided I cared more about the fact that I didn't want to put on underwear than whether or not the security guards at the store would look harder at my butt if I wore leggings than if I wore tight jean shorts.
Ya can't win, folks. Here are six signs that society's insidious slut-shaming has worked its way into your head without you even realizing it.
1. Thinking A Part Of Your Body Is Inherently "Too Much"
I've been curvy since I was 10, when puberty hit my boyish frame like a Marilyn Monroe Mack Truck. As a result, I've always been hyper-aware of how other people react to my body. Every single day I think about whether or not my clothing choices are "appropriate" instead of whether they're "something I'd like to wear" or "comfortable" or "perfect for the weather." I've absolutely internalized the idea that my DDs are inherently more "slutty" than my friend's B cups and that I need to be careful about how I display them. Sh*t, even fingernails are subject to this! I've been rocking badass bright pink gels and I caught myself wondering if maybe they were "trashy" the other day. So much ugh.
Point being: Your body is your body and it is not "too much." Wear what makes you feel comfortable, not what other people say is "appropriate" for your body type. Rock those leggings at the grocery store!
2. Beating Yourself Up Over An Otherwise Good Hookup
So you went out, you met someone, and you hooked up. You had a great time during — sex like whoa — but the next day you're feeling ashamed of yourself. How could you just go and fall into bed with someone you just met?? Someone whose last name you don't even know?
Well hon, I'm here to tell you to stop. Just stop it. Sure, casual sex is not for everyone, but If you wanted to do it and had fun and they had fun, then who was hurt? You now have a great sexual experience under your belt and that is something you should be celebrating, not feeling ashamed about. Go listen to Outkast's "The Morning After" and then watch Amber Rose's anti-walk of shame for two great pop culture pick me ups.
3. Feeling Ashamed About Your "Number"
Repeat after me: There is no wrong number. The number of people that you've slept with means one thing and one thing only and that's that you've slept with that many people. Assigning moral value to the number of sex partners you've had plays into old (messed up) ideas that assigned a woman's value to her virginity. Do you think a woman who has had sex is "worth less" than a woman who hasn't? No? Then stop bugging about your number, boo. Have sex with the people you want to have sex with and don't let anyone tell you that you should feel bad about it.
4. Avoiding Masturbation
If you've bought into the idea that you shouldn't need or want to masturbate when you're partnered, then you're slut-shaming yourself. Masturbation is about self-love, which is different from loving it up with a partner. Wanting to orgasm on your own is totally legit, partnered or not. So settle down with some erotica and your favorite vibe and get to it!
5. Judging Other Women's Sexual Or Clothing Choices
You know how they say that the things we hate in others are really the things we hate in ourselves? Well, when you talk smack about other women's sexual or clothing choices, you're saying a whole lot more about yourself than you are about them. And what you're saying is that you've internalized a whole bunch of slut-shaming nonsense and that you're probably worried about your own, a) clothing choices, b) number of sexual partners, or c) sexual preferences. I know it's really easy to jump on the women-hating bandwagon and position yourself as a "good" girl but it's time to consider the fact that you're hurting all women — yourself included — when you do that. So let's all agree to just stop, OK?
6. Feeling Bad About The Kind Of Sex You Like To Have
So you like it in the butt. Or you're really into giving head. Or you could get eaten out for days. Or you can only get off with a certain vibrator or with someone you love or with someone you hate. The number of ways that people express their sexuality is greater than the number of human souls there are on this earth and that is an amazing, beautiful thing. Revel in the ways that your sexual preferences help make you who you are and never, ever feel ashamed. Do you, and don't let anyone make you think you should feel bad about it.
*name has been changed.
Want more of Bustle's Sex and Relationships coverage? Check out our new podcast, I Want It That Way, which delves into the difficult and downright dirty parts of a relationship, and find more on our Soundcloud page.
Images: Giphy (6); Aleksandr Pavluk / EyeEm/EyeEm/Getty Images