15 Non-Sappy Romantic Quotes From Literature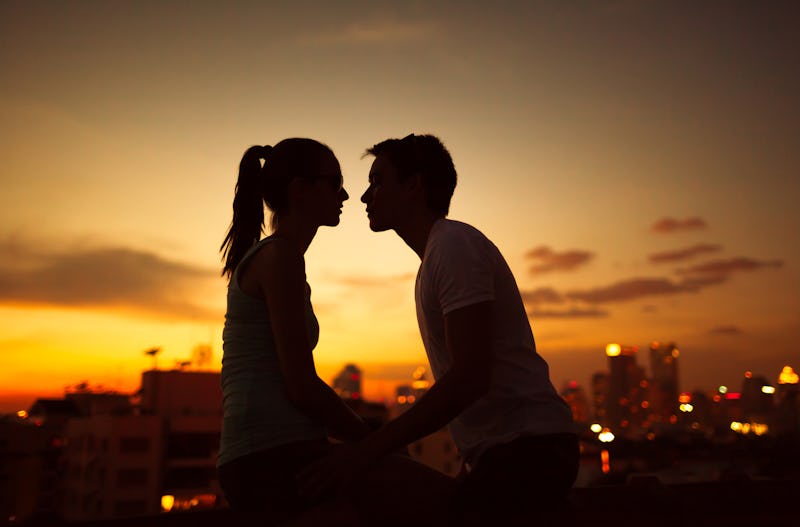 It seems only yesterday that it was early January and we were recovering from our holiday hangovers. But now, as February looms on the horizon, we all have to accept the inevitable: Valentine's Day is coming. And V-day means a lot of different things to different people. For some, it's a cruel reminder of being alone in a cold and uncaring universe. For others, it's a complete sellout that ups the pressure to impress your significant other. And for the lucky few, it's just an opportunity to gorge on chocolates and those gross chalk hearts.
Look, some people love to overdose on lacy hearts and images of fat winged babies with archery equipment, and that's fine. Some people can't stand anything even remotely heart-shaped or in any way related to Hallmark and that, too, is fine. Those people can still enjoy all the discounted chocolate on February 15.
There's nothing wrong with a good old-fashioned cheesy romance. A lot of great books are full of cheesy romance, and there's no shame in loving some lovey-dovey cheese on occasion. But if you're looking for romance that's not so sappy, or literary love that won't rot your teeth, never fear. There are also plenty of great books full of non-sappy quotes, that'll make you feel all fuzzy inside without making you roll your eyes:
1. "Remember, we're madly in love, so it's all right to kiss me anytime you feel like it."
— Suzanne Collins, The Hunger Games
2. "When you love something it loves you back in whatever way it has to love."
— John Knowles, A Separate Peace
3. "In life there are two things which are dependable. The pleasures of the flesh and the pleasures of literature."
— Sei Shōnagon, The Pillow Book
4. "You are too generous to trifle with me. If your feelings are still what they were last April, tell me so at once. My affections and wishes are unchanged, but one word from you will silence me on this subject for ever."
— Jane Austen, Pride and Prejudice
5. "When choosing sexual partners, remember: Talent is not sexually transmittable."
— Tina Fey, Bossypants
6. "The more you love someone, he came to think, the harder it is to tell them. It surprised him that strangers didn't stop each other on the street to say I love you."
— Jonathan Safran Foer, Everything Is Illuminated
7. "His examination revealed that he had no fever, no pain anywhere, and that his only concrete feeling was an urgent desire to die. All that was needed was shrewd questioning … to conclude once again that the symptoms of love were the same as those of cholera."
— Gabriel García Márquez, Love in the Time of Cholera
8. "I sometimes have a queer feeling with regard to you — especially when you are near me, as now."
— Charlotte Bronte, Jane Eyre
9. "If I loved you less I might be able to talk about it more."
— Jane Austen, Emma
10. "Have you ever been in love? Horrible isn't it? It makes you so vulnerable. It opens your chest and it opens up your heart and it means that someone can get inside you and mess you up."
— Neil Gaiman, The Sandman, Vol. 9: The Kindly Ones
11. "To love oneself is the beginning of a lifelong romance."
— Oscar Wilde, An Ideal Husband
12. "Brevity is the soul of lingerie."
— Dorothy Parker, While Rome Burns
13. "I don't want to hear about the endless struggles to keep sex exciting, or the work it takes to plan a date night. I want to hear that you guys watch every episode of The Bachelorette together in secret shame, or that one got the other hooked on Breaking Bad and if either watches it without the other, they're dead meat. I want to see you guys high-five each other like teammates on a recreational softball team you both do for fun."
— Mindy Kaling, Is Everyone Hanging Out Without Me?
14. "This was love: a string of coincidences that gathered significance and became miracles."
— Chimamanda Ngozi Adichie, Half of a Yellow Sun
15. "Love can change a person the way a parent can change a baby — awkwardly, and often with a great deal of mess."
— Lemony Snicket, Horseradish
Images: Fotolia; Giphy (15)