14 Things All New Yorkers Want On Valentine's Day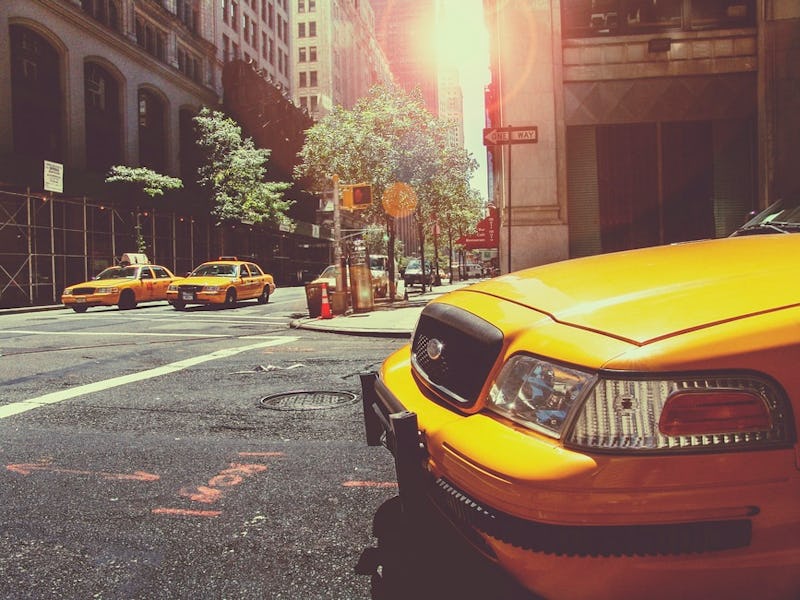 New York couples are of a different breed — though I can't say which came first, the badass attitude or a Gotham address? While couples in other parts of the country might be planning home cooked Valentine's Day dinners or handheld strolls on the boardwalk or a night out at your favorite restaurant low-key grub joint, New Yorkers have something else in mind.
First of all, the weather has two options: it's either going to be freezing or snowing. Second of all, restaurants are so booked up that even if you do get a reservation, your waiter will be all up in your grill, clearing your plates before they're empty in hopes of getting you out so the next reservation can get in. Third of all, New Yorkers exist in a constant state of wound up — it's just how we have to be to brave the subways at rush hour and work without a caffeine drip. So a low-key night at home is not going to cut it when emotions are high and expectations are higher.
We New Yorkers are cold, tired, and still pretty emotionally blunted from the most depressing month of the year. We want to be surprised, we want to feel loved, we want to smile, we want something to Instagram, and we want something to brag about at brunch, is that too much to ask for? With the help of my "What New Yorkers Want for V-Day"" list, it's definitely not too much to ask for. Oh, and maybe it goes without saying, but potential Valentines: I want all of these.
It might not look like much, but this bathhouse is both famous and epic. It's a traditional facility, offering a multitude of hot to cold treatments. It's not a spa but you'll leave feeling incredible. Or you'll stay and drink some fine Russian vodka at the bar and make some new friends.
David's Shift Admission Pass, $25, Russian Turkish Baths
Take your date up, up and away, or just on a quick little ride above the city. Though the price is steep, it's worth it for the views, it's possible you'll win Instagram with the right shot.
The New Yorker Helicopter Tour, $144, Heli NY
OK, so it's a little chilly. But you can bundle up and after a few glasses of wine you'll have no idea you're cold anyway. This is definitely an ace romantic move to step up the old, boring, on land wine tasting.
Hudson River Yacht, $95, Cloud9Living
Many New York women suffer from scarf envy. There's always someone on the street who seems to have a warmer and cuter scarf than you. Get your Valentine THE warmest and THE cutest scarf in the world.
Wonderland Wrap Scarf, $49.95, Free People
Um, yeah, because #pizza and because #beer. This tour promises not just oodles of pizza and beer, but a comprehensive New York history lesson, too.
NYC Pizza Beer & History Tour, $59, Cloud9Living
In New York, a free Uber ride will make anyone feel like Cinderella. The problem is, Uber doesn't technically have gift cards yet, but you can sign up for an UberEvent ride and gift your Valentine a ride by following these steps.
How To Trick Your Crush Into Having Dinner With You Three Times In One Week 101: Get them a Blue Apron three meals for two people package! Fresh groceries will be delivered to your door with instructions for how to cook them. It's a very cinematic Nora Ephron thing to do, you'll be in the kitchen drinking wine, dicing tomatoes and giggling ... three nights in one week.
Blue Apron Two Person Plan, $59.94, Blue Apron
There once was a blanket named Lambie. It ruled all of the bed linens. It was the softest, warmest, cuddliest, kindest gift you could ever wish for. And then one day Lambie was discontinued and the world sobbed and suffered with less perfect blankets. But now, thanks to eBay, the Lambie has been resurrected. Give your Valentine (who has spent the last month hunched over and shivering in their apartment) the warmest (and rarest) gift of them all.
Discontinued Lambie Sleep Blanket, $94, eBay
Get the hell out of this godforsaken city for the day! Go to Grand Central, take your Valentine upstate for a quiet lunch and romantic stroll, far enough away from the city to see the stars and hear the nothingness of nature. Cold Spring is a perfect little oasis (surrounded by mountains and adjacent to the Hudson River) just over an hour outside of Manhattan. The train station is in the center of town, so you can simply hop off the train and take ten steps to any of their charming and delicious restaurants.
Grand Central Terminal to Cold Spring , $28, MetroNorth
Don't just go to the drug store and get your Valentine a box of name brand chocolates. That doesn't involve much thought and they'll probably end up half chewed and stale. Take your Valentine our on a chocolate tour through the city. Yes, with your sweet tooth you can literally eat your way through Manhattan, together.
Chocolate and Dessert Tour, $59, Cloud9Living
If your Valentine has a dog, all winter long they're either struggling with muddy paws from the snow or salt burns on their paws. It becomes quite a hassle to deal with your pet's feet in the winter months. These super cute booties will be an unexpected gift and totally useful.
Pup Crew Quilted Zip Red, $12, Petco
New Yorkers loathe laundry. For most New Yorkers, doing laundry means going anywhere from one to three days without functional underwear and feeling like a D-list version of yourself. Get the woman you love a lingerie pack of three because come laundry day, she'll really appreciate it.
Best Lace Ever Hipster 3-Pack, $33, True & Co
I believe every New York woman should have a tube of lipstick in their purse for emergencies. You never know when you'll have to go from gym rat to professional and a little rouge on the lips can do the trick. Instead of getting your woman one, why not three? And while your at it, why not from the Estée Lauder line that donates a 20 percent of sales to The Breast Cancer Research Foundation?
Dream Pink Collection, $35, Estée Lauder
The last thing your Valentine will be expecting is an oversized stuffed pig. But who doesn't want to wake up to something soft and cuddly? No one. New Yorkers need cuddles, too.
Melissa & Doug's Kid's Plush Pig, $39.99, One Unique Duck
Image: Pexels