'Grease Live!'s Kenickie Has TV Experience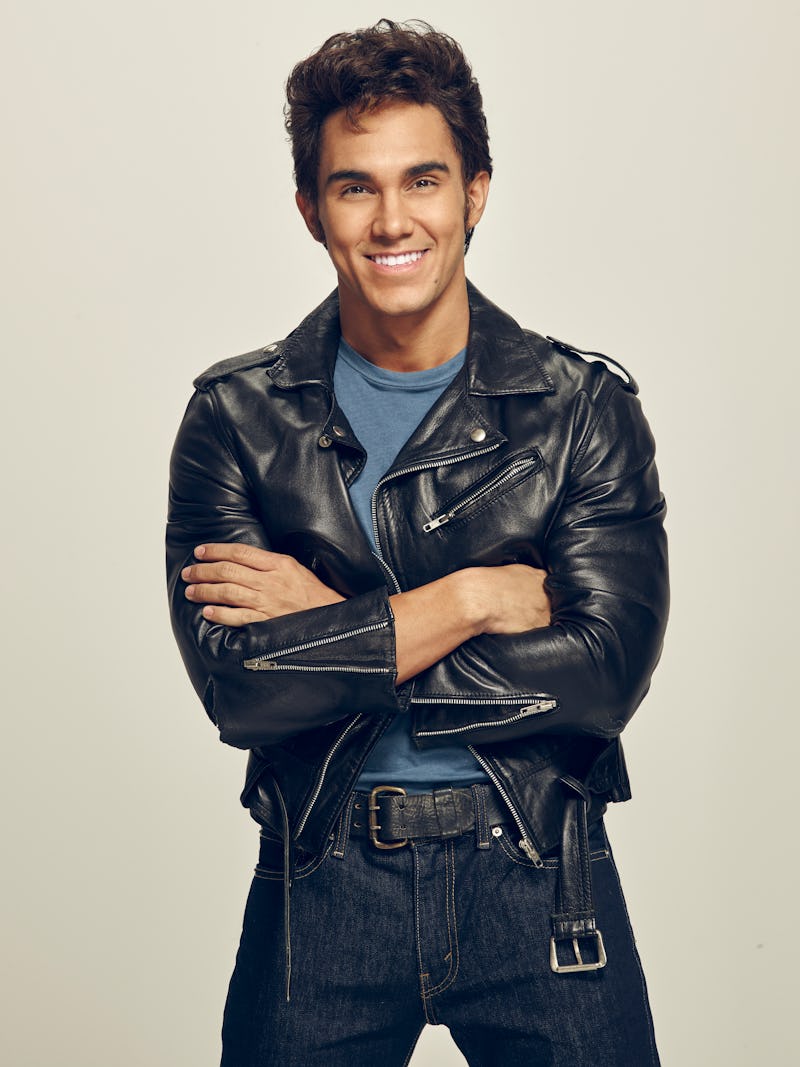 Everyone's favorite T-Bird is back — and no, I don't mean Danny Zuko. When it airs on Sunday night, Carlos PenaVega will play Kenickie in Grease Live! , aka Danny's right-hand man. Portrayed by Jeff Conaway in the 1978 movie, Kenickie is one of the main T-Birds and the ultimate bad boy of Grease movie. His on-again-off-again relationship with Rizzo is a recurring plotline throughout the film, as well as his competition with Leo, the leader of opposing greaser gang, The Scorpions. PenaVega has some large shoes to fill, but I'm confident he can do it because of his background.
First, and most importantly, Carlos became famous when he landed a spot in a boy band called Big Time Rush. The band toured around and had a ton of hit songs, plus their own TV show on Nickelodeon — also titled Big Time Rush. The group, formed in 2009, consisted of Carlos and three others — Logan Henderson, Kendall Schmidt and James Maslow. Their songs include "Worldwide," "Big Time Rush," "Boyfriend" and "The City is Ours," which you can listen to in the video below. Their tunes are super catchy, so be careful when you check it out, because they'll definitely be stuck in your head.
When the show ended in 2013 the band also stopped making music together, but Carlos kept his individual career going. Here's what you should know about him before tuning into Grease Live!
He's Married To Alexa Vega
In 2014 the former boy band member wed Spy Kids star Alexa Vega. According to US Weekly, the couple married on Jan. 4 in Cabo San Lucas and changed both of their last names to PenaVega, a combination of their previous last names. "We are so blessed to have been able to spend this special day with the people we love the most. We look forward to sharing a happy and healthy life together," they told the magazine. Their Instagram accounts prove that they're totally in love.
He Was On Dancing With The Stars
Both Carlos and Alexa were on Season 21 of Dancing with The Stars. Carlos was paired up with Witney Carson and actually didn't do too bad. He came in fourth, making it further than his wife, who was eliminated two rounds earlier.
He Appeared In Spare Parts
In 2015, Carlos was in a movie with George Lopez called Spare Parts about a teacher who helps four high school students with no money or experience enter a robotics competition. In addition to Alexa, the movie's impressive cast featured Jamie Lee Curtis and Marisa Tomei.
He Hosted Webheads
After Big Time Rush ended, Carlos went on to host a Nickelodeon game show called Webheads. It includes a series of video challenges and rounds eliminating players. True to any other Nickelodeon game show, there was slime involved, and the show ended in 2015.
He's Very Religious
Carlos and Alexa have their own website called Lexlos.com where they blog about their lives and each have their own section. A recent entry from Carlos is about how he attends church every Sunday and how studying the bible and word of God enhances his life. "I am constantly feeding my soul so that I am challenging myself to be more and more like Jesus everyday," he wrote on Jan. 7. "I'm always hungry for more and I feel renewed and connected after each service."
The Couple Sells Shirts
The PenaVegas have created a line of hoodies available for sale on their website that say Lexlos on them. Alexa recently made a shirt they call the "Cross your heart" shirt.
He Eats Pizza On Christmas Eve
No it's probably not a holiday tradition, but anyone that eats a whole pizza is kind of awesome in my book.
And for anyone who wasn't familiar with Carlos before, I think taking up the role of Kenickie in Grease Live! will change that.
Image: Tommy Garcia/FOX