Why Are There So Few Biracial Dolls?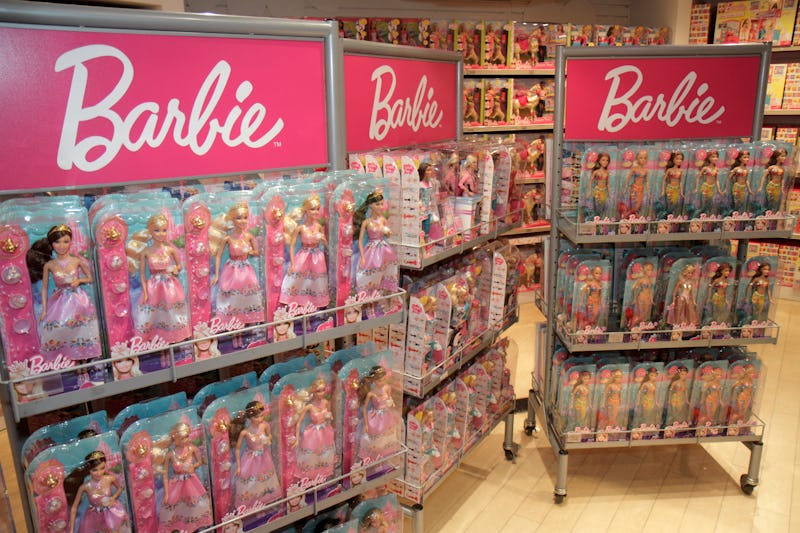 Jeff Greenberg/Universal Images Group/Getty Images
10 years ago, my obsession was American Girl everything. The dolls, the books, anything I could get my hands on. I still have my own customized doll with green eyes and hair close to the brown-ish blonde hair I had at the time. I wasn't only interested in their current-day dolls, however — the historical dolls inspired me to be the best I could be as well, because no matter what time period or culture the girls lived in, all of them learn to be brave through adversity and hard changes in their lives. For example, Kit Kittredge, the 1930's Nancy Drew-esque aspiring news reporter, lives during the Great Depression and must learn how to adjust to life when her father loses his job, becoming thrifty and working hard to achieve her goals. She taught me that working hard will result in success, even if it is not immediate.
A couple years ago, on a trip with my mother to Tyson's Corner mall, just outside of Washington, D.C., I saw it: The American Girl Store. It had been a while since I anxiously waited for the next historical character to read about (or lusted after the $100+ merchandise in the catalogs). But when I went into the two-story American Girl utopia, I was 10 all over again (being 20 means you're just 2 whole 10 year-olds, by the way).
And while it was one of the most beautiful moments in my life, I couldn't help but wonder why, after all of these years, there was still no biracial historical doll?
American Girl's product diversity section pledges that they have a doll available for "every girl to love" and when it comes to the customizable personal dolls, that pledge is upheld. As per their product diversity statement, American Girl prides itself on "the most inclusive and diverse selections of dolls today" and "giving girls an opportunity to see a direct reflection of themselves or a chance to learn about a life or culture that may be very different from their own." Indeed, modern-day dolls are completely customizable, with options pertaining to everything from skin and eye color to style of hair (they're even available without hair). Accessories such as glasses, hearing aids, wheelchairs, and service animals are also available to make sure that every girl can create a doll that looks just like them.
But in the historical doll collection, the same level of diversity isn't present. Every couple of years or so, American Girl introduces a new character from a different period in American history. Once known as "The American Girls Collection," what is now called the "BeForever" collection features the company's historical characters, which cover over 200 years of brave female role models between them. Every character faces unique challenges related to their era, ranging from the impact of historical events to identity. And a majority of these dolls are white, even though people of color are expected to soon comprise the majority the U.S. population, according to trends seen in the 2010 Census.
The number of Americans who identify as biracial or mixed race is especially important to note. According to research gathered by National Geographic, the number of people who checked off multiple races on their census forms has increased by 32 percent since 2000. The Pew Research Center released a similar study called "The Next America" that also agrees that populations of people of color, including biracial and mixed race Americans, are growing. So again, why is it so difficult to find biracial dolls?
Don't think I'm about to bash American Girl (not a chance of that, ever). American Girl offers a much more diverse selection of dolls than nearly every other doll label, though many other major toy companies are also making great strides in releasing more racially diverse lines of toys. Barbie (which is produced by Mattel, the company which also produces American Girl) has increased its product diversity with recent releases including the Barbie Careers line, which includes African-American dentist, doctor, optometrist, and veterinarian dolls; a line of dolls modeled on the band Fifth Harmony which includes Latina, African-American, and Tongan members; and their gorgeous Zendaya doll, as well as their new curvy, petite, and tall Barbies with multiple skin tones and eye color options. Mattel also produces dolls based on Dora the Explorer , the popular cartoon show about an adventurous young girl of Mexican heritage. Disney has released toys tied to Doc McStuffins, a wildly successful cartoon about a young African-American girl who aspires to become a doctor.
And American Girl has done an excellent job including girls of many different ethnicities in the BeForever collection, including Mexican-American Josefina Montoya; Addy Walker, an African-American girl that escapes slavery; and Kaya'aton'my (Kaya), a Native American girl of the Nez Perce tribe. Cécile Rey, another African-American doll, was released alongside Marie-Grace in 2011 as part of a story set in 1850's New Orleans, but was discontinued in 2014. Ivy Ling, a friend of 1970's historical doll Julie, is Chinese-American (though her doll was retired in 2014, causing an uproar). There is even a Jewish doll named Rebecca Rubin.
But there are very few biracial and mixed race dolls commercially available. A quick Amazon search only revealed 12 results for "biracial dolls" as shown below:
It is worth noting that American Doll did offer a biracial doll for a limited time — in 2006, American Girl released Jess McConnell, a half Japanese-American and Irish character as their annual "Girl of the Year" doll.
But as the honor suggests, it's just for the year, and the company has never produced a biracial doll for their historical collection. I applaud American Girl for their efforts towards diversity, and understand that to have a historical role model character for each and every girl's unique background would be impossible. But I think the importance of having biracial dolls widely available — from American Girl as well as other companies — cannot be overstated.
The benefit of having at least one permanently available biracial doll is giving girls of mixed ethnicities someone to relate to, someone that has heard the same questions and has the same concerns as they have. And including a biracial girl in a historical collection would show that mixed race and biracial women play an important role in American history.
And this isn't just theoretical concern — a biracial friend told me, when I asked if he had trouble finding biracial dolls for his younger sister, that "I'm not sure I've ever seen a mixed doll." He may have never come across a biracial doll while shopping because the options for mixed race and biracial dolls often come from smaller companies, like The Pattycake Doll Company (which sells African-American, Asian, Latina, and biracial dolls, ranging in price from $15 to $50) whose products are not as widely stocked in toy stores as those from larger companies.
At this time, American Girl has not commented on the future of a biracial historical doll. But I believe there's still hope for a biracial American Girl doll in the near future. To truly live up to their name, their dolls should reflect all of America's girls — and to do that today, some of them must be biracial.
Images: Jeff Greenberg/Universal Images Group/Getty Images; Giphy; Amazon