Spring's Coolest Raincoat Trend Is So '90s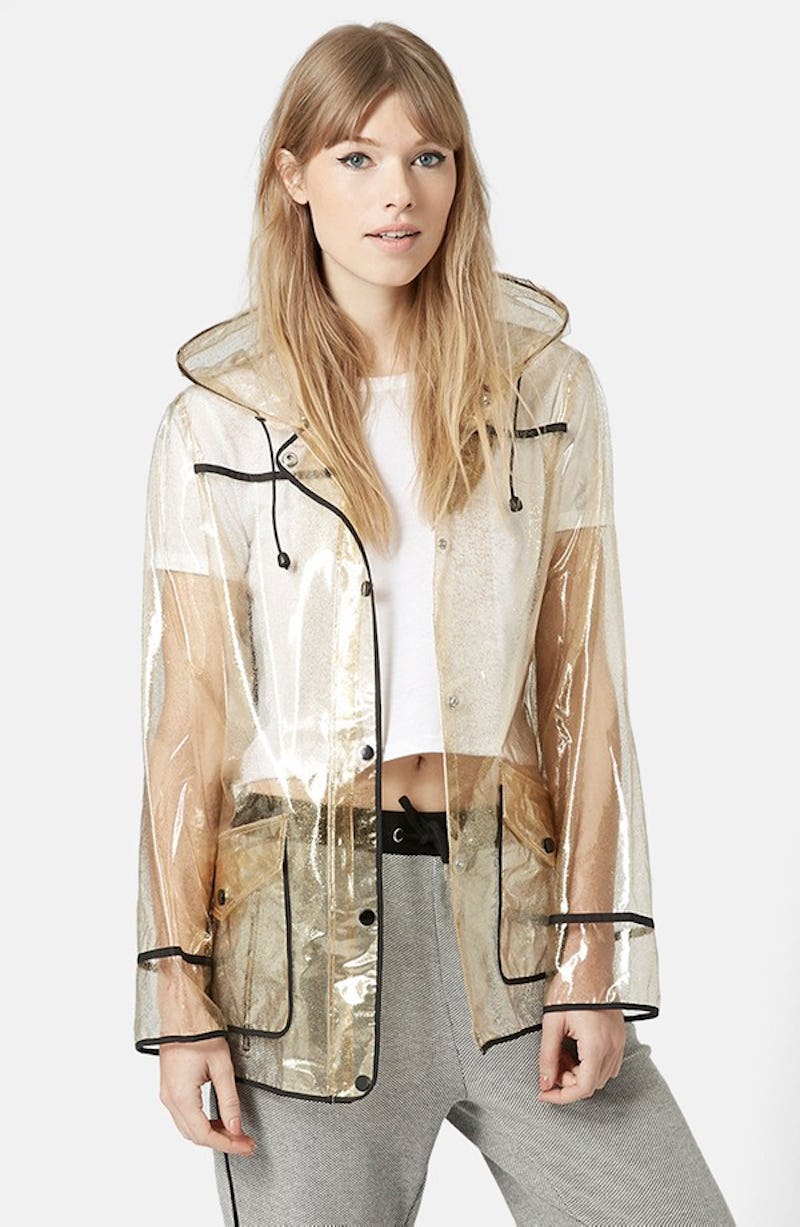 I'm so over wearing a parka, that I'm already thinking about the months of April and May, where leather jackets and trench coats have their moment to shine. This spring, though, the one trend I'm totally excited about is clear raincoats. Cause like, why pick out a killer outfit if you're going to have to cover it all up, anyway?
Dear parka: I'm over you. Just kidding, you keep me warm. Don't leave me yet. But in all seriousness, with Storm Jonas passing by just a couple of weeks ago, I'm so over wearing my puffy parka and Timbs every single day. It's nice to have a uniform down, but I do miss not looking like a burnt marshmallow, and you know, seeing just a little bit of my figure.
One of the biggest trends growing up that I remember is everything clear. Jelly sandals, jelly bracelets...Jelly pretty much everything. And as we know, fashion is cyclical. And the '90s are having a major moment. Flannels, denim jackets, and patches are seen everywhere, on peers and celebrities alike. One of my most coveted items I've recently bought is actually a mini clear backpack, that gives me major Clueless vibes.
This spring, why not show off your hard-earned outfit by throwing on a clear raincoat? You thought up that super cute ensemble — Now show it off to the world! Below, find some raincoats that'll show off your insides, too.
BLQ BASIQ Raincoat, $192, Revolve Clothing
Trench style, with an unexpected twist.
Rosina Rainbow Trim Clear Plastic Mac, $42, Boohoo
So '90s, it hurts.
Clear Long Sleeve Crop Hooded Rain Trench, $27, Yoyo Melody
How cute is this with a crop top on underneath?
Topshop Gold Glitter Transparent Plastic Rain Jacket, $45, Nordstrom
A little tint like this gold helps keep it a little less transparent.
Black Vinyl Transparent Raincoat, $9, Ebay
Love the baby doll details and fit of this one.
Hunter Original Clear Smock Jacket, $228, My Theresa
This one's just dark enough to hide a few details.
Norma Kamali Vinyl Jacket, $325, The Outnet
If you're into looser silhouettes, this is the perfect pick.
Free People Spinning Circles Raincoat, $30, Free People
More pattern, less transparent.
Your outfit deserves some love, no matter the weather, and these clear rain coats will definitely make sure you're a standout no matter the weather.