'RHOBH' Rehashes Kathryn Edwards' First Marriage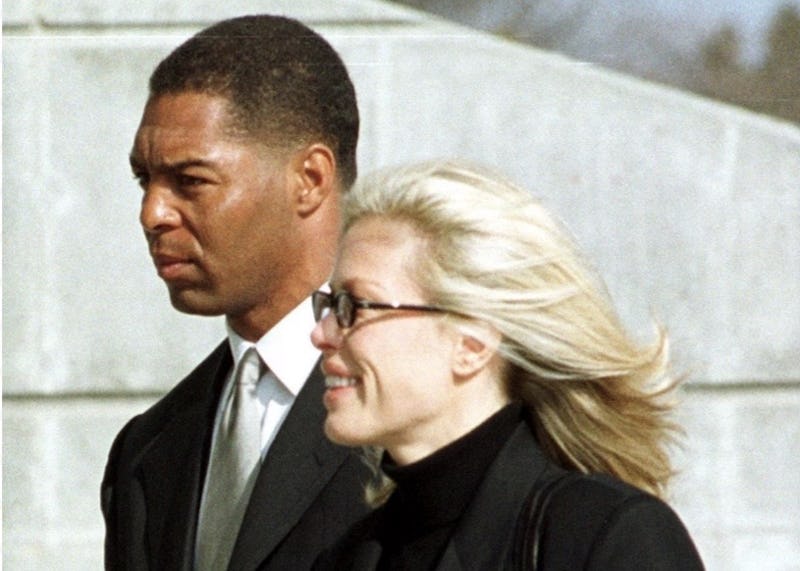 A Housewife (the Bravo version and otherwise) is far, far more than just her spouse, but, since new Real Housewives of Beverly Hills star Kathryn Edwards' first marriage has already been the focus of so much drama, her marital status has received more attention than usual. So, how long was Edwards married to football star Marcus Allen? Well, Edwards has actually been married twice — first for eight years to Allen until their divorce in 2001, according to Bravo. And, according to the International Business Times, she's now been married to her current spouse Donnie Edwards for almost 14 years after they tied the knot, also in 2001.
On RHOBH, Kathryn is currently fighting off some accusations about her first marriage. In Faye Resnick's book, Nicole Brown Simpson: The Private Diary of a Life Interrupted, Resnick claimed that Allen had an affair with Nicole Brown Simpson after Simpson's marriage ended. People reported Kathryn and Allen both deny the accusations. And, the gossip didn't drive them apart, either — Kathryn and Allen stayed married while, in 1994, Allen ended his friendship with O.J. after O.J. allegedly asked Allen to lie about being in a romantic relationship with Nicole, Allen claimed when testifying in the 1996 the wrongful death civil suit, as reported by CNN. The Spokesman-Review reported that, at the time, O.J.'s lawyers declined to talk to reporters on the matter.
It would have been easy for Kathryn to throw her ex underneath the bus after their split. But, instead, she is still defending him against the decades-old gossip. Still, Kathryn has put that first marriage behind her, and she and her current husband, retired football player Donnie Edwards, are practically inseparable.
The two got married shortly after her split from Allen in 2001, and they've been traveling around the world together (and posting a good amount of IG PDA!) ever since.
While Resnick and the rest of the Real Housewives of Beverly Hills cast might be fixated on Kathryn's first marriage, the newly appointed Housewife is confident enough in her current marriage to both stay respectful of Allen, but also enjoy sharing sweet snaps of her new man and living life up with him by her side.
Image: Dave Kaup/AFP/Getty Images