When Your Partner's Ex Wants Back In Their Life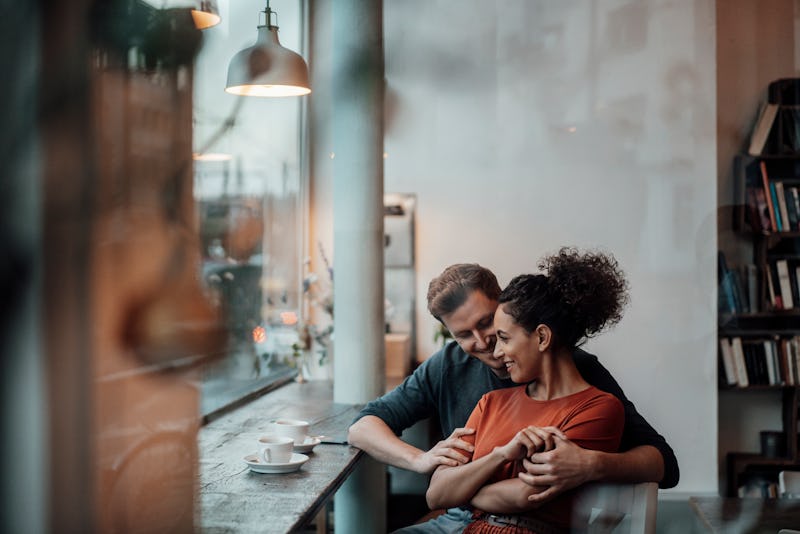 Westend61/Westend61/Getty Images
Dealing with past partners is never an easy thing. There are so many questions: Should you be friends with an ex? Can exes ever be just friends? Should you allow your ex to be a part of your life at all after you've processed the breakup? Pretty much everyone who has ever had a romantic relationship has dealt with these questions at some point. But coping with your partner's former loves can be even more complex. Like you, they've got past relationships to reckon with. And no matter how happy the two of you are or how deeply you're entrenched in the honeymoon phase, your boat may be rocked if their ex suddenly reappears after being in hiding for a while.
Of course, lots of people are friends with their exes, with no problems or ulterior motives. But for many of us, the situation is a bit more complicated — especially because our thoughts and actions on this issue often don't line up. Studies show that while 61 percent of people preach that being friends with an ex isn't worth our time, 38 percent of that same group admitted that they have maintained friendships with an ex at least once during their lifetime. In other words, cutting an ex out of your life is way easier said than done, even if you think it is technically the right thing to do. Even more disconcerting is the fact that 41 percent of people who kept up the friendship ended up getting back together with their ex at some point down the road.
If you're a person who often feels possessive of your partner, or just a worrier, you may feel like panicking right now after reading all this — especially if you partner has recently received an out-of-the-blue text or friend request from someone they used to date. There's no need to freak yourself out, though: Romantically reconnecting with an ex who suddenly reappears is far from inevitable — and should one of your S.O.'s exes turn up and ask to become a part of their life, addressing the situation with your sweetie (rather than hoping it will go away on its own) is the best way to keep stress over the situation to a minimum. So how do you talk about your worries and fears when your partner's ex wants to be back in their life? Try the six tips below.
1. Talk To Your Partner About Whether This Friendship Is Important To Them
Before you make any assumptions, talk to your significant other. Ask them what being in contact with their ex means to them, and what they're looking to get out of this. By doing this, you open up the doors of communication, and your partner will feel more inclined to tell you the truth about what's going on in their head. Try to let them finish their line of thought before you jump in with your opinion, too.
You may be pleasantly surprised by their answer — maybe they don't really want to rekindle this friendship, and are just being polite. But even if they genuinely do want to have their ex back in their life as a friend, hear out their reasons before you mount any kind of argument. Genuinely listen to what they have to say, don't jump to conclusions — if you do sense something fishy, make a note of it and bring it up when it's your turn to talk, but don't assume that your partner has a hidden agenda or secretly wants to reunite with their ex, based only on their interest in the friendship.
Their ex may very well not have a secret agenda, either — plenty of people get back in touch with an ex with an offer of friendship because they miss some of their personal qualities, but not because they want to get back together. There's no need to get ahead of yourself here and stress yourself out over theoretical problems — so the most important first step is to have an honest discussion.
2. Voice Your Concerns In A Level-Headed Way
While it's crucial here for you to be honest with your partner, the way you deliver your message does matter. If that initial conversation brings up a few things that make you upset or anxious, first of all, remember that that's totally OK. However, if this is the case, you may want to take a little time before you come back with a response. The last thing you want is speak before you've had time to really think, and accidentally drive an otherwise civil exchange into some highly emotionally charged territory.
Once you feel like you're in the right headspace, lay everything you're feeling on the table for your partner to see and hear. Try to say it all — even if it makes you feel uncomfortable to be that frank with them, even if it means you have to admit that you're a bit worried this ex will drive a wedge between you two. You're only doing your relationship harm if you're not truthful or don't listen.
3. Confide In An Unbiased Third Party Who Can Give Good Advice
You could probably use someone to talk with when dealing with all of this. It's easy to get caught up in your head when you think about any and all exes (theirs or your own), so having someone to hash it out with will help. As great as it is to unleash your burden at the feet of your besties, though, consider also finding an impartial party who can offer you useful guidance.
Your mom, your therapist, a particularly sage coworker — whoever it is, try to pick a person who has your best interests in mind, but can also see both sides of the coin clearly and won't be afraid of being honest. It's also probably best to have these conversations booze-free; that'll give you a better shot at coming to a mature and productive conclusion.
4. Don't Be Afraid To Lay Down Some Ground Rules
If your S.O. has expressed interest in actually striking up a friendship with their ex, you might have some protocol you want to throw out there — and that's OK. At the very least, your partner should hear you out fully, and then you guys can work on the details.
For example, you may not be cool with the two of them going out for drinks alone, or them texting each other frequently throughout the day. Initially, you might hesitate to be completely candid with your requests because you don't want to come off as overprotective or "crazy," but try to put all that to the side. You deserve to have a say, and your S.O. should respect that and avoid doing things that make you feel uncomfortable (within reason, of course).
5. Don't Compare Yourself To The Ex
Being humans and all, we all struggle with jealousy sometimes. And there might be some pangs of envy when that ex waltzes back into your S.O.'s line of view. You may suddenly start that frenzied comparison game — for many of us, it's the first instinct when we feel slightly threatened.
Do your very best to not go down this road, though. You'll only stress yourself out, and potentially let your emotions about that ex leak into other areas of your life. So instead of thinking about all the things that seem to be going right in the ex's life, focus on yourself. You've got a lot of good stuff too, and your S.O. sees all of that — that's why you're still together.
6. Do Something Special To Show Your Love For Each Other
At the end of the day, you two run the show. If you're solid and you want to make it work, you know that all the other stuff — even clingy exes — is just white noise compared to what you have together. So after you've gotten through all the serious talk, plan something for just the two of you to enjoy.
Take a mini-getaway, or even just go out on a nice date. Whatever you choose, promise that you won't bring up any ex talk, ensuring that this time is set aside purely for you as a couple. You never know — maybe the rekindled romance will make the both of you forget that the ex is even in the picture.
Images: Westend61/Westend61/Getty Images; Giphy