These 'Zootopia' Stars Are Animated Pros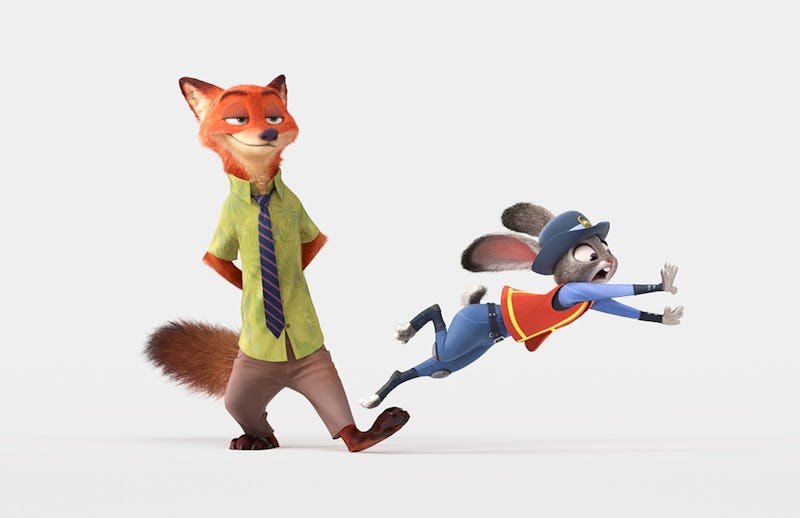 Do you love animated films about talking animals? Of course you do — and Disney knows that, which is why they keep cranking them out! The studio's newest flick about furry creatures is Zootopia, which takes place in a world where animals run a human-like society (but without the humans). As you can see from the Zootopia trailer, the two main characters are a a spunky bunny and a cunning fox who unwittingly end up on a daring adventure. You might notice that, in addition to being fluffy and adorable, both characters have very familiar speaking voices, but just who voices the Zootopia fox and rabbit?
Both voice actors are actually established live action actors, too. The person behind policerabbit Judy Hopps is Ginnifer Goodwin, best known for her long-running roles on Once Upon A Time and Big Love, as well as various film roles. Her character's foxy counterpart, Nick Wilde, is voiced by none other than Jason Bateman of Arrested Development and Horrible Bosses fame. But while these two actors are primarily known for their on-screen appearances, both also have previous experience in voice acting. Here are a few of Bateman and Goodwin's voiceover roles prior to Zootopia.
Sit Down, Shut Up
Bateman voiced one of the main characters on Fox's short-lived Sit Down, Shut Up, which also starred Will Arnett, Kristin Chenoweth, Nick Kroll, and a host of other famous comedians. Bateman played nice-guy Larry Littlejunk, an overqualified gym coach among a crew of zany high school teachers.
Tinker Bell And The Legend Of The NeverBeast
Goodwin played Tinker Bell's best friend Fawn, an optimistic and kindhearted fairy, in the sixth film of the Tinker Bell series. Goodwin, a self-proclaimed Disneyphile, reportedly cried when she got the role, according to USA Today.
Arthur And The Invisibles
Bateman provided the vocals for Prince Darkos, the son of evil Maltazard, in this 2006 adaptation of Luc Besson's fantasy novels. Darko's scary appearance and appetite for combat couldn't quite cover up his dim-witted nature.
Spongebob Squarepants
Obscure cameo time! Goodwin provided the vocals for the "Purple-Haired Mermaid" in a single Spongebob Squarepants episode, Welcome to the Bikini Bottom Triangle. The mermaids were portrayed as a group of too-cool-for-school valley girls whose only interests were obtaining "cool new stuff."
The Fairly OddParents
Another Nickelodeon cameo — Bateman voiced Tommy Turner in The Fairly OddParents episode "Oh, Brother!", in which Timmy wished for an older brother. But Timmy's wish backfired when Tommy turned out to be a little too perfect, therefore throwing off the balance of his younger sibling's life. So Tommy was unwished, and Bateman's role on the show finished. Bummer; he was super cute.
As you can see, neither Goodwin nor Bateman are newbies to the world of voice acting. That being said, this is the first time for both of them to have the lead role in a feature-length animated picture, so it'll be awesome to see how they play against each other when Zootopia arrives.
Images: Disney (2), 20th Century Fox, The Weinstein Company, Viacom (2)