O.J. Simpson's Kids Have Kept Quiet About 'ACS'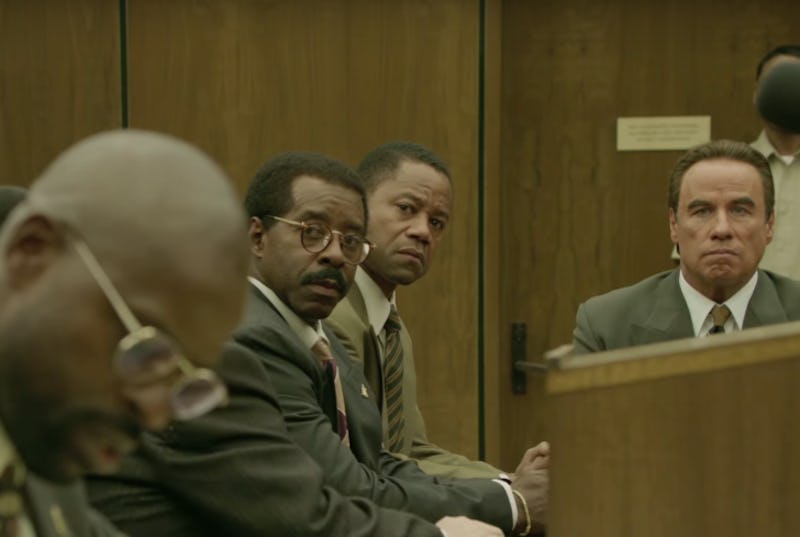 One of the most famous — and most controversial — criminal trials in American history has now received the television treatment. The People v. O.J. Simpson: American Crime Story airs on FX on Tuesdays, and though O.J. Simpson's trial for the murders of Nicole Brown Simpson and Ronald Goldman, of which he was found not guilty, has been discussed at length over the years, we have never seen the story told in a narrative quite like this one. And while many people may be familiar with the case after watching it unfold, there is perhaps no one closer to it than O.J. Simpson and Nicole Brown Simpson's children. So what do Sydney and Justin Simpson think about American Crime Story ? Understandably, they have chosen to keep their feelings on the series private. Bustle reached out to Justin for comment on the series, and has not yet received a response; Sydney could not be reached.
Prior to the premiere of American Crime Story, the last time the press saw Sydney and Justin was at funeral for their grandfather in 2014, as reported by the New York Daily News. Now that the FX series premiered and interest has been renewed in the trial, paparazzi have once again sought an image of the Simpson children. According to Yahoo!, Sydney was spotted outside of her home in St. Petersburg, Florida, though she did not speak to the paparazzi. Justin has remained under the radar.
Though we don't have any comments from Sydney or Justin about the new FX series, it is very understandable that they have chosen to remain out of the spotlight and not become involved in the series. Brown Simpson's younger sister Tanya Brown did speak to People in January 2016, just before the series premiered, about Sydney and Justin. She stated that they are "so grounded," and that she is "proud" of the people they grew up to be. In an interview with Radar in 2014, Tanya also suggested that Simpson's children still have a relationship with their father, saying, "[Sydney and Justin] will always love their dad. I choose to respect that."
Right now, Sydney and Justin Simpson are staying out of the spotlight as much as possible, and that includes commenting on the series that portrays what must have been an extremely difficult time in their lives.