Do Luke And Lorelai Have A Kid?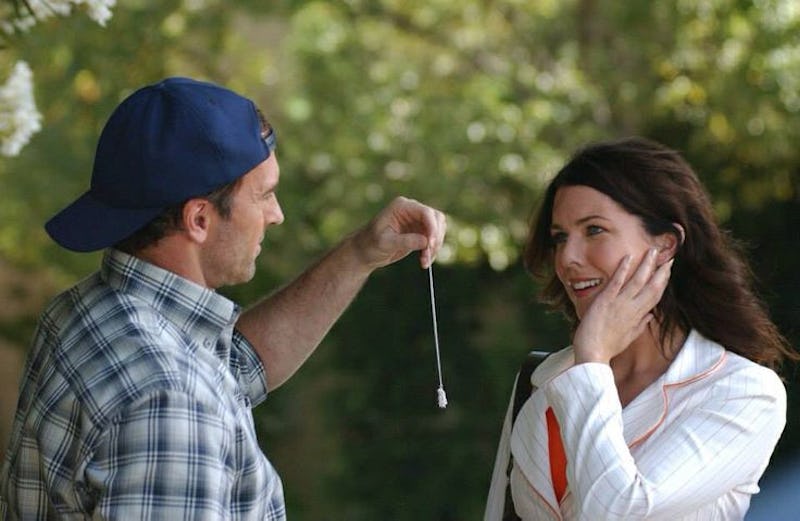 When a TV show gets the ax, fans mourn and move on — or, at least, they did. Now, in the age of Netflix and other digital platforms, the "mourning" seems to give way to hope. A cancellation is no longer a definite goodbye: instead, it simply opens up the possibility that, someday, it will get revamped. Full House is getting a Netflix sequel sitcom titled Fuller House , set to stream on Netflix beginning Feb. 26, but it's not the only beloved series that is making a major comeback. Fans are returning to Stars Hollow with Netflix's Gilmore Girls revival, which will feature four 90-minute episodes and plenty familiar faces, including everyone's OTP Luke and Lorelai. While we're all stoked to catch up with our much-missed small town crew, there's a chance that we may be meeting someone brand-new when the show returns: could Luke and Lorelai have a kid in the Gilmore Girls revival?
First, let's back up to the ending of the original Gilmore Girls. In seventh and final season of the original series, Luke and Lorelai actually aren't together — they breakup in the Season 6 finale, and Lorelai begins dating Rory's father Christopher. However, the pair do seemingly reconcile in the series finale, after Luke shows Lorelai how much he cares about her by planning Rory's going-away party. Cue the kissing and the happy feels.
Though a Luke and Lorelai reunion wasn't solidified with words, actress Lauren Graham told press at the ATX Television Festival in 2014 that she believes Luke and Lorelai are "100 percent" together. When asked if the pair ever got married, Graham replied that they "probably did." So there you have it: Lorelai herself still ships L-squared. And there's a very real chance that this united couple could have expanded their family in the years between the original series and the revival.
It has been almost nine years since the finale episode of Gilmore Girls aired in May of 2007, so that is ample time for the couple to have decided to have a kid. It seems pretty likely that Lorelai and Luke would choose to have a bigger family: though both of them have biological children of their own, their respective kids do not live with them full-time. Rory is an adult off on her own adventures, while Luke's daughter April only ever split time between Luke and her mother. (Plus, April will also be an adult in the new series, considering that nine whole years have passed — so weird.) Lorelai and Luke clearly love kids, so why wouldn't they decide to have at least one together?
Though right now a Luke/Lorelai baby is pure speculation, it would be an awesome surprise for the Gilmore Girls revival to give longtime fans of the couple. The "will they, won't they" rollercoaster was fun for the original series, but we've waited far too long for this pair not to be an official thing. Here's hoping that Luke and Lorelai got the happy ending they wanted — because their happy ending is our happy ending.
Images: WB; wretchedness/Tumblr