7 Deliciously Festive Mardi Gras Recipes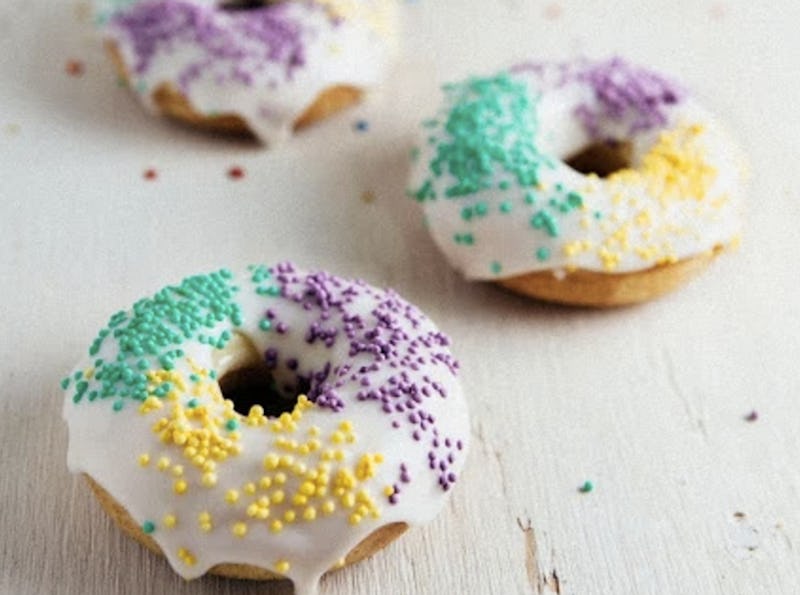 Fat Tuesday is a day for feasting, and these delectable Mardi Gras recipes are sure to have you enjoying the holiday and reaching for your stretchy pants. Sure, you could argue that Mardi Gras is all about booze, beads, and mistakes. But, to me? Well, it's all about how much deliciousness I can consume in one sitting. Being that I'm Catholic, I participate in all of those pesky Lent restrictions. So, Fat Tuesday is my day. I am ready.
But, with all of that being said, I have never really gotten into the spirit of the holiday enough to make some traditional treats. Which, honestly, I'm now realizing is a major mistake. From deep fried pastries to spicy Cajun fare, this day is all about decadent foods, each one more insanely delicious than the next.
So, this year, I'm stepping up my game when it comes to my food-related celebrations — because as much as I love having pizza delivered, I feel like I can take things up a notch today. Care to join me on this daring culinary journey? Well, I've pulled together seven different classic Mardi Gras recipes that are equal parts festive and positively delicious. Prepare to indulge.
1. Paczki
Paczki (pronounced "poonch-key," FYI) is a Polish pastry that's super similar to a doughnut. It's a deep fried disc of dough filled with custard, fruit, or even cheese. This Polish dessert is a big deal on Mardi Gras, and some even refer to Fat Tuesday as Paczki Day. So, whether you have Polish roots or not, you'll enjoy snacking on one (or eight) of these delicious treats. Want to make your own? Brown Eyed Baker has a recipe that is sure to have your mouth watering.
2. Oven Fried Shrimp Po'Boy
New Orleans is where all of the action is on Mardi Gras. So, honor the day with a classic Po'Boy — a traditional submarine sandwich from Louisiana. Never Enough Thyme's recipe is the perfect Southern treat.
3. Kickin' Cajun Chicken Sliders
Sticking with the Southern cuisine theme, these spicy chicken sliders from Half Baked Harvest will have you getting into the spirit of the holiday. Serve them with a side of beer-battered onion rings, and you have a ridiculously indulgent meal to enjoy.
4. Chicken and Andouille Sausage Gumbo
Gumbo is a classic New Orleans dish. And, andouille sausage? Well, I don't know if this recipe could be any more Louisiana-inspired if it tried. The Kitchn has the perfect spicy and savory recipe.
5. Slow Cooker Jambalaya
Stuffed full with ham, shrimp, onions, and bell peppers, this classic jambalaya from A Spicy Perspective is a fitting dish for your Fat Tuesday celebrations. Even better? It's made in a slow cooker, making it that much easier to whip together.
6. King Cake
As a treat that's supposed to represent when the three wisemen brought gifts to baby Jesus, it doesn't get much more traditional than indulging in King Cake on Fat Tuesday. What's the secret ingredient in this delicious ring of dough? It's not the ground cinnamon or butter. Instead, it's a tiny baby figurine that gets hidden inside. Whoever finds the baby in their slice is supposed to have good fortune throughout the year — and uphold the tradition by making the King Cake the next year. Want to make your own? Check out this recipe from Joy the Baker.
7. King Cake Doughnuts
Want a fun twist on the original? These King Cake doughnuts from Hummingbird High look delicious and festive. Plus, you don't need to worry about accidentally swallowing a plastic baby. Although, you could definitely incorporate the trinket tradition if you wanted to.
Images: Michelle/Brown Eyed Baker; Lana Stuart/Never Enough Thyme; Tieghan Gerard/Half Baked Harvest; Faith Durand/The Kitchn; Sommer Collier/A Spicy Perspective; Joy/Joy the Baker; Michelle/Hummingbird High