Richie Is Straight Out Of The '70s On 'Vinyl'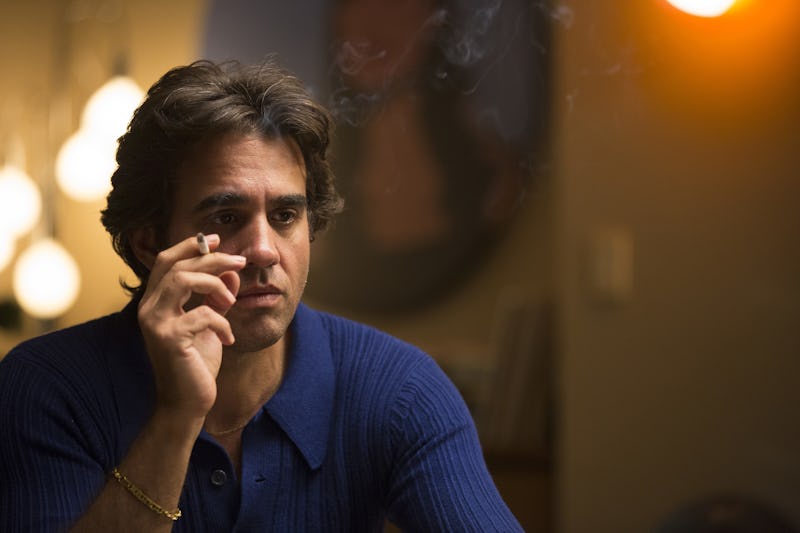 New HBO drama Vinyl comes with the typical trappings of a historical prestige drama, but is series protagonist Richie Finestra a real person? While actor Bobby Cannavale is jumping into the role with the enthusiasm of someone playing a historical figure, Finestra, along with almost all of the cast, is an original character. But Richie's hard-partying, music-loving lifestyle seems to take inspiration from the actual early 1970s, a period with which executive producers Mick Jagger and Martin Scorsese are very familiar. So even though Richie Finestra is the creation of writer and showrunner Terrence Winter, that doesn't mean that the creative team didn't take some inspiration from some other real figures.
First of all, the exploits of rock legend Jagger certainly had their influence on the story of Vinyl. And even though Jagger is a musician, not a businessman, judging by Cannavale's loud performance, there's a little bit of The Rolling Stones in Richie. In an interview with Billboard, Jagger said Vinyl isn't adapting any single event, but it does take some cues from his experiences with "wacky" label execs. One particular example? Walter Yetnikoff, the former CEO of CBS Records.
In the Billboard interview, Jagger described a lunch meeting with Yetnikoff where he claims, "I was sober, and I found out later he was completely out of his mind. I ­wondered why he wasn't making a lot of sense." In a New York Times profile from 2004, Yetnikoff still has his rock n roll edge, describing his rise from a struggling kid in Brooklyn to a high-powered executive. But while he admits to his fair share of drug use and being very tough on his employees, Yetnikoff told the NY Times that he wasn't that much of a womanizer: "Sex was fine and I didn't mind partaking in it, but I was really looking for love. Maybe in all the wrong places." If any of Richie's character is inspired by Yetnikoff, maybe that means his marriage to Devon (Olivia Wilde) will work out.
Scorsese was also a newly successful film director at the time Vinyl is set, and he, too, has been open about how his love of '70s New York City influenced the series, especially in the two-hour pilot episode he directed. And the director has always had a way with rock, as Scorsese told Entertainment Weekly, "What appealed to me was the music. Music has always inspired me. When I hear the music, I see the movie. It's always worked that way."
At the beginning of Vinyl, Richie is also struck with a flash of inspiration by hearing an incredible new band, so maybe Scorsese injected a little of his own love for music into the character.
Vinyl begins with Finestra considering selling his small company, American Century Records, to a large German conglomerate. Jagger told Billboard that he watched his friend Ahmet Ertegun, the founder of Atlantic Records, go through a similar ordeal, though the two execs don't have anything else in common. "Ahmet wasn't at all like the Richie character, but that's the company I knew best," Jagger said. "It was relatively small when I was there. That informed me when it came to the part in the pilot where Richie sells his label."
Ertegun's company went on to represent not just The Rolling Stones, but Led Zepplin; Crosby, Stills, Nash & Young; AC/DC; Genesis; and many other hugely popular bands. So though Richie isn't actually based on or similar to Ertegun, if his business skills are even a fraction of the Atlantic Records' mogul's, American Century is going to be pretty successful over the course of Vinyl.
Image: HBO