What I Learned At Yeezy Season 3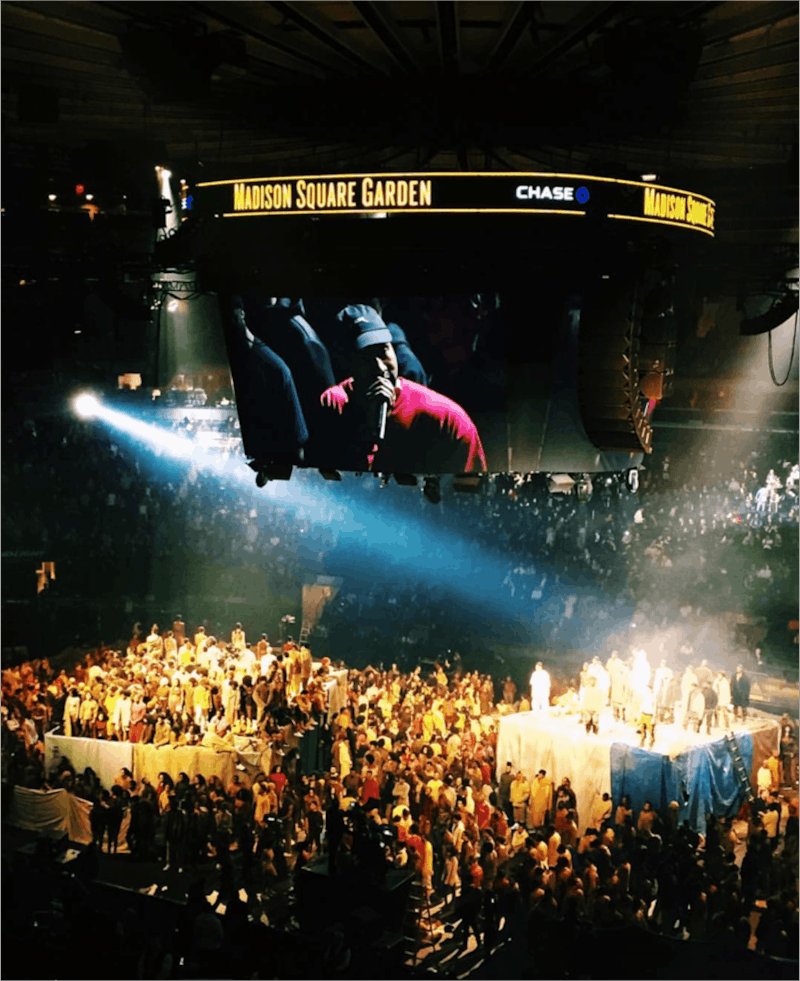 Yes, I was granted the privilege of attending Kanye West's Yeezy Season 3 fashion show in New York City on Thursday night. No, it wasn't what I expected at all. As a die-hard Kanye (and Kardashian) fan, I have been closely watching all the seasons of Yeezy from the sidelines since their very inception, so you can imagine my excitement as I prepared to observe one IRL. After three album title changes, countless social media teasers, and more than a handful of eye-popping tweets, the hype for this spectacle was at an all-time high, and thankfully, it totally lived up to it.
This year's show was different from past seasons in many ways. Not only was the rapper-turned-designer debuting his third clothing collection with Adidas, he was also premiering his brand new album, The Life of Pablo, drawing attention from both the music and the fashion crowd.
As models clad in signature Yeezy athleisure-like threads took the stage, along with 1200 extras in matching shades of red, orange, and yellow, Kanye bopped along to his brand new tracks like Ultra Light Beams and Real Friends, timed to harmoniously play up the hard edginess of the clothes. Let's just say it was quite a sight to see, and here are a few lessons I learned as a result of my first Yeezy show.
1. When It Comes To Yeezy Season, Anything Goes
You really never know what you're going to get with this guy. At one point a model lit up a cigarette and started smoking in the middle of the presentation. That doesn't happen at just any fashion show!
2. Kanye Loves The Element Of Surprise
Upon taking our seats, we were greeted with this large gray dome-like structure, and I thought — "what the heck is this thing?!" Is it supposed to resemble a futuristic spaceship? And where are the models going to walk? It turns out, the models were all in position under the fabric dome, which split open like a giant curtain when the show started. That Kanye loves to keep us on our toes.
3. The Kardashians Travel In Color-Coordinated Style
The Kardashian/Jenner clan rolled up to Madison Square Garden looking like a pack of white angels that has just been inducted into heaven. Kanye reportedly collaborated with Balmain's Olivier Rousteing to create custom-made outfits for all of his sisters-in-law, his wife, and his mother-in-law. The outfits oozed with pearls, diamonds, and fur galore.
4. Kanye's Creative Genius Extends Beyond Fashion & Music
Towards the end of the performance, Kanye shared that he has been working on his very own video game, Only One: The Game . Say what now?! Is there anything this guy can't do?
5. The Models Looked Angry On Purpose
Yeezy Season models kept their signature stoic expressions, in keeping with what we saw at the past two presentations. It looks like Kanye had some very specific mandates for his performers. A sheet of strict model rules that were allegedly written for the show circulated online with mandates like "NO SMILE," and "STAY IN CHARACTER" written on it, so stoic faces could have been an important part of the act.
6. When Naomi Campbell Steps On Stage, The World Stops
Naomi Campbell made an appearance — the Naomi Campbell — and I could practically hear people's jaws dropping to the floor when she stepped on stage. There was this unspoken, unified feeling that spread through the room — it was like you knew you were in the presence of greatness.
7. Kanye West Has A Soft Side
When the rapper talked about his new video game, which is based on his late mom's ascent to the gates of heaven, he was practically getting choked up. It was easy to tell that the project tugged at his emotional heartstrings, which then led him to display a more humble and sensitive side of himself as he thanked his wife, kids, and supporters during the speech.
8. A Yeezy Show Is As A-list As Fashion Week Gets
Can you name another NYFW show that has more celebs than this one? Nope, you cant. Anyone who's anyone in the music/fashion world was there, including Jay-Z, 50 Cent, 2 Chainz, A$AP Rocky, Gigi & Bella Hadid, Karlie Kloss... and the list goes on and on.
9. Kylie Jenner Isn't Always In The Spotlight
As soon as the fabric curtain dropped to reveal all of the models, I quickly started scanning the stage for Kylie Jenner. Since she walked in both Yeezy Season 1 & Season 2, I thought it was pretty much a guarantee that she would make a runway appearance in Season 3, but much to my surprise, she was cheering from the sidelines with her family.
Image: May Sofi/Bustle