I Recreated 'Friends' Hair & Makeup For A Week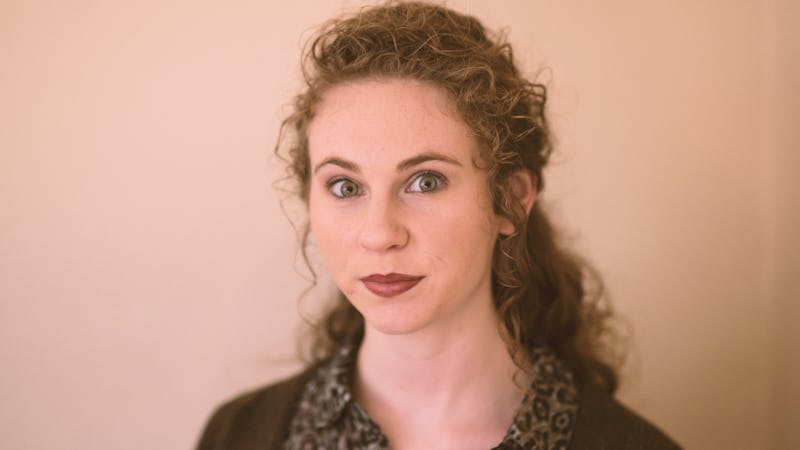 I'm always looking for a reason to binge watch all ten seasons of this iconic TV show on Netflix (again), and taking on this challenge was the perfect excuse. I recreated Friends hair and makeup styles for one week and had a lot of fun doing it. While I love each of the characters in the show, I wouldn't necessarily say that I typically try to emulate their looks or anything, so this was bound to be an interesting experiment.
I began researching by going through photos and videos of some of my favorite moments from the series, and I came to find some common themes in terms of hair and makeup. Scrunchies, barrettes, clips and headbands were major accessories of the '90s and early 2000s. Brown lipsticks, lip glosses, and eyeliner were huge makeup items, and the more I researched the more I was one, reminded of styles from my childhood, and two, reassured that this was something I could do.
I did have to choose hairstyles carefully, because I wasn't willing to get "The Rachel" haircut or even straighten my hair. Hey, I like Friends as much as the next girl, I just don't have that kind of time or that level of commitment. But, I think you'll find that I was still able to bring the looks we so fondly remember back to life. Keep reading to see how my week of recreating Friends makeup and hairstyles played out.
Day 1: The One Where I Pull A Monica
The Hair:
Monica's hair in this photo seemed quite telling of the time. Hairstyles were much looser. No tight pony tails or top knots back then. It was the time of loosely pulled back 'dos. So, I thought this ponytail with a thin headband as accent would be a great look to recreate.
The Makeup:
I found a '90s makeup tutorial that seemed very "Monica" online and decided to follow it to achieve a look similar to the one pictured above. She frequently rocked bold lips and neutral shadows on the show.
My Version:
Here, as you can see, I went for a bold burgundy lip and rose/brown eyeshadow from the above makeup tutorial. I kept my brows natural with just a quick swipe of Glossier's Boy Brow to add a bit of color and shape. I loosely pulled my hair back with a headband, which I actually had to borrow. I haven't worn a headband since, well, probably the early 2000s, but I actually don't mind this look.
I typically wouldn't pull my hair back without it parted, so this isn't something I would normally do, in terms of hair, but it's not awful by any means. On the other hand, I love the makeup and I'll definitely repeat this look. Thanks for the makeup inspo, Mon.
Keys Pieces To Achieve This Look:
Scunci No Slip Skinny Headbands , $2, Target
A thin headband will give you that perfect swept-back Monica look.
Smashbox Be Legendary Matte Lipstick , $21, Sephora
A berry lip shade will give you a dramatic lip look suitable for a '90s sitcom.
Day 2: The One Where I Try Phoebe's Fountain Look
The Hair:
Phoebe has loose curls in this intro sequence at the fountain, and I thought this would be something I could really bring to life with my curly hair.
The Makeup:
Her makeup is very minimal and natural looking, so this was the time to put my no makeup makeup skills to use.
My Version:
Since my curls are naturally a little more corkscrew-y than Phoebe's are in this fountain scene, I took a shower and went to bed with my hair still wet and braided to see if I could get loose curls. I think that did help me achieve a pretty close resemblance to her look.
As far as makeup, I kept it very minimal and slicked a rose color on my lips. Of course, if I were actually going to be getting wet, I would have added waterproof mascara instead of my regular mascara to complete this look.
I know it's only early on in the experiment, but this care-free Phoebe hair and makeup is my favorite combo so far, and it's definitely something I'll recreate a little more often. The whole going to bed with your hair in a braid thing really is an effortless way to style your hair, and I could get used to that.
Key Pieces To Achieve This Look:
Try a heatless curling method to get those perfect Phoebe tendrils.
treStiQue Lip Crayon in Florence Fig & Rose Balm , $28, Sephora
This is a lipstick and balm all in one handy tool. It's the exact one I used to get my '90s inspired rose-y lip.
Covergirl 3 In 1 Waterproof Mascara , $5, Target
Waterproof mascara will complete the look and is great to have on hand, you know, just in case you go for a splash in a fountain.
Day 3: The One Where I Go Full Rachel
The Hair:
I chose this hairstyle from the episode where the ladies take on the men in poker because, well, it seemed like the Rachel thing to do. When she wasn't wearing her iconic hairstyle down, she would often too simple, classy updos like this one. Considering my hair type and length, I thought this would be an achievable look for me, even though it wouldn't be exactly the same as hers.
The Makeup:
I didn't follow the makeup portion of this video step by step, but I did take notes from it. She mentions in the video that Rachel used a lot of browns for her eyes and on her cheeks, and I completely agree. So, for my makeup look, I focused on doing the same. Then, I opted for a much darker brown lip than she has done here because that seemed quite fitting for both typical '90s makeup and the character.
My Version:
I was able to get my hair pulled back with some volume on top, so I was able to capture the effortlessly put-together look that Rachel had going in the poker episode. To add a '90s flair, I secured my hair with a barrette. You can't see the back of her hair in the gif, but I'd be willing to bet it's fastened with some sort of barrette.
As far as makeup, I stuck with a brown color palette on my eyes and cheeks. To top it all off, I added some dark brown lip liner and lipstick. I felt very '90s but also very modern with this slicked on my lips because this is definitely a trend that's made a huge comeback. I hadn't tried this color before now, but I can say this is a look I'll be repeating in the future. I don't even mind the barrette in my hair. What can I say? I'm a product of the '90s.
Key Pieces To Achieve This Look:
Goody 4 Count Rectangle Barrette, $2, Target
This will give the perfect '90s touch to your hairstyle.
Catrice Absolute Nude Eye Shadow Palette, $7, Ulta
Brown shadows will give you the "Rachel" color scheme you're after.
Bobbi Brown Creamy Lip Color In Raisin Berry, $27, Sephora
A deep brown lippie will have you feeling oh so '90s. Trust me.
Day 4: The One Where I Emulate Phoebe's Style
The Hair:
She was known for doing some pretty wild things with her hair, but this '90s version of a top knot seemed manageable. She is rocking this middle part, which I don't ever do, but I was up for the challenge.
The Makeup:
Phoebe is definitely the most fun when it comes to makeup because she's not afraid to wear fun colors. This look had a sparkly berry colored lip and light pink cheeks, but everything else relatively light and minimal, which I thought represented her character well.
My Version:
Pulling off this hairstyle was easier than I thought it was going to be. I think I came really close to having it done exactly like hers, and I didn't mind this updo one bit. Phoebe had a way of looking like a hip grandma with her styling, and I think this hairstyle is the epitome of that. The berry lip and pink blush makes it a little more fun and youthful, which really helped it work as a whole.
Key Pieces To Achieve This Look:
Too Faced Love Flush Blush In Justify My Love , $26, Sephora
This is the exact pink shade I used to give my cheeks a slightly flushed look.
Sephora Collection Ultra Shine Lip Gel In Pomegranate Delirium , $12, Sephora
A shimmery berry color adds some '90s glam to this look. Besides, doesn't the shade "Pomegranate Delirium" sound like it was made for Phoebe to wear?
Top if off with a granny-esque bun, and you're good to go.
Day 5: The One Where I Relive The Glory Of The "Smelly Cat" Music Video
The Hair:
Because the fifth day of this experiment happened to be a Saturday, I thought a simple high pony tail would complete my plans of lounging around all day. Plus, Phoebe's mood in this gif perfectly fits my lazy Saturday attitude. She didn't even have a "pl," much less a "plan." I feel you, Phoebs.
The Makeup:
Ahh, the "Smelly Cat" music video. I felt that I'd be remiss if I didn't recreate some aspect of this music video during this experiment. The hair seemed a little complicated, but the bright purple and pink makeup seemed fun, and I was more than willing to give that a go.
My Version:
The high pony is very in (even though we're way past the '90s), and is definitely something I've done before and will do again. Since my hair was pulled up, I added pearl earrings to get an even more glam effect, because you've got to go big for something as special as "Smelly Cat," after all.
For my makeup, I used purple-y shadows on my eyes and pink on my lips and cheeks. It's a fun look, but I don't think I'd wear these colors combined in the future. I'd prefer to go with purple eyes or pink cheeks and lips rather than wear it all at once. Some things are just meant for Ms. Buffay and Ms. Buffay only, you know? But, it was fun while it lasted.
Key Pieces To Achieve This Look:
Marc Jacobs Beauty Eye Shadow Palette , $49, Sephora
A palette with a lot of purple hues will really help give you the perfect dramatic eye.
Revlon ColorStay Ultimate Suede Lipstick In Ready To , $10, Ulta
A bold, bright pink lip will help complete your fun, girly makeup look.
Kate Spade Dainty Sparklers Cluster Earrings , $58, Bloomingdales
Pearls will give you instant diva status, which is ideal for the "Smelly Cat" music video vibe.
Day 6: The One Where I Pull A Ross & Rachel
The Hair:
Pulling your hair back in a large claw clip is definitely a little outdated now, so I thought Rachel's version of this would be a great '90s hairstyle to bring back for this experiment.
The Makeup:
Remember the time that Ross had to help Rachel with her makeup? Well, I decided this would be a fun makeup look for my boyfriend and I to try for ourselves. Yes, I decided to have my boyfriend do my makeup. Wish me luck!
My Version:
Here's my before makeup with my hair in full Rachel clip mode.
So, here's how this went down. I had a variety of makeup options laid out for my boyfriend, and I let him choose whatever he wanted to put on. I didn't really give him any guidance, other than answering the question he asked the most, which was "What is this?"
OK, so it's safe to say that I wouldn't go out with my makeup like this, but he didn't do too bad of a job. Other than going a little crazy with the eye shadow and blush and not putting any kind of foundation or powder on (except for underneath my eyes) he nailed the basic concept. And major props for that flawless lipstick application. We had a lot of fun doing this together and laughing about my final look, so overall, I was really glad I tried this little Ross and Rachel bonding activity.
Key Pieces To Achieve This Look:
Tortoise Claw Hair Clip , $10, Urban Outfitters
A clip will give you an effortless updo just like Rachel's.
After that, you just need someone who knows nothing about makeup to, well, apply your makeup.
Day 7: The One Where I Try To Pull Off Joey's Blue Lipstick
The Hair:
I went with a typical Monica simple low bun hairstyle since I knew I was going to be trying out a bold lip.
The Makeup:
Joey's bold blue lipstick look is something I would never normally do, so I decided to step outside of my comfort zone and see if I could rock this as well as Joey.
My Version:
I had to work a little bit to get my hair slicked back, even this much. I don't usually part my hair in the middle, but that wasn't the worst part of this look for me. OK, the lipstick. I didn't have a blue lipstick so, I created the next best thing, a blue gloss using eye shadow and vaseline. This method was super easy, and is definitely something I'll do again. Just probably not with a blue eye shadow. I actually hated the way the lipstick looked, mainly because it was so out of character for me. I think it's safe to say that I'm going to leave the bold blue lip-wearing to Joey. Because he certainly pulls off this lipstick for me better than I ever could.
Key Pieces To Achieve This Look:
Sephora + Pantone Universe Color of the Year Matte Lipstick, $18, Sephora
If you're into the blue lipstick thing more than I am, then you may want to go ahead and add this color to your collection. Or, if you're just looking to try the blue out on a trial basis, you can mix up the color with some eye shadow and vaseline, like I did.
Conclusions:
Overall, I really enjoyed this experiment. I wound up finding some hair and makeup looks that want to try again, especially since the '90s are so in at the moment. I had positive reactions from family and friends to the looks, especially if I explained that I was recreating the hair and makeup from Friends, mostly because I've never met a person who didn't like the show. It also helps that the '90s are back in style, so nothing I tried — save for that blue lipstick — seemed all that out of place. That said, I definitely found that some of the styles just weren't for me. I'll be honest, I don't think I'll be letting my boyfriend do my makeup or rocking icy blue lips on the daily now that this is over. That said, it was fun to step out of my comfort zone while paying homage to one of the greatest sitcoms of our time all at once.
Images: NBC, Dario Ortega/Bustle (12); Giphy (9); YouTube (6); Courtesy Brands (14)