The Uphill Battle For Native Federal Recognition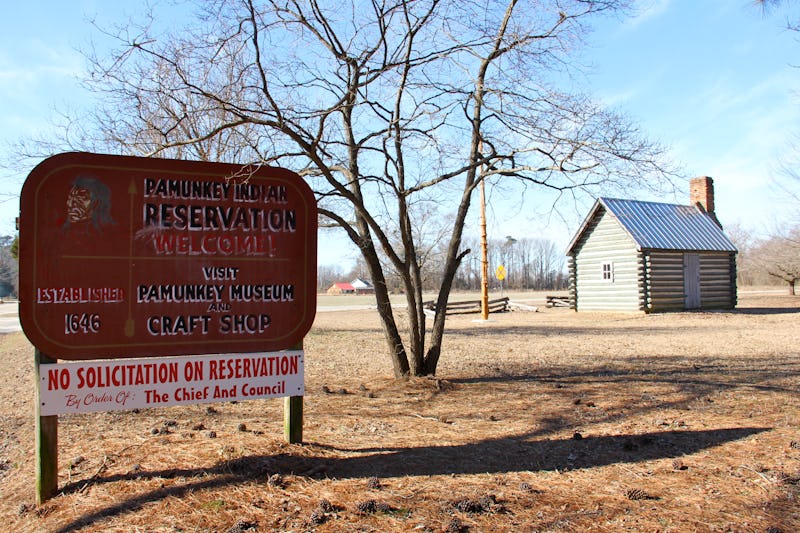 After a 34-year-long fight, the Pamunkey tribe of Virginia, which claims Pocahontas as one of its ancestors, achieved federal recognition on Jan. 28. But they are not the last tribe left fighting, and nor has the tribe's journey for sustainability ended.
For me, it wasn't until high school that I realized that Virginia, my home state, had several active Native tribes and that Natives — not just people of Native American ancestry — live throughout the United States, on and off Indian reservations. They're not confined to the western part of the country. Some Natives belong to tribes recognized by federal and state governments; others belong to tribes U.S. and state governments do not acknowledge as self-governing communities.
While national outlets like PBS, The Atlantic, and The New York Times have illuminated the socioeconomic troubles that continue to ravage Indian reservations today, many non-Natives are in the dark about another widespread struggle: the fight for federal recognition.
Federal recognition means that the U.S. government considers a tribe a sovereign nation that legally can establish its own government and apply for federal benefits to help preserve its people and culture. Getting that designation isn't an easy process.
And if the Pamunkeys — one of the first tribes Europeans had contact with and a tribe whose reservation has remained in the same spot since the 1600s — had trouble achieving it, that alone may be a sign that the process needs an overhaul. Once a tribe earns recognition, applying for the assistance that allows them to safeguard their traditions, while adapting to a modern world, remains a battle.
"It's important to let people know that we're still here," says Wendy Taylor, a 27-year-old Pamunkey woman who has portrayed Pocahontas at Historic Jamestowne. "We haven't gone anywhere, but we're also not in the 1500s anymore. We don't live in what people think; teepees, even though our people never lived in teepees. We live in houses. We have cars. We don't ride horseback anymore. We are modern."
According to the U.S. Department of the Interior's Bureau of Indian Affairs website, sovereignty matters because it "ensures that any decisions about the tribes with regard to their property and citizens are made with their participation and consent." The benefit and assistance programs available to federally-recognized tribes are in a sense reparations for past transgressions.
Per the BIA's document, "Procedures for Establishing That An American Indian Group Exists As an Indian Tribe," groups must meet, at minimum, the following criteria:
• Identification as an Indian entity by federal authorities;
• Relationship with state governments based on identification of the group as Indian;
• Dealings with a county, parish, or other local government in a relationship based on the group's Indian identity;
• Identification as an Indian entity by anthropologists, historians, and/or other scholars;
• Identification as an Indian entity in newspapers and books;
• Identification as an Indian entity in relationships with Indian tribes or with national, regional, or state Indian organizations.
"I won't go so far as saying [federal recognition] is an apology from the federal government, but it's a way of setting the record straight," says Bob Gray, who has been chief of the Pamunkey tribe for the past eight months and lived on the reservation since 1988.
At this time, there are 13 tribes petitioning for this designation. They hail from everywhere from California to Georgia.
The Pamunkey's Long Road
The Pamunkey reservation, once known as Pamunkey Island or Indian Town, sits on a rural 1,200-acre peninsula by the Pamunkey River in Eastern Virginia. It is the same flat, Tidewater land the Pamunkey people have occupied since a 17th-century treaty with the King of England made it their then-new home.
One of the road signs directing visitors to the Pamunkey reservation.
Today, the reservation runs a museum, a gift shop, and a fish hatchery. It also has a one-room school house on the property that the tribe plans to remodel when funds become available. The burial mound of Chief Powhatan, the mighty Indian chief and father of Pocahontas, is perhaps the reservation's most storied attraction. Overall, the reservation is a placid and raw place that feels too remote to sit a mere hour drive from Richmond or two-and-a-half-hour drive from Washington, D.C.
Long before Taylor portrayed Pocahontas, she grew up in Chesterfield County, a suburb south of Richmond. When she moved to the reservation in high school, the transition proved to be a shock.
"I didn't appreciate the reservation much as a teenager," she says. "I went from a gas station being two miles away to 20 miles away."
A sign for the Pamunkey reservation museum and gift shop.
In order to get to class on time, Taylor remembers having to board the school bus at 6:30 a.m., even though the bell didn't ring until a few minutes after 8 a.m., because the reservation was so far away. After school, Taylor mainly hung out with her cousin, who was about the same age as her and also lived on the reservation. Once Taylor was old enough to drive and get a job, she did. She moved off of the reservation when she was 19 or 20.
Taylor doesn't recall any bullying or othering at school because of her Native identity, though she was told that when her family still lived in Chesterfield, there was a little boy whose parents wouldn't let him play with her because she was Native. Once Taylor moved to the reservation, she and her siblings attended King William County Public Schools with all the other children from the Pamunkey and nearby Upper Mattaponi and Mattaponi tribes. None of the reservations had operating schools of their own, which remains the case today.
The Audubon Society has recognized the reservation as a special bird habitat.
Now Taylor lives in King William, the county that surrounds the reservation, and commutes about 45 minutes each way to work in a Richmond bank. Today, she sees the reservation as a place of "tranquility."
"Being by the river is relaxing," she says. "It gives you peace of mind."
About one-fourth of the tribe's 200 members live on the reservation. Others are scattered throughout the City of Richmond metro area and farther north along the East Coast. Gray says that many Pamunkeys, including his family, fled Virginia in the first half of the 20th century because of the state's hostile laws toward Natives and other People of Color. But he hopes that federal recognition may entice more Pamunkeys back to the reservation, including ones who may be suspicious of the U.S. government.
An exterior shot of the Pamunkey Indian Museum.
"Attitudes are changing," Gray says. "Now the federal government has to get past all of that baggage [of historical treatment of Native Americans]. That's where some of the mistrust comes from."
The BIA petition process also has been what Gray charitably calls a "slow" one, and with limited economic and educational opportunities on or near the reservation, many Pamunkeys do not find it the most convenient place to live. The Pamunkey tribe has patiently spent decades assembling records — birth certificates, ledger books from the 1800s, treasury reports — to meet the BIA's requirements, all in the hopes that government assistance might make the reservation a less difficult place to live.
Traditional Pamunkey pottery on display in the museum.
"The whole petition took hand trucks of documentation to load into the BIA," says Gray, who added that the hand trucks contained both paper and digital documents.
Last July, the Pamunkey tribe finally achieved federal recognition, only to have their petition challenged by the anti-gambling group, Stand Up California, a nonprofit that had formerly teamed up with MGM. According to Cheryl Schmit, the sole member of Stand Up California, the Pamunkey tribe did not meet the BIA's requirements. Her motive? She opposed then-Pamunkey chief Kevin Brown's alleged interest in building a reservation casino. Last month, the BIA appeals board ruled that the Pamunkey tribe does indeed meet federal recognition requirements.
A purse featuring traditional Pamunkey embroidery in the museum gift shop.
Now it is up to the Pamunkey tribe to decide which federal benefit and assistance programs make the most sense for its people.
"It's like a buffet line," says Gray. "We can pick and choose what we want."
A sign designating what allegedly is an 18th-century Pamunkey raccoon trap.
Kim Cook Taylor, a tribe member whose eldest daughter Kim portrays Pocahontas for Colonial Williamsburg, believes housing must be addressed first.
"The top priority is housing because you can't use your land here as collateral for a loan," she says. "That's why you see so many double-wides here. You have to have the money for your house upfront."
One of the waterfront properties on the Pamunkey reservation.
On Feb. 17, the Pamunkey tribe received a $50,000 grant from the U.S. Department of Housing and Urban Development.
It's not much, but it's a start," says Gray.
The hatchery where the Pamunkey raise shad, a popular kind of game fish.
A Shared Struggle
Federal recognition in no way guarantees that Natives will lead comfortable lives.
Derek, 19, who is a member of the Diné, or Navajo, tribe, moved from his reservation to Mesa, Arizona, at the beginning of 2015, not long after he graduated from high school. When I asked him to describe the reservation, he wrote the following in an email:
Picture this: On the reservation, you're either teaching or learning, working or going to school. Lifestyles are almost all similar. … Across the Diné Nation, families continue to haul water and wood for survival. Families also still travel long distances for access to food markets. Basically, the reservation is like a city with no buildings, fewer people, fewer paved roads, and the majority of the people are Natives.
Despite hardships and limited economic opportunities, Derek says that reservations are necessary for his people because "the Diné grade school kids and elderly need a place to all home and acres of soil to raise future generations."
Wendy Taylor, who is a mother of two, agrees that reservations are necessary, though living on one should be "an individual preference." While she believes federal recognition may bring more younger Pamunkey families to the reservation, others will want to stay where they are — even if it means being separated from people who share their culture.
A wood carving at the site of Chief Powhatan's grave.
"They're going to want to be closer to where their work is," she says. "Living on the reservation, you have to travel so far. When there's snow, it's hard to get out. When there are hurricanes, the power lines come down. It's not as convenient for young people as for the older generation."
She adds that schools are another concern for Pamunkey parents of young children.
Whether they live on or off a federally-recognized reservation, Native Americans' place in Euro-American society remains complicated. But Buck Woodward, a cultural anthropologist who directs Native American programs at Colonial Williamsburg in Virginia, also warns against generalization. In working to honor inclusivity, you may risk assuming all Native groups have the same priorities.
"It's not just one Native story," says Woodward, who adds that Native Americans have multiple narratives and multiple voices among them, whether they're Pamunkey or Cherokee.
Taylor agrees that while "commonalties among tribes" exist, "every tribe has had to go through their own ordeals."
"In certain aspects, we can relate," she says. "As Natives, we can all connect on certain levels [federally recognized or not]."
Images: Courtesy of Christine Stoddard.