The Many Influences Of Zayn's Solo Debut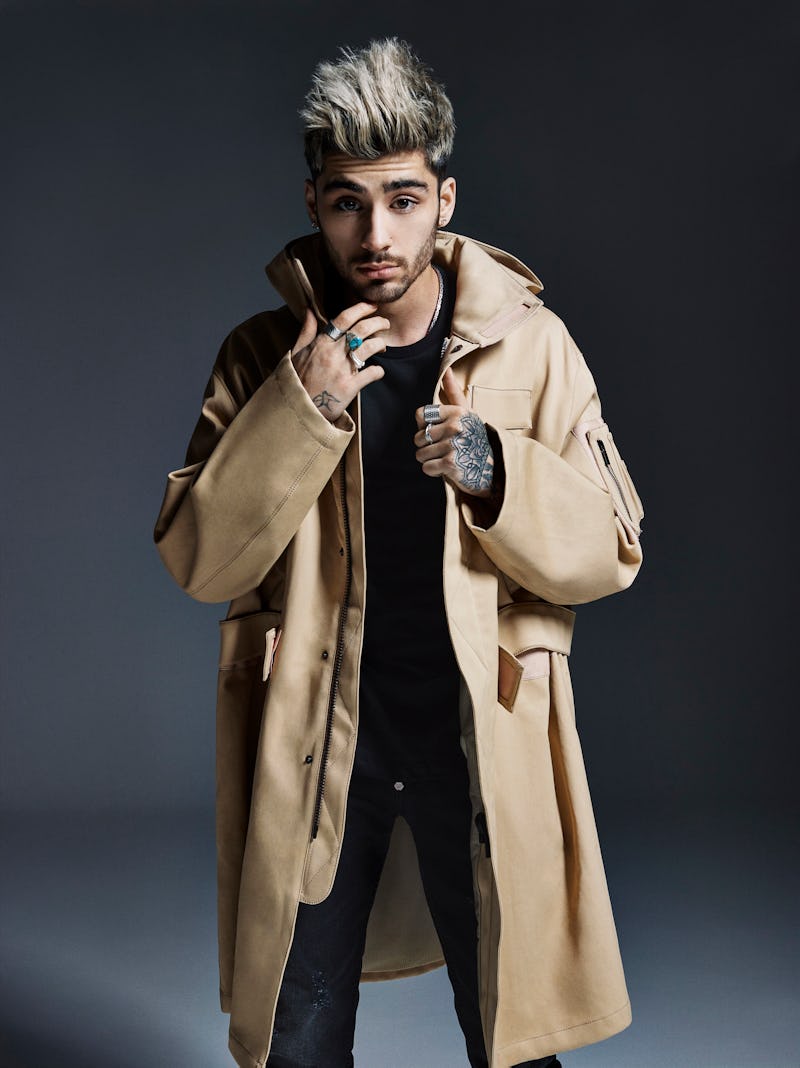 Zayn Malik is prepping the release of his upcoming solo debut, Mind Of Mine, out March 25, by dropping a few singles to show what that mind of his was up to in the studio. Both Malik's first official single "Pillowtalk" and his latest ballad "It's You" give fans a taste of the direction this ex-One Directioner is going and it may not be totally new. If you listen close to Malik's solo singles, you can hear the inspiration of other famous pop stars — even his ex boy bandmates.
Malik certainly isn't reinventing pop music with his solo stuff, but he's definitely trying to highlight the good and weed out the bad that he's heard in his lifetime. Lucky for him, there's been a whole lot of good pop music in his 23 years. From Drake to Beyoncé to Rihanna, Malik seems to have gotten his musical education thanks to these types of artists and is now using that knowledge to find his own sound.
When Malik finally drops his first album under his own name, fans are definitely going to try and play the comparison game. They're going to want to figure out who Malik is a a solo artist. But, we've already come up with a list of the 12 artists he seems to been listening to while recording this album and how they may have actually inspired his new sound.
1. Drake
According to Complex, Malik was listening to a lot of Drake while he was in the studio making his solo debut, hoping for some of that rapping/singing magic to wear off on him. It certainly sounds like he was listening to Drake's "HYFR." That hook on "Pillowtalk" is a dead-ringer for that hook Wayne sings on Drake's "HYFR." This likely means we're going to hear a few songs on Malik's album that have him singing, rapping and being one with his many emotions. Basically, keep a close ear for his "Hotline Bling" 2.0.
2. Lil Wayne
That single art for "It's You" is definitely an homage to Wayne's baby faced Tha Carter III cover, which was in itself a nod to Nas' Illmatic and the Notorious B.I.G.'s Ready To Die album covers featuring the rappers as babies. Could this be a sign that Malik is planning to go hip-hop? Well, no, since Malik tweeted shortly after people started talking about the cover similarities: "I'm not tryna be no rapper, my album is me a child." So, he's probably leaving the rapping to Wayne, since Malik teased that Wayne was jumping on "Pillowtalk" remix via Snapchat. But, maybe once The Carter rapper was in the studio, he just couldn't stop himself from laying down another verse. With Wayne, who likes to work in a stream of consciousness style, it's entirely possible.
3. Taylor Swift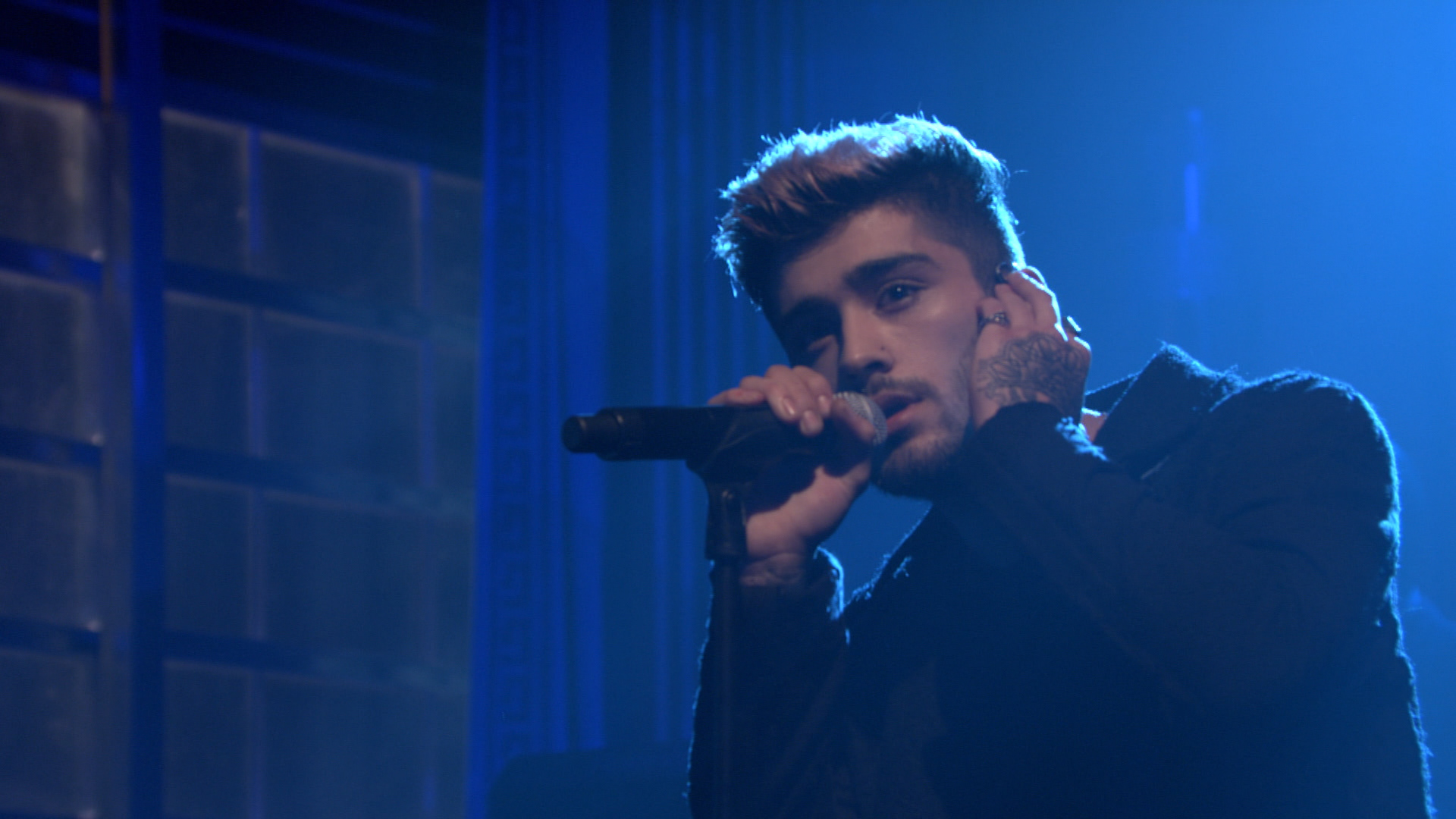 This new track "It's You" is reportedly about his ex-fianceé Perrie Edwards, but even if it's not, we'd all be wondering who it was about anyway. It's the question that's going to surround his whole album: who are these songs about? If it's a love song, we're going to wonder if it's his new girlfriend Gigi Hadid. If it's about moving on, we'll wonder if it's aimed at his ex One Direction bandmates. But, if he's taking a page from Swift's book he'll never explicitly say who the songs are about and just keep the fans wanting more.
4. One Direction
Speak of the devil. Yeah, we know, he left the group, but the boy band's stamp is likely to be all over his solo debut. He might change his style up a little, but fans will be hoping to hear a few similarities between his new music and his old stuff. Specifically, that raw emotion he gave 1D. And let's be honest, "It's You" sounds like a brokenhearted love song the five guys could have sung together and that's not a bad thing.
5. Chris Brown
"Pillowtalk" definitely sounds like it could have been a lost Brown track. Those vocals are very reminiscent of Brown circa "Without You." Last year, Brown did say he'd be up for a collaboration with the former 1D member, who is now signed to his label RCA — though, less than 24 hours after saying that, Brown un-followed Malik on Twitter. Maybe he was just playing coy? Not too coy of course, since Brown admits, "I'm not a hard guy to get in the studio with — I'm on everybody's songs — so any time." Since Malik recently helped out with the NSFW remix to Brown's song "Back To Sleep," it's only a matter of time before Brown returns the favor.
6. Justin Bieber
Malik may not specifically be inspired by Bieber's music, but instead could be looking at how the Biebz was able to reboot his career. Coming out of a successful boy band, Malik is going to want to convince his old fans and hopefully new ones that he's changed. To do this, he may want take a page from Bieber's strategy when it came to promoting his latest album, Purpose, which also served as his redemption record. Releasing "Pillow Talk" and then a ballad like "It's You" doesn't seem that different then Bieber's decision to release "Sorry" and then the acoustic "Love Yourself." Just sayin' it shows Malik's range.
7. OneRepublic
There's a bit of a Ryan Tedder feel about "Pillowtalk" — we're talking "Apologize"-era OneRepublic. Being that Tedder's not only written hits for his own band OneRepublic but the likes of Adele and Beyoncé, he's not a bad person to copy. So with or without Tedder's actual help, this sound is clearly a step in the right direction.
8. The Weeknd
That woozy, dreamlike feeling is all over Malik's latest single "It's You," making it very easy to compare him to Abel Tesfaye, aka The Weeknd. Malik's sexy imagery in the "Pillowtalk" video and his raunchy turn on the remix of Chris Brown's "Back To Sleep" probably won't dismiss The Weeknd comparisons anytime soon either. What these similarities also show is that dating someone with the last name of "Hadid" isn't the only thing these men have in common.
9. Justin Timberlake
No one would blame you for getting some strong JT vibes on "It's You" with that crooning falsetto. Will it be a staple of Malik's new album? It's quite possible since he's been flaunting those high notes all over the place, including his live version of "It's You" on the Tonight Show and the acoustic version of "Pillowtalk." If he was going to choose to follow anyone's career after leaving a boy band, Timberlake is certainly the one — basically the only one — to follow.
10. Rihanna
RiRi's latest album Anti is a more serious look at her as an artist, will Malik want to do something similar to try and erase his boy band roots? It seems from the sound of his early solo tracks Malik isn't interested in going too pop, instead trying for something a little sexier than what his young fans may have expected. But like Rihanna's "Work," which is climbing up the charts, Malik may have at least one true pop song left inside of him.
11. Beyoncé
Could Zayn, who seems to have dropped the "Malik" with this project, be trying to be the next big one-named pop star? Maybe? There isn't really a King to Bey's Queen, so this could be a good time to try and take that throne. Beyoncé's got a lot of different hits up her sleeves, but we'd love to see him to go her self-titled route and give us an album that shows where he's at now. A "Drunk In Love"-like single with a video featuring Gigi Hadid to match doesn't sound too farfetched, now does it?
Unfortunately, we have to wait to hear Malik's full album to see what direction he goes on. Luckily, until the album drops later this month, fans can keep his first two singles on repeat. Or, even better, watch the videos.
Image: Miller Mobley/RCA Records