'90s Theme Songs That Still Get Stuck In Your Head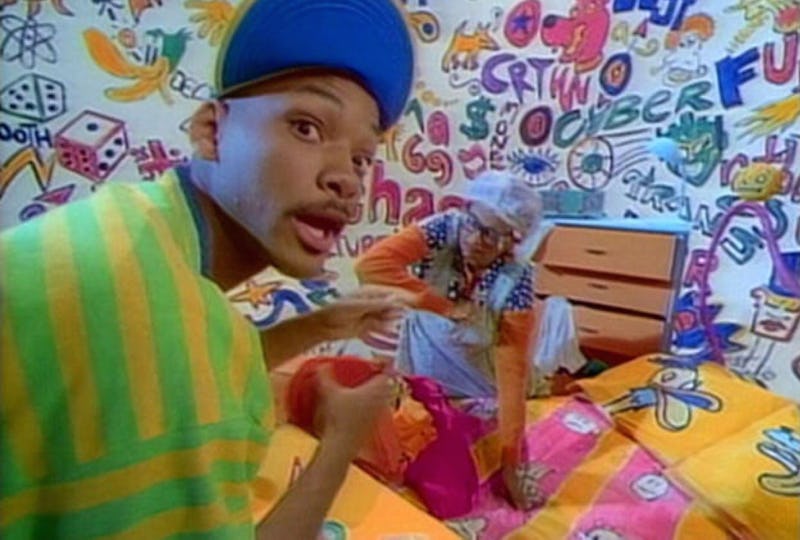 Let me set the scene for you: It's the '90s. You can't wait to get home from school, pop your TV dinner in the microwave, and sit down to watch your favorite shows. Because, you guys, before the world wide web was invented, the best thing to do after school was — listen up, it's crazy! — watch LIVE TV. On a real television. That you couldn't pause. WHAAAT?! OK, back to the scene: You're sitting down now, microwavable quasi meal in your right hand, remote in your left, and your favorite '90s show's theme song starts to blare through those mediocre sounding speakers of your TV/VCR combo. You're in heaven. You're humming along, getting pumped for the show to start, and telling your dog to stop barking. I'd even bet my piggy bank money — all seven dollars of it — that you're singing the words to the songs, and that hours later, whether you like it or not, they are still in your head.
While that might have been a nuisance back in the day, if your old favorite TV theme song from the '90s pops into your head now, it's a rush of nostalgic happiness. And because I'd like you to experience such euphoric feelings (I'm a giver) here are 16 '90s TV theme songs for your listening pleasure that are sure to get stuck in your head — just like they used to.
1. Pinky And The Brain
Brain, brain, brain, brain, BRAIN. (Have I lost you yet? Good. There's a lot more ground for us to cover.)
2. Step By Step
So much good/so much cheese. And don't lie, that crescendo at the end always gave you chills.
3. Full House
Fact: predictability was the main influence for this tune.
5. Home Improvement
Those guitar riffs — followed by that flute! — were stuck in your head for at least eight hours that day.
6. Sister, Sister
If you had a sister, you probably sang this every time she entered a room. Or at least, you should have.
7. Family Matters
*Sobs uncontrollably* Oh, sorry. Didn't see you there.
8. Clarissa Explains It All
Couldn't ever get those na-na's out of my head. Way cool!
9. Kenan & Kel
Ah here it goes! COOLIO! Come on, everyone....Coolio. I just want to write Coolio again. Coolio.
10. All That
Stop. Look and watch. Ready yet? Get set. It's ALLLLLL THAT! Man, the beat of this jam by TLC was really, truly, and without exaggeration, all that.
11. Recess
The drum beat, the whistling, the trumpet. Perfection.
12. Rocko's Modern Life
Did this eclectic mix of noise get under your skin as much as it did mine back in the day? Did you find yourself answering random questions with "Rocko's Modern Life!" like I did? Should I have sought help? Things to consider.
13. Hey Arnold
Happiness: defined.
14. The Fresh Prince of Bel-Air
If you don't know the words to this whole intro are you even a person? Just wondering.
Last question: which one of these sweet, sweet melodies will your brain latch onto today? No, don't tell me. Just thank me later.
Images: Warner Bros. Television