The 'Friends' Deny A "No-Sex" Contract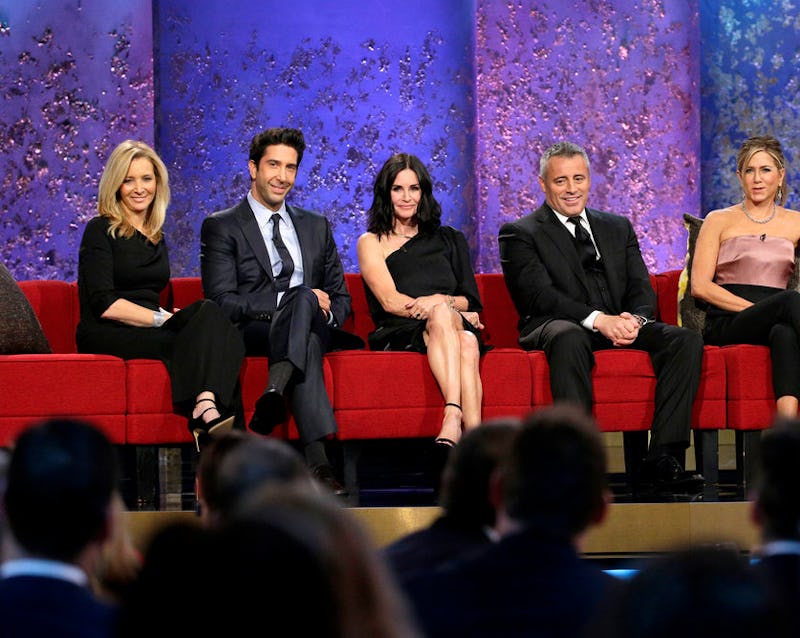 Talented TV producer James Burrows was honored during NBC's Must See TV: An All-Star Tribute to James Burrows, but the most buzzed-about moment of his tribute was when the cast of Friends reunited. Burrows has directed over 1,000 episodes of TV sitcoms and 15 of those episodes were for Friends . The stars of the sitcom, Jennifer Aniston, Courteney Cox, Lisa Kudrow, Matt LeBlanc, and David Schwimmer (Matthew Perry couldn't attend in person), spoke to Andy Cohen about their memories of Burrows and also shared behind-the-scenes info on the filming of the show. To make it even more worthy of gossip, Cohen asked the five celebs if they ever had to sign a contract during the filming of Friends that stated that they wouldn't have sex with each other.
Schwimmer, who is starring in American Crime Story now, looked as if the idea of a no-sex clause in their contracts was completely absurd. And while Cohen was definitely baiting for some juicy tidbits to make Friends fans freak, I couldn't really blame him for asking the six beautiful people who portrayed friends in New York City about the rumor. While the gang denied ever such a contract existing, Schwimmer did say if they had signed it, the contract would have been broken. Since I am 99.99 percent certain that he was just joking, there's no reason to start theorizing about which cast members actually hooked up offscreen. Plus, weren't there enough scripted sex moments on the show to make up for it?
Although the Friends reunion did leave me wanting for more, watching the gang joke about the possibility of being lawfully contracted not to have sex 20 years ago helped fill the Chandler, Monica, Joey, Rachel, Ross, and Phoebe-sized hole in my heart for the time being.
Image: Chris Haston/NBC