9 GIFs Of Drake From "Work" We All Need Right Now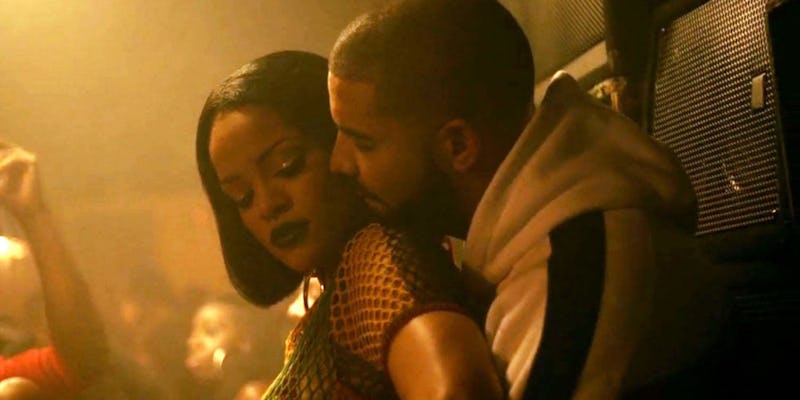 Rihanna has finally released the music video for her song "Work" — and yes, it features Drake. Honestly, it's hard to watch this video without wanting to get up and dance yourself. With the song's Caribbean sound, the amazing moves from the partiers on the dance floor, and Rihanna and Drake's straight-up hot chemistry with one another, there's no reason not to watch the over-seven-minute, two-part music video more than once. However, just watching the "Work" music video over and over again for the sake of seeing Drake in the video is totally worth it as well. And I'm not the only one who needs some Drake GIFs from "Work" in my life.
Now, Drake being in this video comes as no surprise at all. In fact, if anything, this video not only confirms that these two are on good terms after their confusing, possible on-again-off-again relationship, but it also even puts into question just how close these two may currently be. Seriously, are Rihanna and Drake dating? This video sure makes it seem like something is going on between those two.
Then again, perhaps you were too distracted by Drake's moves and general adorable-ness. He basically owned this video, and we all know it. Here are all of the Drake GIFs from the "Work" music video that will have you feeling some type of way. If you know what I mean.
1. He's Getting It On
How could you not want to party with Drake? He has the perfect amount of sexy and fun when on that dance floor.
2. He's Calling For You
Yes, Drake. I will dance with you if you really want me to.
3. This Cuddle Session
Their chemistry is just too real in this moment. Basically, that's how we all wish Drake would hold us.
4. Things Are Just Steamy
Rihanna is obviously in control of this situation, and there's something about this moment that just makes Drake fans wish they were her.
5. The Way He Looks At Rihanna
Um... Can he look at me this way? Thanks.
6. This Adorable Smile
He's adorably embarrassed, and it just makes me love him even more. Seriously, how cute is that smile?
7. Those "Hotline Bling" Moves
They just make you want to call him on his cellphone. ...Late night when you need his love.
8. This Closeness
Just... Yeah.
9. This Perfect Ending
They're just giving #RelationshipGoals.
OK, Rihanna. Whether you and Drake are together or not, there's just straight up jealousy coming from Drake fans everywhere at this point. We'll just have to use these gifs to console ourselves.
Images: RihannaVEVO/YouTube (5); Giphy (4)