'The Bachelor' Proved Ben Could Be A Dad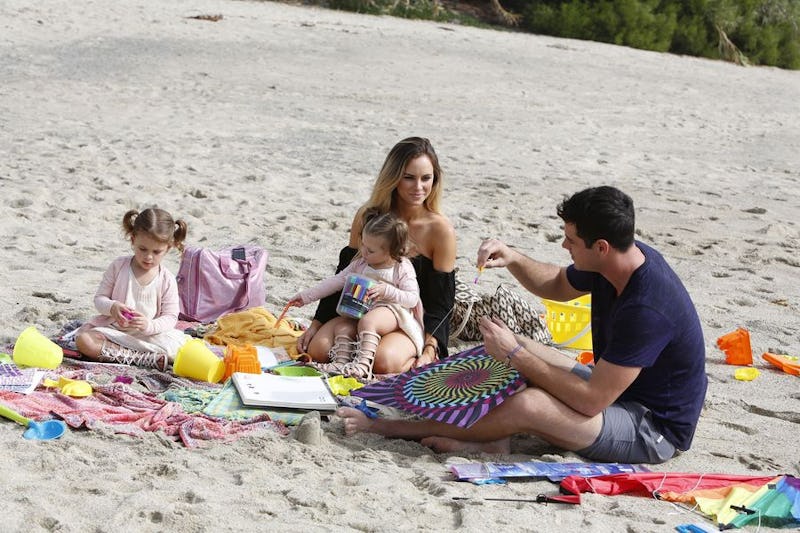 As the Bachelor, Ben Higgins is responsible for quite a few things — giving out roses, mopping up tears, stopping fights, and, of course, consulting Chris Harrison on what tie to wear. (IDK, but I'd like to imagine that's what happens.) But, did we think he'd take on the responsibilities of fatherhood? We're down to the final four on The Bachelor, and Ben is finally meeting Amanda's children, Kinsley and Charlie. Is Bachelor Ben ready to be a dad? Their family date was the first step toward becoming a unit and not just a couple.
Being from Southern California, Amanda decided that her date would be on the beach — she loves it and her little munchkins do, too. Ben, Amanda, and her girls did the obvious activities — splashing around in the water, building a mean sandcastle (or at least as mean as a three-year-old could make… you'd think the producers could have built a fake one), and sort of pretending to fly a kite. All was well until — uh oh — little Charlie decided to have a temper tantrum in the car on the way home. I mean, it's not strange — little kids scream and cry. That's what they do. The promos for the show made it seem like Ben was really uncomfortable with Charlie being a little screechy, but he definitely wasn't. He totally kept his cool, and the rest of the date went just fine.
Ben's a levelheaded guy, and it's been apparent from his beginnings on The Bachelorette that he was good with kids. Remember the sex education date when Ben appropriately explained sex to a classroom of kids? He does a lot of community outreach, too, so he's around kids. He could deal with changing a diaper or diffusing a tantrum. Will Ben and Amanda stay together? I don't know. But the fact that she has kids is definitely not a deal breaker for this Bachelor.
Images: Greg Zibilski/ABC