13 2015 Debut YA Novels You'll Want to Pre-Order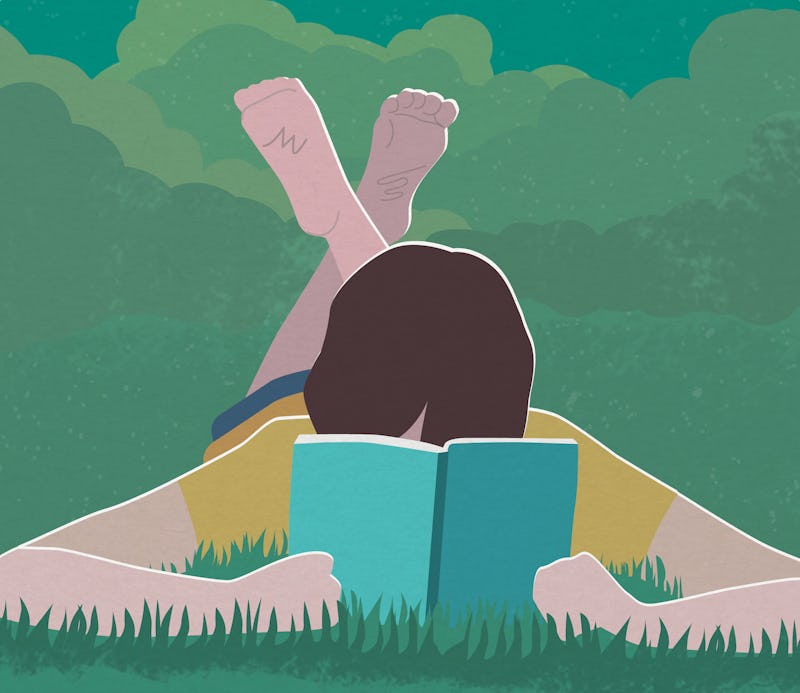 2015 is shaping up to be a banner year for debut YA authors. The best thing about the otherwise rather lackluster month of January is the promise of a whole 12 months of glorious new books, and this year there is an especially promising crop of brilliant new YA authors.
Seriously, the amount of talent being set loose in 2015 is staggering. Whether you're a devourer of contemporary novels like Stephanie Perkins', or love to get lost in the epic world-building of magical wordsmiths like Laini Taylor, there is at least one fresh new YA writer in every category that you won't want to miss.
Finding new favorite authors is one of the true joys of the book-lover. Revisiting faithful standbys is wonderful, of course. But in the spirit of branching out in the new year, check out the following list for incredible debut YA authors who may not only remind you of your best-loved writer, but who also bring something fresh to your favorite YA genre, whether it's a new perspective or an unexpected plot twist.
There's always room for more amazing authors in your heart. After all, a girl can never have too many favorite books.
If you like Stephanie Perkins...
Then pick up Hello, I Love You by Katie M. Stout (June 9; St. Martin's Griffin)
I know, I know, measuring up to the divine Ms. Perkins is nearly impossible. Her signature combination of swoon and friendship (not to mention her uncanny ability to get inside the teenage brain) is undeniably addictive. But Hello, I Love You might just be the next Anna and the French Kiss. The covers even look eerily similar.
The premise of Hello, I Love You is pretty familiar contemporary stuff — girl goes to boarding school in a far distant land to escape her stifling, emotionally manipulative family. Except Grace Wilde's family is a legendary music biz dynasty, and her older brother was poised to be the next Garth Brooks until his very public breakdown. Grace just wants to get as far away from her toxic mother and the music business drama as she can. So she heads to Korea. And falls for a stupendously famous KPOP star. And that's when the basic plot gets a bit bananas. In a good way.
Hello, I Love You has all the elements of a great contemporary YA read — romance, humor, self-discovery, and good friendships. Stout does an impeccable, Perkins-esque job of weaving them all together into a charming, compulsively readable debut novel.
If you like E. Lockhart...
Then pick up Damage Done by Amanda Panitch (July 21; Random House Books for Young Readers)
Oh how I love me a juicy, reading-on-the-edge-of-my-seat suspense novel. My admiration for E. Lockhart's brilliant 2014 novel, We Were Liars, is well-documented, and I know I'm not the only one hungering for another dysfunctional-family-centric psychological thriller. Enter Damage Done.
The plot, bringing to mind both Gone Girl and We Were Liars, centers on Lucy Black (formerly known as Julia). In the span of 22 minutes her entire world implodes and is subsequently recreated... with a new hometown and identity, and without her family, including her twin brother. As Lucy tries to adjust to her new life, she catches the attention of the hot boy at school, but she's also noticed by someone much more dangerous. Word on the (Goodreads) street is that Damage Done is completely unputdownable, so set aside some time to marathon read this one.
If you like Laini Taylor...
Then pick up The Girl at Midnight by Melissa Grey (Apr 28; Delacorte Press)
If, like me, you were so, so sad to finish The Daughter of Smoke and Bone trilogy last year, have no fear, because The Girl at Midnight series is here. Seriously, this promises to be a good one, with all the elements you've come to love from authors like Taylor — hidden magic in real places, an ancient alternate universe, a little bit of romance, and an unapologetically smart, self-reliant female lead.
The Girl at Midnight takes place in a magical underground world that exists below New York City, where Echo (a human girl) is a pickpocket and an adopted member of the Avicen, an ancient race of magical beings with feathers for hair. When a centuries-old war threatens her home, Echo sets out to steal the one thing that can save those she loves. I think Grey herself might have a little magic running through her veins, because The Girl at Midnight is nothing short of extraordinary.
If you like Elizabeth Wein...
Then pick up Under a Painted Sky by Stacey Lee (Mar 17; Putnam Juvenile)
OK, I know it's waaaaay to early to say this, but I think this may shape up to be one of my favorite books of the year. And I'll probably say that 100 more times in 2015, but thus are the joys of a bibliophile. Lee's debut is all the things a brilliant first book should be: powerful, poignant, and original. I recommend it to fans of Wein, and specifically Code Name Verity , because of the adventure and fiercely loyal friendship between Samantha and Annamae.
Samantha is a talented musician hoping to move back to New York City and turn professional. But as a Chinese girl in Missouri circa 1849, her chances are slim, and after a horrible accident, her hopes are irrevocably dashed and her life is in danger. She turns to escaped slave Annamae for help, and the two girl disguise themselves as boys (Sammy and Andy), and hit the Oregon Trail, heading for a new life in California.
I know, right? Now that's a plot. Lee's writing is lyrical, her pacing is perfect, and Samantha and Annamae's friendship is beautifully developed. Get ready to fall in love with this one.
If you like Kristin Cashore...
Then pick up The Witch Hunter by Virginia Boecker (June 2; Little, Brown Books for Young Readers)
Bear with me, because you may think you're over the whole supernatural thing, witches included, but you don't want to pass up The Witch Hunter. Plus, there are also pirates, which is an interesting and unusual twist. In fact, Boecker's debut as a whole is pretty unexpected. Elizabeth Grey is devoted to hunting down and eradicating witches — until she discovers that she herself is a witch. After being temporarily saved by the most powerful wizard in the world (and her former arch-enemy), she agrees to repay him by finding the person who placed him under a deadly curse.
What follows is a whole lot of juicy romance, intrigue, murder, mayhem, and a rat horde. Along the way, Grey is forced to look deep inside and reevaluate her ideas of right and wrong. The Witch Hunter reminds me of Kristin Cashore's Graceling mostly because of the impeccable world-building, and Elizabeth Grey's indomitable will and wild spirit. Boecker recently spent four years in London researching medieval English history for this novel, and lucky for us her dedication to her craft is gloriously evident in The Witch Hunter.
If you like Julie Ann Peters...
Then pick up None of the Above by I.W. Gregorio (Apr 7; Balzer + Bray)
This is a really important book. Julie Ann Peters frequently writes about LGBTQ teens (Luna, Lies My Girlfriend Told Me), but Gregorio's debut sheds some light on what it might feel like to be an intersex teen.
Her protagonist, Kristin Lattimer, is homecoming queen, a star athlete with a full scholarship, and head-over-heels for her boyfriend. She's so in love with him, in fact, that she decides to have sex with him. And that's when her life changes, but probably not for the reason you think. Something goes very wrong on the big night, and after a visit to the doctor, Kristin learns that although she looks like a girl, she has some male chromosomes and boy "parts." And then the whole school finds out.
Gregorio writes about Kristin's struggle to come to terms with her new identify with grace, wit, and compassion. Although this is an important "issue" book, it's also just a really great contemporary YA read.
If you like Benjamin Alire Sáenz...
Then pick up More Happy Than Not by Adam Silvera (June 16; Soho Teen)
Adam Silvera's debut hits on lots of the big stuff: class, race, sexual identity, grief, loss. His main character, Aaron Soto, lives in the Bronx projects, is trying to deal with his father's suicide, has a perfect girlfriend, and is falling for his new best friend, Thomas.
The relationship between Aaron and Thomas definitely reminds me of Aristotle and Dante Discover the Secrets of the Universe , but the rest of it is really evocative of Eternal Sunshine of the Spotless Mind. This is due in large part to the fact that there is a place called the Leteo Institute where a revolutionary memory-relief procedure is performed.
Aaron can't seem to forget the deprivations of his poor childhood, the tragedy of his father's suicide, or the fact that he's gay. He begins to believe the procedure is the only way for him to forget about his past, and more importantly, his feelings for Thomas.
Silvera, like Sáenz, is a beautiful writer. Aaron's story is heart-wrenching, funny, inspirational, and eye-opening. This is a really special novel from an extremely gifted new writer.
If you like Sarah Dessen...
Then pick up The Night We Said Yes by Lauren Gibaldi (June 16; Harper Teen)
If you're looking for an awesomely fun, charming read, your search is over (or at least you can pre-order this right now). Gibaldi's debut has everything you want in a great contemporary YA — a whole lot of romance, friendship, good times, and, of course, drama.
The novel begins with Ella in the process of getting over a crappy ex-boyfriend and counting the days until she leaves Orlando, Florida, in her rearview mirror. But then she meets Matt — bespectacled, quiet, bass player, and total heartthrob. What follows is the best night of Ella's life.
Ella, Matt, and her best friends spend the whole epic evening saying yes to every crazy thing they can think of. And then Matt suddenly leaves town, and Ella and her friends are confused and bereft. When Matt shows up a year later with a plan to relive that incredible night, Ella doesn't know what to do. Can she trust him? Can she trust her heart?
Oh first love, true love, best friends, life-changing revelations — it's all here, folks. Enjoy.
If you like Ransom Riggs...
Then pick up The Creeping by Alexandra Sirowy (Aug 18; Simon and Schuster Books for Young Readers)
Yikes. That cover, that title, the whole package just gives me the heebie jeebies, but in the best way. So, yep, get ready to be totally creeped out. The novel hinges on the disappearance of a little girl named Jeanie 12 years prior. She and her friend Stella were picking strawberries when both girls vanished. Stella reappeared several minutes later with no memory of what happened. Jeanie was never seen again. Stella is now 17, and has moved on with her life. She has a fabulous best friend, an adorable hookup, and summer vacation stretching out ahead of her. And then the corpse of a little girl is found washed up in an ancient cemetery. She has red hair. So did Jeanie. It's not a coincidence, and Stella wants to find out the truth before it finds her.
Sirowy really knows how to bring the sinister, eerie, scary stuff. This is a gripping page turner, and if you loved Miss Peregrine's Home for Peculiar Children , you'll be hooked from the beginning. Just when you think you know what's going on, the monster pounces from a totally unexpected place.
If you like Suzanne Collins...
Then pick up City of Savages by Lee Kelly (Feb 3; Simon and Schuster)
Alright, really bear with me on this one, because the moment you read "post-apocalyptic" you're probably going to stop reading. But please don't. Kelly's debut take place in New York City, a real place, and the city is a huge part of the story. The main similarities between Collins and Kelly is their incredible ability to build atmosphere and tension, and their use of strong, powerful female characters.
The plot of City of Savages is fascinating. Two decades earlier the Red Allies attacked Manhattan, and it's now a prisoner-of-war camp, ruled over by brutal dictator Warden Rolladin and her warlords. Sky and Phee Miller are prisoners in the camp, caged within its borders until they discover their mother's journal, which reveals that both the sisters and the island may be more than they seem. With the arrival of strangers from England, a country the Red Allies supposedly destroyed, Sky and Phee become determined to discover the truth.
What follows is a true adventure, as well as an exploration of sisterhood, friendship, and the nature of love. It's an enthralling novel, and definitely way more than just your average post-apocalyptic thriller.
If you like Sara Shepherd...
Then pick up Tiny Pretty Things by Sona Charaipotra and Dhonielle Clayton (May 26; Harper Teen)
No, I am not comparing this book to Shepherd's because they both have the word "pretty" in the title. Tiny Pretty Things reminds me of a Shepherd book because of the lengths the characters will go to be on top. Their machinations and manipulations are kind of terrifying, but also make for totally addictive reading.
Tiny Pretty Things takes place at an elite ballet school (so of course there's a Black Swan vibe, too). These girls will do just about anything to be prima ballerina, and the pressure to be perfect is beyond intense.
Charaipotra and Clayton could have filled the novel with stereotypical caricatures of ballerinas and mean girls, but instead the characters are fully developed, each with a backstory and an ambition all her own. Gigi is the free-spirited new girl, and all she wants to do is dance. But at this particular school that may mean she'll end up dead. You'll have to read it to see if she pirouettes her way to prima or just to an early grave.
If you like John Green...
Then pick up Denton Little's Deathdate by Lance Rubin (Apr 14; Knopf Books for Young Readers)
I just love the premise of this book. Everything in Denton Little's world is exactly like our own, except that he knows when he'll die. And Denton's deathdate is tomorrow, the day of the senior prom. Although Denton has always known when he'll die, he crams in as many firsts as he can: first hangover, first sex, first love triangle. It's kind of a lot. And then mysterious things start happening. He gets a rash, some strange guy tells him to beware of suspicious government characters, and things just get really weird.
Rubin is really funny, but, like Green, he manages to be poignant at the same time. You'll never feel like Rubin is making light of Denton's date with destiny, or that he's being overly ironic or flippant. Rubin takes Denton's death — and life — very seriously, which allows the story to take on a deeper significance. You'll laugh out loud while you read this, but you're probably going to tear up a bit too. In other words, it's a keeper.
If you like Marissa Meyer...
Then pick up The Wrath and the Dawn by Renee Ahdieh (May 12; Putnam Juvenile)
Ahdieh (she published an adult novel in 2011, but this is her YA debut) was inspired by the classic Arabian Nights tale, A Thousand and One Nights. Like Meyer's fantastical fairytale retellings (Cinder, Cress), The Wrath and the Dawn is both familiar and utterly original.
Sixteen-year-old Shahrzad lives in a land ruled by a killer. Khalid, the 18-year-old Caliph of Khorasan, takes a new bride each night only to have her executed at sunrise. Shahrzad volunteers to be the next bride, counting on the fact that her clever plan will keep her alive long enough to kill Khalid and exact revenge for the death of her best friend. But she gradually discovers that Khalid is not the murderous tyrant she thought him to be, and that the reason for the killings is much deeper and complex than she imagined.
Meyer and Ahdieh also share a real talent for creating captivating female characters that are both strong and compassionate. This is a complicated story, especially as Shahrzad finds herself falling in love with a suspected murderer. (Although I dare you not to fall for him too.) Ahdieh handles the intricacies gracefully, allowing the story to take its natural course while adding her own clever little twists and turns. Like the original, this tale is full of romance, mischief, valor, and adventure. You'll fly through this ingenious retelling.
Images: Cora Foxx/Bustle; Giphy (6)