How To Remove Self-Tanner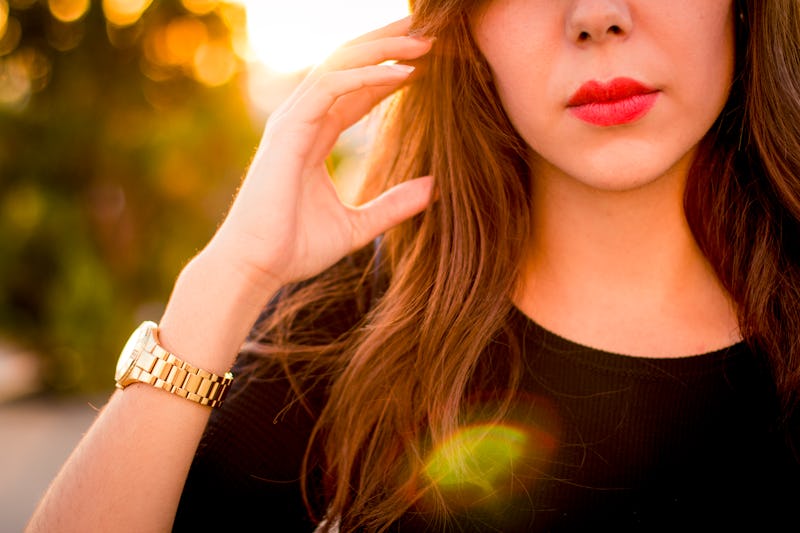 You wanted to stay glowy without damaging your skin, so you went the self-tanning route. Good for you! The only problem? Streaks galore and palms so orange you look like you rolled around on a clay tennis court. If you're wondering how to get self-tanner off your palms, I've got some tips for you.
Self-tanning is a great way to gain some color without aging your skin, or worse, increasing your likelihood of skin cancer. That said, the world of self-tanning is widely diverse and can be a bit complicated. You can get a spray-on tan from the tanning salon or purchase your own and DIY at home. You can choose from lotion-like formulations or creams or even sprays. There are all natural products, high-end products, and drugstore options. Really, there's no excuse to not tan the safe way.
But whether you're new to the self-tanning game or not, streaks and stains will happen. I usually ruin my tanning mitt before running out of the corresponding product, and I'm not ashamed in the least to say I've used my own hands to rub in some self-tanner. Even if you immediately scrub and wash your hands after applying, you can walk away from a self-tan session with orange palms. That is never a cute look.
St. Tropez Tanning Essentials Tan Applicator Mitt, $7, Sephora
Here's how to deal with the most common of tanning blunders.
Sweet Lemon Body Scrub, $17, The Body Shop
First, I happen to believe that exfoliating is the answer to everything. OK, maybe not everything but it's a great first step when you have streaks and dye on your hands. Grab a bit of sugar scrub (you can even make your own with organic sugar, lemon and olive oil) and gently rub your palms together. This will slough off the dyed layer of skin, starting to even out the color immediately.
You can also buff your palms with pure lemon juice. Lemon juice's acidity helps break up the color on your skin. Who knew?
St. Tropez Tan Correcting Cleansing Wipes, $8, St Tropez Tan
Next, grab a tan eraser (like these wipes) or just some old fashioned baby or body oil. Leave the oil on your palms for 10 minutes. The oil will lift the top layer of skin, creating the illusion your tan has faded significantly. If you still look like a construction cone, make a paste from baking soda and lemon. Baking soda is a lightening agent, so it will fade your tan, fast. Follow up with some serious moisturizing, concentrating on the hands, feet, elbows and knees.
Jergens Natural Glow & Protect with SPF 20, $9, Amazon
Now that you've exfoliated and moisturized, you may notice the tan on your palms isn't all that bad. But if you're still two-toned and streaky all over, grab a more forgiving self-tanner to gradually build an even color.
Image: Pexels