Wren Has A Major Charlotte Connection On 'PLL'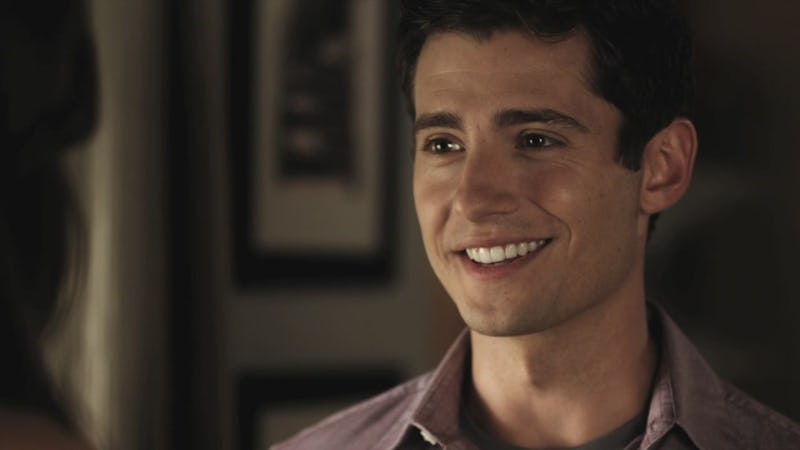 Pretty Little Liars has had a big, British-accented hole for a while now (my heart has, too). Wren hasn't been seen on the series since Season 4, and the last we'd heard, he was living in London with Melissa in Season 5. Melissa was escaping potential murder charges, but he apparently just wanted to tag along. The plot has thickened — in a flashback in our flash-forward, Hanna revealed that she saw Melissa in London, who told her that Charlotte had called Wren and basically made him break up with Melissa. That's right, Wren is back on Pretty Little Liars, well, in theory at least, because even though we didn't see him, his actions could have set Charlotte's death in motion.
Back to that fateful meeting between Hanna and Melissa. The elder Hastings sister lamented that Charlotte was under "penthouse arrest" and told Hanna that Charlotte had been phoning Wren and telling him all about Bethany Young and how Melissa buried her alive. I mean, that was just a misunderstanding — Melissa thought that it was Ali, and she definitely didn't know Bethany was alive. Anyway, you can understand why news like that would make Wren trust Melissa, eh, a little less. Melissa was obviously not happy about Charlotte's involvement, so, moving forward a few years, she definitely had motive to kill Charlotte upon her release.
Spencer and the Liars are somehow convinced that Melissa used a part of her suitcase to break Charlotte's neck, but that is a thin freaking piece of aluminum to kill someone with. While I definitely don't believe that that's the murder weapon, I think that Wren breaking up with Melissa could have pushed this whole plotline forward. Will Wren be back to defend himself? Or perhaps rekindle his flame with Melissa? I sure hope to see Julian Morris' shining face really soon on Pretty Little Liars. For more on Season 6B, check out Bustle's PLL podcast, Taking This One To The Grave.
Images: FreeForm; Giphy