Rihanna "Work" Video Analyzed By The Numbers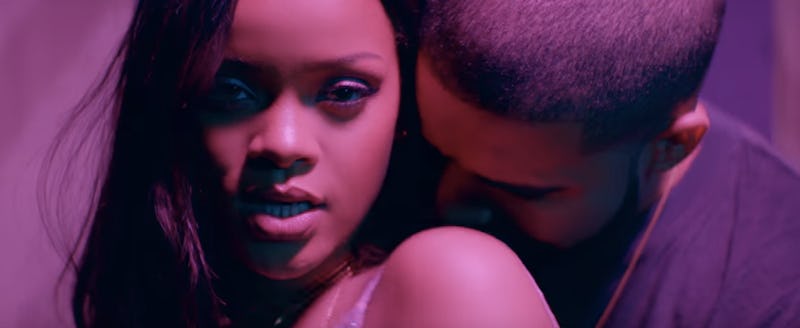 So here's what I'm thinking. If Rihanna and Drake can do us the favor of putting out two music videos for their song "Work," then the least I can do a complete and scientific analysis of both videos. I churned up all the numbers, put them through my counting machine, and instructed my robot to put a detailed report on my desk. Except the second two things never happened, maybe because my house robot is in the shop, so all I have left is the numbers I've pulled from these videos. Which are honestly pretty illuminating. For Science. If you're anything like me, your first time through watching these videos, you'll just feel a general attraction for Drake and Rihanna and an overall desire to dance. But, if you look a little more closely, there are more complex sensations inside of those feelings.
Just to be clear, the attraction never goes away, it only gets stronger. So, if you aren't prepared for that, get out now. Seriously, run for the hills. The deeper you get into the pure numbers and science of this whole thing, the more you're to want to be Drake and Rihanna. And since that clearly isn't possible, this could be the first step down a very disappointing road for you. So just gird your loins as tightly as you can, and join me for Rihanna and Drake's "Work" video by the numbers.
Times That Rihanna Pulls Off That Ridiculous Pink Fur Coat: 1
But it's more than enough.
Puffs Of Smoke: 3
Blaze it, y'know?
Twerking Butts: 14
Would also have accepted the answer "one million."
How Many More Shots Of Rihanna's Net Dress I Would Have Needed To Stop Staring: 15
Still can't be quite sure of what's going on under there.
Times Rihanna Ran Her Hands Over Her Hair: 27
Very very good hair in these videos.
Moments That Gave You NSFW Feelings About Drake: 130,495,823
And that's a conservative estimate.
Dance Moves That Didn't Leave Room For The Holy Spirit: 52
All the parent chaperones at your middle school dances are very disappointed.
Moments You Were Sure Rihanna Had No Bones In Her Body Or Else How Could She Even Move Like That: 8
Impossible that she and I are supposedly the same species of human.
Times You Desperately Want These Two To Get Back Together: infinity
UGH.
Times RiRi #FreedTheNipple: Constant
Not even mad at it.
Number Of Times Drake Smells Rihanna's Hair: 34
I see you sniffing on those pheromones.
Whoops, just made my crush on both of these beautiful humans about eight times stronger. Gonna go write them a bunch of mash notes now and try to figure out where to send them.
Images: RihannaVEVO/YouTube (12)