This Is The Best Way To Wear Cream Blush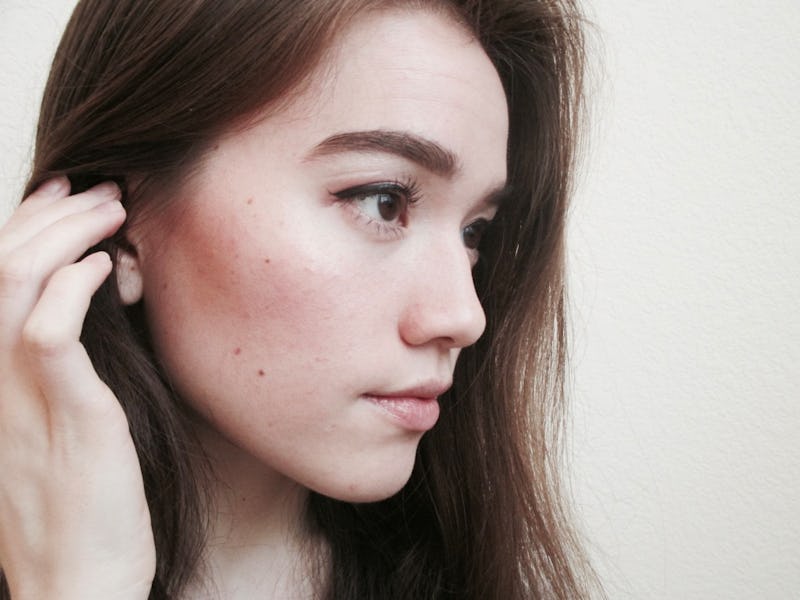 Cream blush can be pretty scary to use. And I get it: If you have oily skin, maybe you worry that it will just melt right off of your face. If you have dry skin, maybe you worry that it will cling to any dry patches you may have. But there are some tips for wearing cream blush that will make it your new best friend — regardless of your skin type. Because not only is cream blush actually easier to use than you may think it is, but it can also improve your makeup game.
Cream blush is the product to use when you want that natural-looking flush, because it can blend into the skin better than a powder. But I honestly never thought my skin would play well with cream blush. I'm about as oily as they come, so cream products in general scare me. But incorporating a cream blush into my makeup routine has actually helped my blush stay on longer. All those years of shying away from it, I never knew what I was missing. So you don't make the same mistake I did, here are seven tips for getting the best wear out of cream blush. Your cheeks won't know what hit them.
1. Use Your Fingers
Your fingers are the perfect tool for applying cream products, especially if you're worried about them clinging to dry patches. After applying your favorite foundation, use tapping motions to blend cream blush onto your skin. Start at the apples of the cheeks for the most saturated color, and blend back towards your hairline. If you're worried about applying too much, start with just a little bit of product, and layer it up to your desired intensity.
2. Try A Stippling Brush
If you still prefer using a brush to apply cream blush, use a synthetic stippling brush. This type of brush will help make sure you don't apply too much product, and that it blends flawlessly into the skin.
3. Blush Before Powder Foundation
If you use a powder foundation, apply the cream blush first. Use a slightly heavier hand than you normally would. Then, you can simply apply your powder foundation as usual. Because you put on more blush, the right amount will still show through your foundation. And bonus: the powder foundation will help set the blush.
4. When In Doubt, Blend It Out
If you have trouble blending cream blush with your fingers, or notice any harsh edges, use a sponge like the beautyblender to apply or correct your cream blush. You can put product directly on your sponge to apply it, or use your fingers to apply the blush first, and then go back in with the sponge to blend. Either way, you'll come out with a flawless application.
5. Correct Mistakes With Foundation
Accidentally apply too much cream blush? No worries. Fix it by going back over your blush with whatever brush or sponge you used to apply your foundation. Don't add any more foundation, just use whatever is left over on your brush or sponge to help neutralize your blush.
6. Layer Powder Blush
Whether you have oily skin, or just need a couple extra hours of wear-time from your blush, set your cream blush with a corresponding powder blush. This will help lock that color into place to make sure it doesn't budge or fade.
7. Don't Forget The Lips
The best part about cream blush? It also makes for a fool-proof lip color. Just tap the same blush you used on your cheeks onto your lips. You won't have to worry about finding the right lip color to go with your blush, because using the same product on both cheeks and lips will ensure a perfect match.
Want more beauty tips? Check out the videos below and subscribe to Bustle on YouTube!
Images: Miki Hayes