This One Hint Could Mean A 'Fuller House' Season 2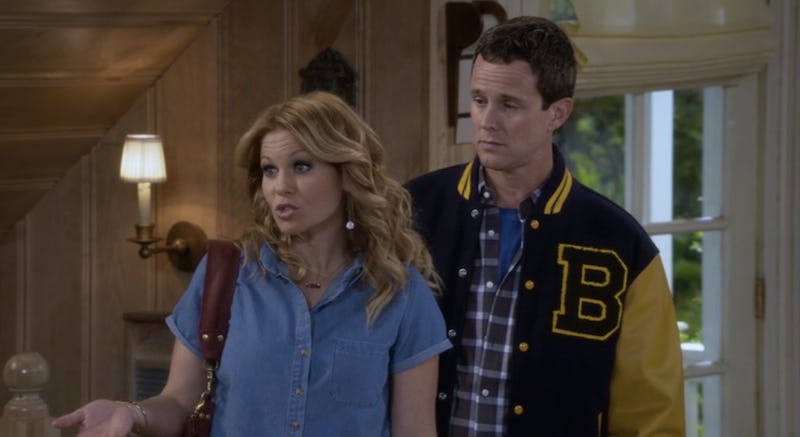 As a true '90s kid, I've always loved Full House and, fortunately, I also loved Fuller House. The Netflix series surpassed my every expectation, but I did have one problem with it. Before I get to that problem, though, I want to take a minute to note that what follows are major, major Fuller House spoilers about the end of the series, so if you don't want to see them, stop reading now. Gone? OK, good. So, Steve and D.J. don't end up together on Fuller House. At least, they don't by the end of Season 1. At first I was majorly bummed by this ending. I mean, Matt is cute and all, but everyone knows Steve and Deej are soulmates! I thought for sure the charade would end by the finale, and she'd pick Steve to live happily ever after with. Not that I don't love that D.J. chose herself. That was an awesomely feminist move, and I respect it. But, 'shipper me wanted a Steve + D.J. = Love kind of ending. Still, this could actually be a good thing for fans of the show because if could mean we'll get a Fuller House Season 2. [Update: Netflix confirmed on Twitter that there will be a Season 2, but there's no release date as of yet.]
Although nothing has been confirmed yet, some of those involved have said it's a possibility that the show will get more than one season. John Stamos teased fans at the People's Choice Awards when he said, "There will be a lot more than one season for sure." And, creator Jeff Franklin told Entertainment Weekly that he hopes the Olsen twins will return for Season 2. So, this Steve and D.J. development is one more hint that the gang will be back for another round.
Think about it: If this was a one-off reunion-type show only, the writers would have put a nice bow on the finale to give it a conclusion to last forever. But, things were left kind of open ended. D.J. picked herself instead of Matt or Steve, but the two men also agreed to wait for her. So, there's potential for a choice in the future once D.J. really feels ready for a serious relationship.
Hopefully that will come in Season 2 and hopefully it will be with Steve. But, even if it's not, it's nice knowing that the ambiguous ending leaves the door open for even more Fuller House — and that's good news no matter who D.J. ends up with.
Images: Netflix, Michael Yarish/Netflix