Brie Larson Wins Best Actress At The Oscars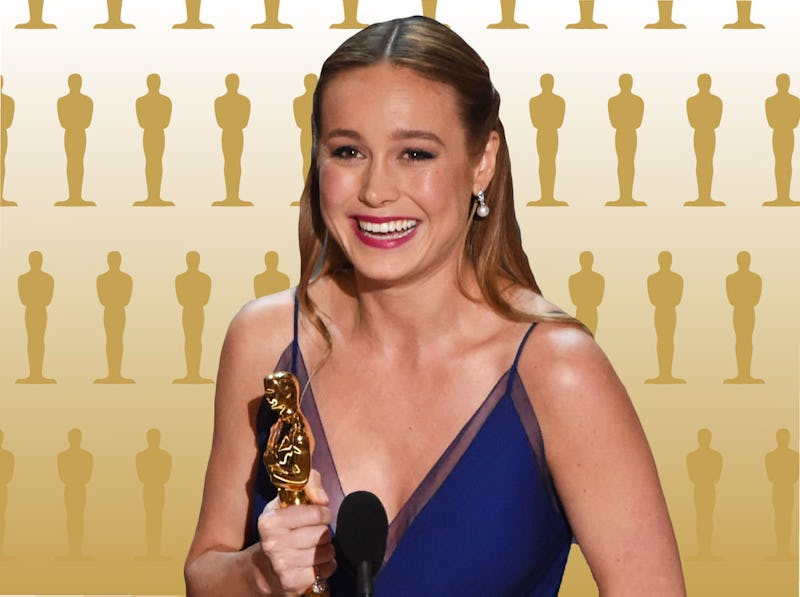 The Academy Award category was stacked with talented women so it was a definite battle to see who would emerge victorious, but, on Sunday night, Brie Larson won the Oscar for Best Actress for Room. It was a tight race, so Larson should know she beat the best of the best for this Oscar. She was up against Cate Blanchett (Carol), Jennifer Lawrence (Joy), Charlotte Rampling (45 Years), and Saoirse Ronan (Brooklyn). Larson's win is her first Academy Award, and she couldn't be more deserving. A fact her co-star Jacob Tremblay agreed with if you saw his reaction.
It's no secret that Tremblay and Larson are BFFs after working together on the intense film, so it's not surprising that he was so proud of Larson when she scored her first ever Oscars victory. And, as ridiculous as it is that Tremblay himself wasn't nominated for anything, I'm so glad that Larson got the recognition she deserved.
It couldn't have been easy to perform the demanding role of Ma in Room, but Larson nailed it. And, she put an incredible amount of effort into the performance. She went on a restrictive diet and isolated herself in her house for a month to get into the mindset of Ma, so I'm thrilled her hard work was recognized. And, Jacob Tremblay is right there with me.
Congrats, Larson! You could not be more deserving.
Image: Caroline Wurtzel/Bustle