For Your Consideration: 9 Oscar-Inspired Recipes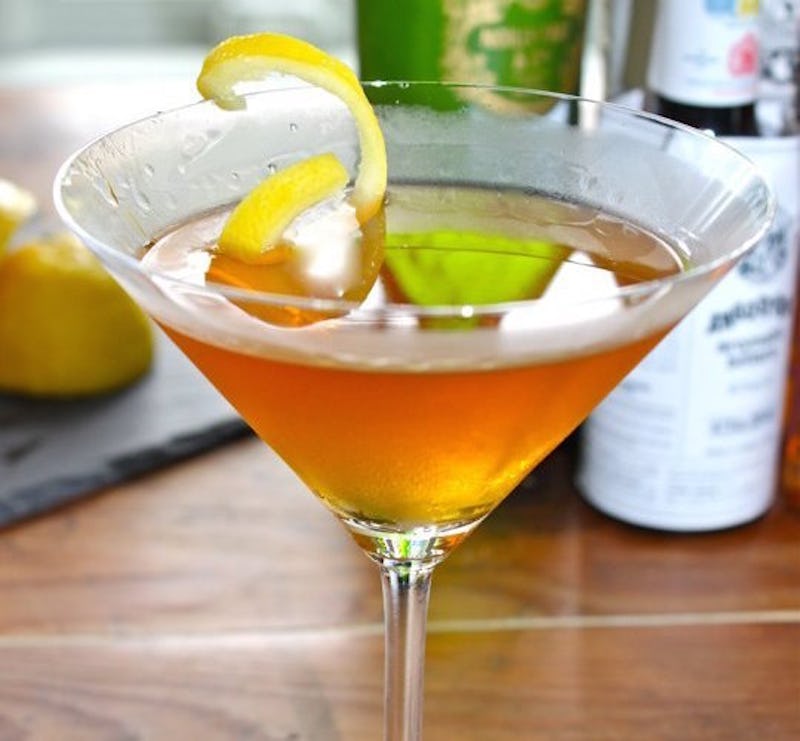 It's the most wonderful time of the year for film lovers — the Academy Awards are here. As I like to celebrate my favorite night of live television by throwing an Oscar viewing party, I've made a tradition of coming up with an Oscar party menu. For you fellow film and food lovers out there, the 2016 Oscars are on Sunday, Feb. 28, so you need to start concocting some of these movie-friendly recipes stat.
Even if you haven't seen all eight movies nominated for Best Picture, you can still enjoy these party-friendly recipes based on the Oscar nominees. (And you can still groan at my shameless, shameless use of puns.) Whether you like to throw a red carpet-worthy shindig or just cuddle on the couch for the ceremony, one of these mouthwatering recipes is sure to peak your interest. From appetizers to main dishes to desserts to booze, my Academy Award-inspired menu based on the titles and themes of the eight Best Picture nominees has got you covered.
Chris Rock will be hosting the 2016 ceremony starting at 8:30 p.m. ET on ABC. So get ready to stay up late, watch some snubs and surprises, and chow down — all courtesy of the best movies of 2015. (And if you're looking for some food a little more simple, you can always grab an apple in honor of Steve Jobs , which is up for two acting noms.)
Warning: Mini-spoilers for general plot points follow.
The Big Short — The Big Short Rib Tacos
Because of the short ribs, this recipe is time-consuming, but take a look at that above photo of deliciousness and tell me it's not worth it. These slow cooker sweet and spicy short rib tacos with sesame guacamole and napa cabbage slaw aren't Wall Street themed, but I like to think the outsider geniuses who figured out the housing market was going to crash in Adam McKay's The Big Short would enjoy them. All of your guests can have fun making their tacos as big (or as little) as they want and feel so content that even those who aren't stock savvy won't care that they still don't fully grasp what a "short" is.
Image and recipe: How Sweet It Is
Bridge of Spies — Bridge of Fries
Nothing warms up the Cold War like some warm food in your belly. The historical drama Bridge of Spies has super Hollywood power since the Coen brothers wrote the script (with newcomer Matt Charman), Steven Spielberg directed the film, and Tom Hanks stars. While I could have gone international with German or Russian food, I went with a pun-friendly recipe instead with these zucchini fries with roasted garlic aioli and sriracha mayo. They're baked and made of vegetables so it's a veggie-friendly recipe perfect to get the party started.
Image and recipe: A Cozy Kitchen
Brooklyn — The Brooklyn Cocktail
Saoirse Ronan's Eilis came to Brooklyn from Ireland in the appropriately-titled romance film, so what better way to celebrate her arrival than with a toast? (Plus, the food involved in the movie — a soup that Eilis eats on the boat to America — didn't lead to appetizing results.) This Brooklyn-named cocktail is even more perfect because the recipe requires whiskey, a favorite drink of Ireland. (Although the food blogger credited to this recipe recommends using rye whiskey, which is different from Irish whiskey.) While Eilis may have struggled with choosing the right man, you won't have the same conflict when choosing to have another one.
Image and recipe: The Kitchn
Mad Max: Fury Road — Mad Max: Rocky Road
After briefly toying with the idea for a recipe that would allude to the most valued commodity in George Miller's fourth and most feminist Mad Max film, I realized that was severely misguided. (If you have seen Mad Max: Fury Road, you know what I'm talking about.) Instead, I suggest making these truly scrumptious-looking rocky road cookies with the chocolate, walnuts, and marshmallows all rolled into one, that were adapted from a Martha Stewart recipe. You'll need these suckers as a sugar pick-me-up if the live ceremony starts dragging.
Image and recipe: A Cozy Kitchen
The Martian — Loaded Martian Potato Balls
Channel your inner Mark Watney from The Martian with these mashed potato balls. Since Matt Damon's botanist astronaut attempted to grow potatoes on Mars, you can surely handle this recipe, which takes mashed potatoes and combines them with cheese and bacon. Fry them up and you've got a perfect pop-in-your-mouth treat for Oscar night.
Image and recipe: Damn Delicious
The Revenant — Frozen Boozy Bear Pops
Unfortunately (fortunately?), the inspiration behind this recipe is pun-free. But what says The Revenant more than frozen bears? Even if those bears are of the gummy variety. Leonardo DiCaprio's character memorably fought a bear in the frozen wilderness in the movie that earned the most Academy Award nominations for 2016. So channel your inner DiCaprio and battle your own vodka-soaked gummy bear freezer pops. (The creator of this fun recipe recommends soaking the gummy bears in the vodka for 24 to 72 hours.) I'll be enjoying one of these frozen alcoholic treats when finally, my love DiCaprio accepts that well-deserved Oscar.
Image and recipe: A Spicy Perspective
Room — ...Legume?
Welp, you've made it this far with my terrible wordplay and I'm aware that my use of legume to crudely rhyme with Room is a real stretch. This hummus recipe (for those not in the know: chickpeas/garbanzo beans are legumes and chickpeas/garbanzo beans make up hummus) was inspired with two motives in mind. One part because I love hummus and require it at all parties, and one part because Brie Larson's Joy and Jacob Tremblay's Jack were so completely deprived of healthy foods in Room that I figured fans of the touching film should honor their horrendous struggle. Try out one of these three yummy-sounding hummus recipes from Half Baked Harvest with a side of vegetable chips or fresh veggies. And embrace the nutrients that exist outside of Room.
Image and recipe: Half Baked Harvest
Spotlight — Boston Baked Beans & Franks
Since I've already covered desserts (and alcoholic desserts), I decided against any Boston cream pie-themed recipes for the Boston-based ensemble drama Spotlight. Baked beans aren't usually acceptable at a party — unless it's a BBQ — but I'm all about breaking the rules here with these Boston baked beans. (A little history: Boston is called Beantown most likely because of people from the city putting molasses in their baked beans.) Skip all the pretense and serve these Boston baked beans with some hot dogs for a filling party snack. And if you're feeling a little sacrilegious about the content of Spotlight, you can always serve up some glasses of holy red wine.
Image and recipe: Mel's Kitchen
Bonus Recipe: Carol — Aunt Carol's Spinach Dip
You can never have enough dips at a party, thus why I decided to add the non-Best Picture nominee Carol . That's not to insult the movie, which was nominated in both the Best Actress and Best Supporting Actress categories for Cate Blanchett and Rooney Mara, respectively, but I try to limit my party menu scope to the fluctuating five to 10 Best Picture nominees. Yet, Carol could not be ignored and luckily food blogger Tori Avey has an Aunt Carol who makes a damn good spinach dip. Plus, Carol ordered creamed spinach (with poached eggs and a dry martini — who knew that was a meal?) when she first took Therese out to lunch.
Image and recipe: Tori Avey
Now get to cooking so you can be in front of your TV when the 2016 Academy Awards arrive on Sunday night.
Image: The Kitchn