The Latest Rumors About Beyoncé's New Album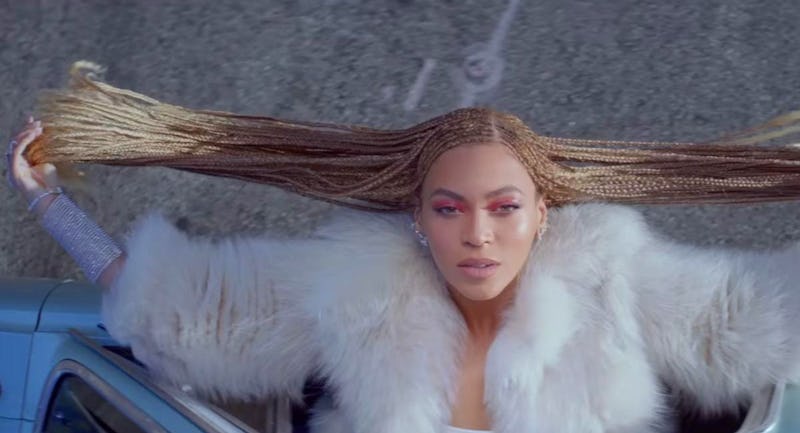 It's been almost a month since the premiere of Beyoncé's new song, "Formation," and her sixth studio LP — affectionately nicknamed "B6" by her fans — is still nowhere to be found. Although the release date for Beyoncé 's new album has yet to be announced (boo!), rumors about the much-anticipated project are plentiful online — and the latest buzz is guaranteed to make the BeyHive excited. On Wednesday, @TheBeyHiveTeam, a popular Beyoncé fan account on Twitter, posted that we can expect to hear "vocals, vocals, vocals" — "crazy vocals," even! — on the superstar's next album. They also described the forthcoming collection as "lyrically daring," "socially conscious," and "soulful." Naturally, this has caused quite a stir on social media.
Normally, I wouldn't put much stock in information that hasn't come from King B herself; however, @TheBeyHiveTeam told the world about "Formation" before any other source. They were also the first to confirm that the 34-year-old singer would perform new music at the Super Bowl. So, while it's important to remember that this info is unconfirmed, it's also important to remember that @TheBeyHiveTeam has a pretty impressive track record when it comes to Beyoncé album gossip. And, believe it or not, they've given us even more thrilling rumors to discuss...
On Feb. 20, @TheBeyHiveTeam tweeted that B6 will be accompanied by an "[a]lbum movie." Whoa. Considering Beyoncé shot a music video for each song on her last album, this claim doesn't seem far-fetched at all.
On Feb. 29, @TheBeyHiveTeam tweeted that "Beyoncé's album film" was "near," urging fans to "[g]et familiar with Kahlil Joseph." According Pulse Films, Joseph is a Los Angeles–based filmmaker who has directed videos for artists like FKA Twigs and Kendrick Lamar in the past. Intriguing.
On Wednesday, the @TheBeyHiveTeam revealed that "Project Lemonade" is the code name for Beyoncé's mysterious short film. Whether or not the name holds any special significance is unknown, but as Digital Spy points out, Bey has posted a couple of pics featuring lemons on Instagram in the last six months:
What do lemons and/or lemonade have to do with Beyoncé's new album? Your guess is as good as mine. @TheBeyHiveTeam also wrote on Wednesday that Beyoncé's "Formation" video and her Super Bowl 50 halftime show performance were "just a glimpse into a visually powerful era that will continue to move people." Wow. I don't know about you, but I can't wait to find out more.
Bustle has reached out to Beyoncé's representatives for comment on these latest rumors, but has not yet received a response.
Image: Beyoncé/YouTube