5 Apps That Will Make Working Out Fun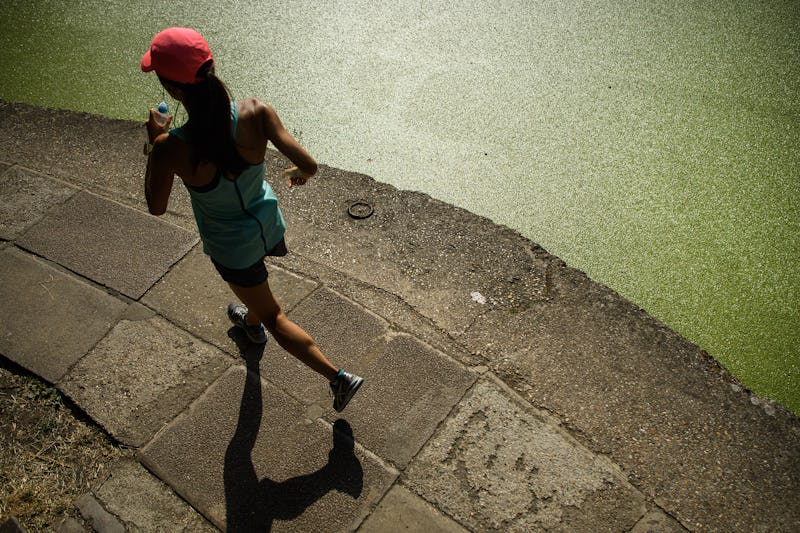 Leon Neal/Getty Images News/Getty Images
Working out isn't always the easiest task. You're tired, you're worn out, and you've had a long day. Who actually wants to get on a treadmill after being chained to a desk for nine hours? There are little things you can do to make it easier, though — like using one of these apps that will make working out fun. No, seriously. Actually fun. I mean it.
I'm no stranger to dreading having to go to the gym. Before I discovered Olympic weightlifting two and a half years ago and totally fell in love with it (that's another secret — find a sport you adore!), exercising was a giant pain in my out-of-shape ass. I'd force myself to go run a couple of miles (at least I have the beautiful Las Vegas scenery to enjoy), and then I'd force myself to do 100 crunches. I was bored out of my skull, and even worse, I never saw any results. I was both unmotivated and uninterested. Why feel like this when I could just stay home and eat powdered mini doughnuts instead? (Not that you can't enjoy both powdered mini doughnuts and hitting the gym, but, well... at the time, it felt like an either/or kind of situation to me. At least I was wrong.)
That's where these apps come in. They take exercising and help turn it into a fun activity. With their help, you might notice that working out is actually something you start looking forward to. Who knew?
1. Zombies, Run!
The zombie apocalypse is here, and you better run for your life. That's what Zombies, Run! will accomplish. This super-engaging running game uses some of the most adrenaline-pumping music from your own playlist to get those little legs moving, in addition to extra audio and narration. To make things even more interesting, you have to collect supplies to bring back to home base. You can set it to walking, running, or jogging, and it works just fine on a treadmill. The app offers different story missions, and you can even share your results with all your friends. (For a similar experience with aliens, try BattleSuit Runner Fitness.)
2. Superhero Workout
Superhero Workout — designed by the same team from Zombies, Run! — prepares you to save the world. The app teaches you to save humanity while piloting a special battle suit called the AEGIS One. You must complete certain exercises to access weapons and use other sweet skills. The app offers 12 workouts tailored to different skills and goals, and it uses your phone's camera to count your reps and calories.
3. Nexercise
Wouldn't it be cool if someone gave you presents for working out? Who doesn't love presents? Nexercise is here! The app tracks your movement; and the more you move, the more points you earn. But in this case, instead of saving humanity or outrunning the zombies, you're redeeming your points for gift cards to Home Depot, Sephora, and more. (Sephora!) You can even get your friends in on it, for a little healthy competition.
4. Beatburn Treadmill/Outdoor Trainer
Ever have one of those moments when you're running your heart out to the beat of your favorite pump-you-up song when it moves on to Adele's "Someone Like You?" Instead of a sweaty workout, you end up hiding behind a tree while you cry your eyes out. Beatburn will come to the rescue. The app reads the beats per minute (BPM) of your music and selects the best songs from your playlist to match your workout intensity. It can change at any given moment to match the pace of your feet hitting the ground.
5. Pact
Pact takes your motivation to another level. Like Nexercise, you're rewarded for your accomplishments; but in addition, if you fail to reach your goals, you have to pay. Literally. Sign up with some friends; and if you don't hit your milestones, you have to pay up to the people who do. Now if that doesn't get you moving...
Images: Leon Neal/Getty Images; Megan Grant/Bustle (2)