London Is More Than A "Pretty Girl" On 'Flaked'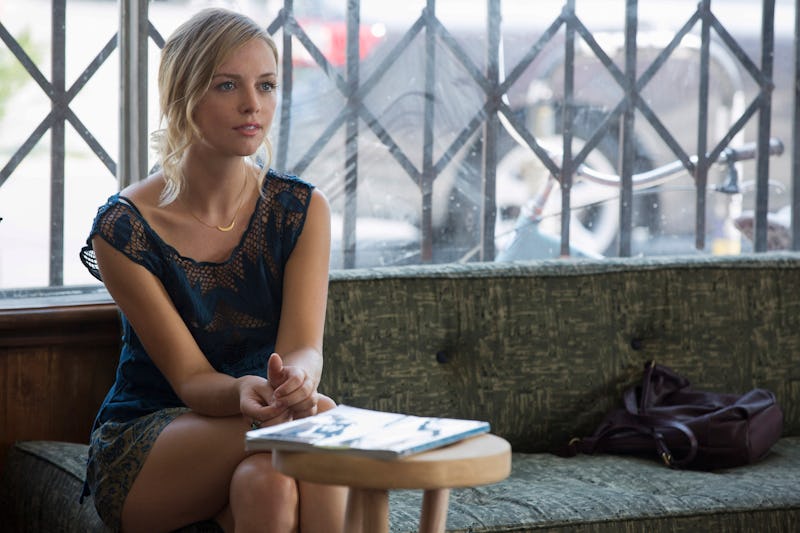 In Will Arnett's latest series, Flaked, the funny man ventures into more serious territory as a recovering alcoholic whose love life is a bit complicated, thanks in part to a young waitress named London, played by actress Ruth Kearney. As a newcomer to the city of Venice, California, London wins the affections of not only Arnett's character Chip, but his best friend Dennis and a young tech executive played by Christopher Mintz-Plasse. In an interview with Bustle, Kearney explains how despite being at the center of a love triangle between two friends, viewers will see her role go beyond that of a love interest when they watch Flaked, which released its eight-episode first season on Netflix on March 11.
"Initially, you think she's going to be this typical girl who comes in as a love interest thing, but actually there's so much more beneath the surface and she's going to really cause a little bit of damage," Kearney says. But any damage caused by London is not intentional, the actor is quick to mention, as she considers this role to be the polar opposite of her performance as a serial killer on Season 2 of The Following. "It's just real. People don't all go through life with a plan," she says. "[London] very much just finds herself."
As Chip tries to navigate his life riding his bike through the streets of Venice, London has some of her own soul-searching to do. Without giving too much away, in the beginning of the series, viewers don't know much about London except that she seems to cast a spell on every guy she meets, including Chip and his best friend Dennis. Yet, there's more to her than just being a "pretty girl."
"I mean it's not uncommon that you read a script and the pretty girl is really just the pretty girl," Kearney says. The fact that London has an air of mystery that hints at something deeper is what drew Kearney to the part, and is reflected in the series' focus on people trying to find themselves.
Not only London is searching for answers when Flaked begins, but Chip struggles with being sober for 10 years after killing a man while he was drunk driving. The damaged pair (why London is damaged is not initially clear) come together after Chip offers the upstairs of his stool shop to her as an apartment. Their characters are instantly attracted to each other, despite Dennis being interested in London first.
While London's state of arrested development (sorry, I had to do it) is understandable as someone in her 20s, Chip's is a little less so, as Arnett is 45 years old. And though Kearney admits that the Hollywood trend of younger women being cast opposite older men is so prevalent, it has become something "we're just used to," and she believes that the age difference does not negatively affect Flaked.
The actor explains that she actually forgot about the age difference between the characts while filming, saying, "Just the way it's written and the storyline — it's not like [Chip's] not meant to be older ... No one is pretending to be not an age they are. And it's about two people just falling for each other, which happens in real life."
Yet, just because the age difference wasn't a problem for her doesn't mean that Kearney was completely comfortable playing a woman who so many men were enamored by. "When I read [the script] at first ... I just felt like the way [London is] described and the way they all talk about her, you're expecting a Victoria's Secret model or something," she says with a laugh. But when she discussed that concern with executive producer and star Arnett, he was quick to say that the point of London is that there's much more to her than looks.
Kearney, who marathoned (and loved) Arrested Development after receiving the script, also appreciated Arnett's hands-on approach to the series. "The fact that he was so heavily involved in every single aspect of the show created an atmosphere around work that was really creative and exciting," she says. During certain emotional scenes between Chip and London, the pair even workshopped before filming to make sure they came across as realistically as possible.
Though you shouldn't expect the multitude of laughs that usually come from an Arnett show from Flaked, as the characters struggle with their past demons throughout the first season, that realism Kearney mentions is hard to deny. As she explains, "Every decision you make, even if it feels like the right choice, it doesn't mean that everything's fine. It's so much more complicated than that." And Flaked definitely makes that clear.
Images: Benjamin Cohen (2), Adam Rose/Netflix