35 Books Paired To Disney Characters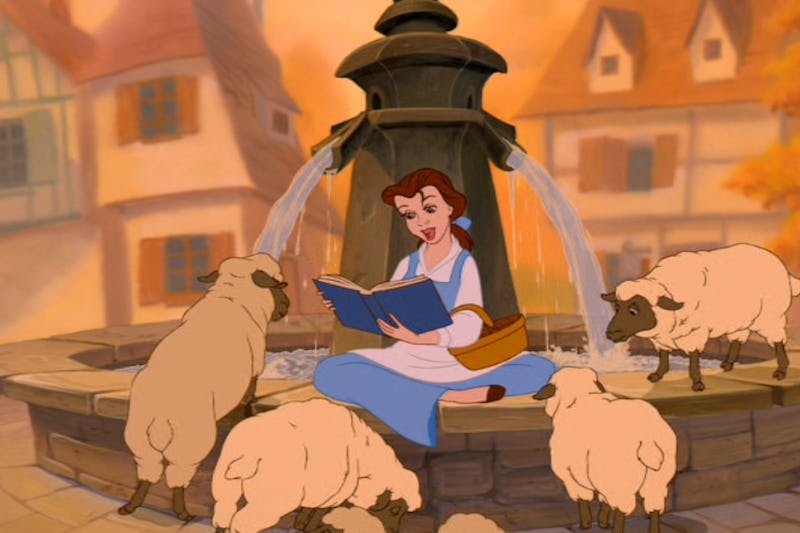 Like every good '90s kid, I have Disney running deep in my blood. I was raised on Beauty and the Beast, 101 Dalmatians, Aladdin, the list could go on forever. Disney movies have continuously taught us so much about believing in ourselves, being curious, being kind, and being true to our heart. With such masterful storytelling, it's only natural to take it one step further into the literary world.
Disney was right there with us for all the best and hardest parts of life. We know the words to every song and we've dressed up as our favorite Disney characters. We've watched the movies over and over again, and we've gone to the Broadway shows. We've bought the lunch boxes, the backpacks, the magic wands. We laughed when the Genie turned Abu into a camel, and we cried our eyes out at Toy Story 3. We held these stories tightly to our chests, carrying them like security blankets through adulthood.
Even though I went a little overboard, I still didn't manage to catch all the amazing Disney characters out there. But hakuna matata, right? With these knock-out reads paired to some of our favorite characters, you won't have to wish on a star for your dreams to come true.
1. Elsa: Who Fears Death by Nnedi Okorafor
Just as Elsa overcomes fear to embrace her magic and identity, so must Onyesonwu in this amazing novel. Set in post-apocalyptic Nigeria, a land in which women are systematically and horrifyingly oppressed, this book is all about female power — both power of spirit and actual magic. Despite the world's attempts to stifle her power, Onyesonwu learns to use her abilities and embarks on a quest to bring an end to the genocide that is plaguing her country. Seriously, this book is pure gold.
2. Simba: Maps by Nuruddin Farah
Set in modern day Africa, this book tells the story of Askar, a young man whose father died in the Ethiopian civil war and whose mother died at his birth. After being raised in a small African village, Askar ventures to Somalia's capital, where he struggles to confront his own identity just as Somalia is searching for a national identity. Post-stampede Simba would empathize perfectly with Askar's emotional (and riveting) journey.
3. Pumbaa: Food: A Love Story by Jim Gaffigan
Not only is Jim Gaffigan wonderfully hilarious, but Pumba would be 100 percent behind this book's topic. Gaffigan gives his thoughts an all things food, from Hot Pockets to Kale. You'll be gigglesnorting all the way through. (Pro-tip, if you haven't watched Gaffigan's stand-up, it's a must-see!)
4. Timon: Rosencrantz and Guildenstern Are Dead by Tom Stoppard
OK, we all know that The Lion King is Hamlet, and Timon and Pumbaa fit perfectly into the Rosencrantz and Guildenstern role. And with his comedic sensibilities, Timon would get a kick out of this amazing play. Like the Lion King 1 1/2 to Hamlet's The Lion King, Stoppard zeroes in on the seemingly minor characters, Rosencrantz and Guildenstern, pulling out a witty, existential adventure. You'll be quoting this one for life.
5. Hercules: The Lightning Thief by Rick Riordan
This book, set in modern day New York, is brimming with the children of Greek gods. When Percy discovers he's the son of a god (and in imminent danger), he flees to Camp Halfblood, a summer camp in Long Island filled with other kid demi-gods. You'll fly through this in the same way that you ate up Harry Potter.
6. Meg: I Don't Care About Your Band: Lessons Learned from Indie Rockers, Trust Funders, Pornographers, Felons, Faux-Sensitive Hipsters, and Other Guys I've Dated by Julie Klausner
Meg could have written this book if she lived in the 21st century. Comedian Julie Klausner dives into her dating past, analyzing the jerks and pulling out lessons from every encounter. Rather than being cheesy, Klausner is a sharp feminist who calls out passive misogyny as being just as dangerous as aggressive sexism, digging into the realities that make "nice guys" not so nice to date. You'll have fun reading this one, I guarantee.
7. Belle: Mr. Penumbra's 24-Hour Bookstore by Robin Sloan
Belle is the Disney patron saint of reading, and she would love the bookshop in this enchanting novel. When a new employee discovers that the shop may be more than meets the eye, he embarks on a literary adventure, filled with puzzles, mystery, and plenty of bookish fun. This is a glowing read, both literally and figuratively. (Seriously, turn out the lights and look at the cover.)
8. Lumiere: The Queen of the Night by Alexander Chee
When I was crafting this article, I made a note that Lumiere's read needed to be something "French and saucy," and that's exactly what this book is. Set in Paris, this is the story of an 18th century opera legend, whose most recent libretto reveals a secret from her adventurous past. Filled with music, champagne, suitors, fancy dresses, and a heaping helping of betrayal, Lumiere would eat up the world of this enigmatic novel — and you will too.
9. Cogsworth: The Life-Changing Magic of Tidying Up by Marie Kondō
Our favorite clock likes things neat and orderly, and that's exactly what this book will help you accomplish. Created by Japanese cleaning consultant Marie Kondō, The Life-Changing Magic of Tidying Up actually does revolutionize the life of everyone who reads it. With Kondō's methods, you'll declutter and simplify your home once, and reportedly never have to do it again.
10. Mrs. Potts: The Turner House by Angela Flourney
A family woman through and through, Mrs. Potts would relate to this brilliant novel. A Detroit family has lived in the same house for generations, through the childhoods of 13 children. But when matriarch Viola is forced to leave her home and move in with her son, the Turner children are called home to decide the fate of their childhood home.
11. Beast: Bear by Marian Engel
I'm not going to sugarcoat it: this book is hella weird, and you'll love it. The story of a librarian who becomes involved with a bear, this book is like nothing you've ever read. Though the premise may have you thinking it's all about bestiality, it's actually a mind-bending exploration of where we draw our humanity, drawing out profound thinking on love, loneliness, mental health, individuality, and sexuality. In a quick 141 pages, you'll be taken to places you never expected.
12. Pongo & Perdita: The Girl in the Red Coat by Kate Hamer
These two determined parents know the heartbreak of a child gone missing. Their fierce drive to get their puppies back is echoed in this debut thriller about a mom who pulls out all the stops to rescue her missing daughter. Both gripping and sensitive, this book will have you turning the pages on the double.
13. Mulan: Alanna: The First Adventure by Tamora Pierce
If you love reading about kickass ladies, this one's for you. Just like Mulan, Alanna disguises herself as a boy in order to fight for her kingdom. In this book, she begins her training as a knight, becomes fast friends with both the heir to the throne and the King of Thieves, and discovers an dangerous threat to her kingdom's safety. This book has been a lifelong favorite of mine.
14. Mushu: Boxers by Gene Lueng Yang
After helping Mulan in ancient China, I could definitely see Mushu go on to pitch in during the Boxer Rebellion of 1898. In this amazing, highly-acclaimed graphic novel, Little Bao harnesses the powers of the ancient Chinese gods to raise an army to free China from the "foreign devils." A finalist for the National Book Award, this book has the strength of a raging fire and more.
15. Wall-E: Flight Behavior by Barbara Kingsolver
If you want to appreciate the power and beauty of our planet, look no further than this read from the acclaimed Barbara Kingsolver. You may know Kingsolver's knock-out writing from her classic The Poisonwood Bible. In this book she applies her biology background to creating a story about monarch butterflies that do a mass migration to Tennessee, creating ripples of change in the community.
16. Woody: The Sisters Brothers by Patrick DeWitt
If you're looking for a book that will put a snake in your boot, this is the one. Set in the Wild West during the California Gold Rush, this is the story of two brothers as the chase the man they were hired to kill. With stunningly crafted prose and DeWitt's knack for digging into the heart of the matter, this dark adventure breaks the boundaries of what a Western can be.
17. Buzz: Hyperion by Dan Simmons
This novel is the ultimate space opera, and exactly what Buzz dreams his life is like. In a universe filled with war, this is the story of seven pioneers who set out to save humanity. Filled with space battles, aliens, and intergalactic adventure, this book will take you to infinity and beyond. (Plus, bonus, there's a whole series to follow!)
18. Mary Poppins: Hogfather by Terry Pratchett
There's no telling who would be the more formidable governess, Mary Poppins or Hogfather's Susan. The grand-daughter of Death himself, Susan is the one you want when there is actually a monster under the bed. And if you love some good snark, Susan's where it's at. In this book, she goes on a holiday-themed romp to save not only the Discworld, but also the gods themselves. (Oh, and get ready to laugh your butt off, Pratchett's a comedic genius.)
19. Alice: My Grandmother Asked Me to Tell You She's Sorry by Fredrik Backman
The young girl in this book, Elsa, goes down her own rabbit hole, but instead of a white rabbit, she's following instructions giving to her in letters from her late, eccentric grandmother. Fairy tales literally come to life as Elsa follows her grandmother's treasure hunt, making this a book about storytelling itself. Plus, Alice fans will love Backman's quirky humor.
20. Tiana: Liquor by Poppy Z. Brite
The restaurant world of New Orleans comes alive again, but this time with more of an adult twist. Two NOLA line cooks Rickey and G-Man set out to create their own restaurant, where every dish has some sort of alcohol in it. But in order to make the restaurant happen, the best friends get sucked into a world of corruption, drugs, scandal and murder.
21. Pinocchio: The Night Circus by Erin Morgenstern
Two young illusionists go head to head in this enthralling book, with their masters pulling the strings. Set in a mysterious circus that seems to come out of nowhere, traveling the world through smoke and mirrors, this novel is packed with strange delights. You'll be turning the pages like wildfire.
22. Lady: The Dogs of Littlefield by Suzanne Berne
In this book, Suzanne Berne takes a look behind the pedigree. The seemingly perfect world of a suburban neighborhood comes crashing down when someone starts poisoning dogs. Don't worry, you don't read any gruesome details about dogs getting hurt; rather, Berne examines the intricate workings of their human owners.
23. Tramp: Crash by Nicole Williams
We all love to love a bad boy, and while Tramp is of course the ultimate, the love interest in this book can certainly hold his own. When ballet dancer Lucy transfers to a new school, she meets the illustrious Ryder, who's got a long rap sheet and lives in the local boys home. As their worlds collide, Lucy finds she just can't stay away.
24. Joy: Yes Please by Amy Poehler
Not only does Amy Poehler play Joy, but this book will fill you with all kinds of optimism and empowerment. As Poehler tells you the story of her life, she also relays so many wonderful pieces of advice. My favorite: "Treat your career like a bad boyfriend." You'll finish the book feeling like you can do anything.
25. Sadness: Challenger Deep by Neal Shusterman
OK, so this book isn't about depression or sadness, but if you loved Sadness's heroism and the message of Inside Out, you need to read this book. (Actually, everyone needs to read this book.) Told from the point of view teenager Caden Bosch, this story shows Caden both in his life at home/school, and in his life on a ship headed for the deepest point in the ocean. Winner of the 2015 National Book Award for Young People's Literature and based on Neal Shusterman's own son's struggle with mental illness, this is one of the most immersive and accurate depiction of mental illness out there. It will both break your heart and show you what you can make with the pieces.
26. Dory: Before I Go to Sleep by S.J. Watson
We all love Dory's endearing problems with memory, and with a new movie coming our way everyone's excited to dig in deeper. But this thrilling novel shows a much darker version of memory loss. Each time Christine goes to sleep, she forgets everything about herself. Every day she pieces her identity back together — but when she finds a private journal she's been writing to herself, she realizes that things may not be as they seem. (You've got goosebumps, right?)
27. Snow White: The Goose Girl by Shannon Hale
Disney really needs to make an animated film adaptation of The Goose Girl pronto, because it's everything a Disney fan loves. Our heroine, Princess Anidori-Kiladra Talianna Isilee, spent the first part of her life learning to communicate with animals, preferring their company to that of humans. But, when her lady-in-waiting commits a mutiny, Ani finds herself neck-deep in adventure, and has to take up the reigns of her own life. If you're like me and get annoyed by Snow White's damsel-in-distress antics, don't worry, Ani is a princess who fights tooth and nail to save herself.
28. Cinderella: A Manual for Cleaning Women by Lucinda Berlin
Lucinda Berlin is one of the world's great writers. In this collection of her best stories, Berlin's characters, like Cinderella, are often left to deal with the messiest parts of life. Filled with regular people experiencing everyday miracles, Berlin will stun you with her unbelievable craft.
29. Ariel: Mermaid: A Twist on the Classic Tale by Carolyn Turgeon
There are tons of mermaid books out there, ready for you to read them, and this is one of the best. In a war-torn kingdom, when a human princess witnesses a mermaid rescue a rival prince, the princess nurses the prince back to life. Meanwhile, back in the sea, the mermaid is yearning to see the prince again, so much so that she'll do anything. All hell breaks loose as both women devise their own plans to sacrifice everything.
30. Pocahontas: Love Medicine by Louise Erdrich
Pocahontas knows more than anyone about the immense power held in love and family, and that's what this classic is all about. Set largely on the Chippewa reservation in North Dakota, this book paints a portrait of two multi-generational Native American families. With Erdridge's beautiful lyricism and her stark ability to dive into character, Love Medicine will send your compass spinning.
31. Aurora: Sleep Donation by Karen Russell
Pulitzer-prize winner Karen Russell is a top-notch writer. In this novella, she paints a world that is quite the opposite of Aurora's: a dystopian future America in which insomnia has become a plague. Trish Edgewater works for Slumber Corps, an organization that encourages healthy dreamers to donate their sleep to an insomnia, and as Trish's faith in Slumber Corps begins to falter, Russell takes us on an exhilarating ride.
32. Aladdin: The Thief by Megan Whalen Turner
In this high fantasy, cunning and quick-witted Gen is just as much of a cheeky street rat as Aladdin. When he's pulled from the king's prison to help the king's scholar find an ancient, secret treasure, Gen gets drawn into a dark adventure that will put any reader on the edge of their seat. This book is dangerously good.
33. Jasmine: I Am Malala by Malala Yousafzai
Malala is an inspiration. When the Taliban took over her home in Pakistan, she stood up for women's rights for an education. In this memoir, she tells her story, from being shot in the head on the way to school at the age of fifteen to winning the Nobel Prize. If she lived in the modern world, Jasmine would be 100 percent behind Malala's amazing efforts.
34. The Genie: The Amulet of Samarkand by Jonathan Stroud
Bartimaeus, the cheeky djinn in this adventure-packed series, is probably best friends with Disney's Genie. Bartimaeus is an old and powerful Djinn, whose past includes a deep friendship with his former master, Ptolmey. But in an alternate version of London, he's summoned by a magician's apprentice to exact revenge on a fully-fledged magician, and Bartimaeus is wrapped into a dark, tangled mess.
35. Mowgli: Life of Pi by Yann Martel
This is the ultimate book about humans and animals understanding each other. When a shipwreck destroys Pi's family on the passage to America, he finds himself stranded on a lifeboat with a Bengal tiger. As Pi navigates his dangerous new partnership, Martel gives a glorious exploration of the meaning of existence. This is one that will have you rooted to the spot until you finish.
Images: disney.wikia.com; Giphy.com (36)