Be Part Of Ariel's World With 7 Mermaid Novels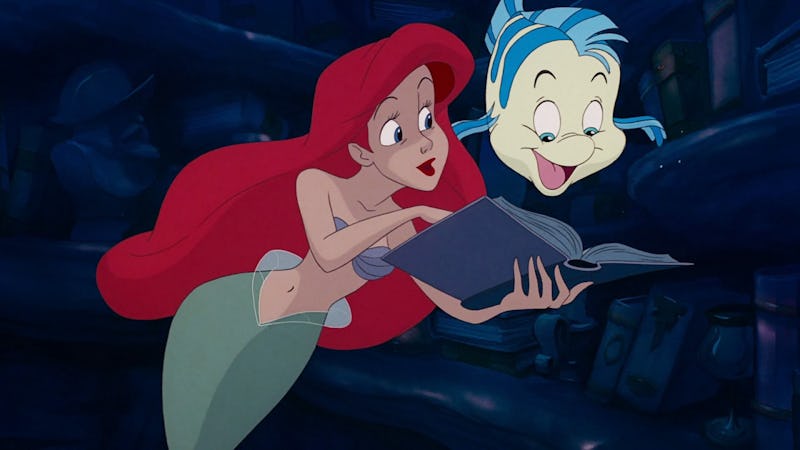 November 17 is a date that should be permanently etched into the brains of Disney fans. This date in 1989 breathed new life into Disney's animated movies, after a long, long drought dating back to the early 1970s. It was this day that the classic movie The Little Mermaid was released, kicking off more than two decades of little boys and girls (and maybe some 30-somethings, too) dreaming of being a part of Ariel's underwater world.
There are several ways you can celebrate the 25th anniversary of The Little Mermaid . If you feel like cranking up the soundtrack and screeching along to Alan Menken's glorious "Under the Sea," "Part Of Your World" (look at this stuff, isn't it neat?), and Ursula's anthem "Poor, Unfortunate Souls," then we're probably kindred spirits. And if you were lucky enough to grab a copy of The Little Mermaid before it was banished to the dreaded Disney vault, go ahead and put that on the background of your work today, too. But if you want to celebrate over the longer term, there are plenty of books to satisfy your mermaid dreams.
Mermaids, sirens, and other underwater creatures are bordering on a major trend, and the market for fairy tale retellings is still going strong. So there are plenty of books to choose from — but particularly these seven.
In this first book of the Syrena Legacy series, Anna Banks tells the story of a mermaid and merman community that is searching for a girl of legends, the girl who can speak to fish. They send off Prince Galen, who literally runs into Emma as she's on a beach vacation and it seems she is the girl the stories have told them all about. Though, like Price Eric and Ariel, Galen and Emma fall desperately in a literal fish-out-of-water romance that may overtake the need for Emma to fulfill her risky destiny.
You may remember Aquamarine as the movie that starred not only Emma Roberts, but "Leave (Get Out)" singer JoJo, but first it was a novel by the one and only Alice Hoffman. When two best friends discover a mermaid at the bottom of a swimming pool, it's only the start of their adventures. Aquamarine, the mermaid, has left her bunch of sisters in the sea (maybe Aquata, Andrina, Arista, Attina, Adella, and Alana?) to find love on the land.
Ally Condie's Atlantia isn't about mermaids specifically, but it is about sisters who are torn between living on land and living under the sea, and it's based on the much, much darker original version of The Little Mermaid by Hans Christian Anderson. Let's just say there are fewer dead bodies turned into seafoam in the Disney version.
If you like the darker side of Ariel, you'll love Mermaid. This time there are two princesses, instead of one. One is a mermaid princess named Lenia who saves Prince Christopher from the sea, and the other is land-walking Margrethe, who witnessed the rescue. Now, both Lenia and Margrethe both have fallen for Christopher and fight for his affections.
But it's not just love that's causing turmoil. There are war-struck kingdoms and rivalries and sickness that build up the suspense and make Christopher's choice all that more difficult.
In Fathomless ' set of triplets, Celia feels like she has the most useless power. While her two sisters can see the future and present, Celia can only see what has already happened in the past. However, that power comes into supreme need when she meets Lo, a mermaid who can't remember her past. Then, when Jude plunges into the ocean from a pier (all the handsome men seem to have trouble swimming), Lo and Celia save him, but their intentions may not be so pure.
You see, Lo needs to regain her humanity, and she needs Jude's soul to do so.
More ill-intentioned mermaids populate Sarah Porter's Lost Voices, as these mermaids take a cue from Homer's nymphs who enjoy sinking ships. But after Luce's father dies, she falls into the sea, expecting to drown and is instead turned into a mermaid. Mermaid newcomer Luce doesn't agree with her people's goal of drowning sailors, and she fights to retain whatever semblance of humanity she has left in her heart.
If you want to find a mermaid, September Girls says that the Outer Banks is the best place to be. Sam, his brother, and his family are visiting the Outer Banks when Sam finds himself attracted to DeeDee, who is one of these stunning blond girls who seem to own the area. The result is a modern teenage love story all mixed up in the classic The Little Mermaid story, as Sam becomes the key to break the mysterious curse on DeeDee and the other girls.
Images: Disney Wikia